Shop More by
Related Soldering Iron Article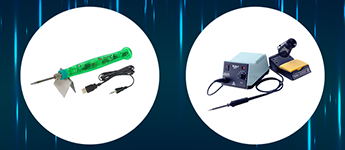 Detailed guide on what is soldering and soldering irons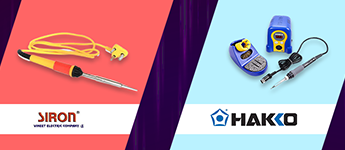 Popular soldering iron brands for both beginners and professionals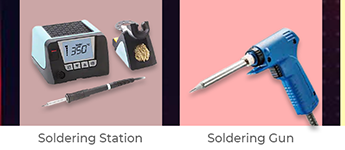 Types and factors to look for while buying a soldering iron
Shop for affordable and high quality soldering gun online at Moglix
---
Whether you are a technician at an electronics shop or a PCB designer, you are going to need a soldering kit. A soldering gun is a pistol-shaped handheld electronic tool used for joining metal surfaces. You also have a soldering iron which is wand-shaped and uses a heated metal tip to join two metal pieces together.
Soldering Gun vs Soldering Iron
---
--> Soldering guns are typically used for heavy industry applications as they produce more heat than a soldering iron.


--> A soldering gun usually has a copper tip and therefore heats up faster when compared to soldering iron.


--> Soldering guns are much more efficient than soldering irons, as the iron tip consumes more power to heat up.


--> Soldering irons come with multiple tips, making them ideal for multiple applications.


--> One of the disadvantages of soldering guns is that they are relatively heavier than iron soldering devices.


Buying a soldering gun online can be a challenging task with the availability of so many brands and models. To help you with your selection, we have listed a few things to look for:
Wattage: This is one of the most important factors to be considered while buying soldering iron online. For common usage such as DIY projects, a soldering gun of 30 Watts is enough. But for larger applications such as joining stained glass or light metal sheets, you need a soldering gun of 200 to 400 Watts.
Tip support: Most of the soldering guns these days come with a provision of using multiple tips. This enables the user to apply the right amount of heat on different-sized surfaces with great flexibility. While buying soldering iron online do buy a few extra tips so that you can replaceable them easily as per your application requirements.
Digital display: Applying the right amount of heat (temperature), especially on electrical components is extremely important as they tend to be highly sensitive. Choose a soldering gun with a digital display that shows the tip temperature while using the device.
Branded/Unbranded: Like any other electronic tool, buying a branded soldering gun proves to be a wise investment. Although unbranded soldering kits come at a cheap price, they are less durable and also tend to create problems during the long run.
Soldering wire: The quality of the welding depends on the solder wire you choose. At Moglix, you will find high-quality soldering wire manufactured by top brands at the best prices.
Wide range of soldering gun online now at affordable prices
At Moglix, you don't have to be worried about the quality and authenticity of the product. We are one of the best online retailers when it comes to buying soldering kits from popular brands. We also deal in bulk orders and offer great discounts along with convenient payment options. We host some of the most famous brands including Proskit, Siron, Goot, and Stanley. For bulk soldering iron online, get in touch with us today..!
Frequently Asked Questions about Soldering Iron
---
What should one do if a soldering iron has a distorted tip?
the distorted tip can be fixed by using a file to redefine its shape. The only downside to this process is the copper corrodes, you may have to repeat this process after every 10-15 times of use. And after every file, the tip would go shorter and would no longer be usable.
What are the best ways to clean a soldering iron?
The first and foremost thing one should do to clean a soldering iron is to clean it with a damp, cellulose, and sulfur-free sponge. It's really important to get rid of all the buildup, to do so scrub off any rust or other heavy stains using a ball of steel wool. Once the metal is clean, apply a generous amount of fresh solder to the tip of the metal. This process helps in preventing rust.
Soldering Iron - Price Range
This data was last updated on 10/5/22.