Related Safety Shoes Article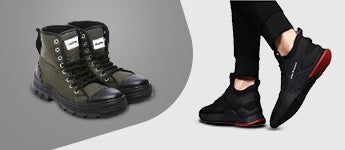 Safety Shoes: History, Types, and Their Key Benefits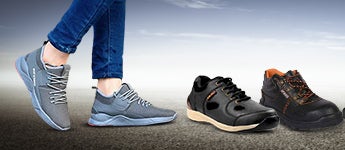 Best Safety Shoe Brands in India 2021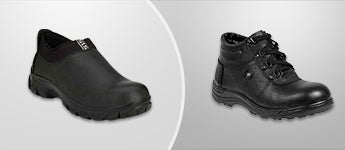 Types of Safety Shoes as Per Job Roles
Safety Shoes - The Indispensable Industrial Workboots
Safety shoes are effective in keeping the feet of industrial workers safe from sharp and heavy objects while working in factories. To meet the ever-changing needs of industrial workers, Moglix presents a new range of safety shoes and boots online that are well suited for use in industrial locations. The shoes that we are offering as a part of this range are made from grain leather which makes them suitable for long-term use in inhospitable working conditions. Moreover, they are equipped with PU / PVC outsoles, which provide them with the ability to resist punctures. Our wide range of safety boots is the most suitable protective gear for industries like iron, mining, steel, and construction.
कार्यस्थल में चोटों से पैर को सुरक्षित रखने के लिए सेफ्टी शूज की आवश्यकता होती है। चूंकि, विभिन्न उद्योग भिन्न-2 सुरक्षा मानकों का पालन करते हैं; मोग्लिक्स कई सुरक्षा शू और बूट्स ऑनलाइन प्रदान करता है जैसे कि स्टील टो, कम्पोजिट टो, गम्बूट्स और बहुत कुछ। मोग्लिक्स निर्माण, रसायन, खनन आदि विभिन्न उद्योगों के लिए सस्ती कीमत पर गुणवत्ता वाले जूते मुहहिया करते है।
---
Buy Best Price Safety Shoes and Boots Online at Moglix!
Keeping pace with the ever-changing needs of industry-based users, we have come up with different types of safety work boots online, such as steel toe, rubber toe, composite toe, fiber toe, plain toe, mild steel toe safety shoes and more.


The Safety Footwear available at Moglix complies with ISI specifications and are chemical, heat & oil resistant. Therefore, they can be used in a wide range of industrial settings ranging from construction sites to oil rigs, factories, and excavation sites.


At Moglix, we pay close attention to the changing needs of our customers. To ensure they are entrusted with maximum level of protection, we have come up with the best quality safety shoes sourced from the most sought-after brands like Allen Cooper, Bata Industrials, Hillson, Safari Pro, Concorde, Tiger, Karam, and many more.


Stocking quality assortment at reasonable pricing has been our motto. Therefore, keeping this in mind, we have kept the price of our offerings as competitive as possible, entrusting superior value for money to our esteemed customers. Moreover, not just safety shoes, we deal in a plethora of industry essentials, ranging from cutting & machining tools, measurement & testing tools, hand tools, power tools, led & lighting, electrical equipment, etc.


The Safety shoes & boots for men sourced by us undergo a number of quality checks before being sent for delivery.


---
Buy Industrial Safety Shoes online from Top Brands at Affordable Prices
Are you looking for the best industrial safety boots online within an affordable price range? Moglix, being one of the leading e-retailers of safety products is offering an impressive range of branded safety shoes for both industrial & individual buyers alike. Mentioned below are some of the best safety shoes brands in our assortment
Allen Cooper safety shoes - The antistatic Allen Cooper safety shoes can withstand heat, grease, and cold. They have a foam-padded collar that provides wearers with a high level of comfort. Because of their slip resistance, you can wear these shoes outside in wet, marshy locations.
Bata industrial safety shoes - Industrial employees give Bata safety shoes the highest ratings for their ability to withstand demanding working conditions. Their footwear complies with the most current industry standards. The gambrel lining in these shoes prevents sweat for extended periods. You can use them at oil rigging sites, warehouses, building sites, and refineries that process oil and petroleum.
Tiger safety shoes - The Tiger safety shoes come with a sweat-absorbent lining that prevents sweat for an extended period. Since they are shock-resistant, consumers can use them in sectors like iron, steel, oil & gas, petrochemicals, etc. They have a double-density PU outsole that offers exceptional abrasion resistance while also providing comfort.
Liberty safety shoes Liberty safety shoes are among the most well-liked footwear brands among industrial employees from various sectors. They are shock-resistant, have a steel cap, and may be worn in any weather. They are perfect for usage in industries including petrochemical, metallurgy, iron, steel, oil & gas, logistics, and more because they adhere to all current ISI criteria.
Karam safety shoes - Because Karam safety shoes include a comfortable, breathable inner lining, they can assist users in staying active while working in factories or outdoors for extended periods. Oil and acid resistance, antistatic, anti-slip, heat resistance, and shock absorption are all features of Karam safety shoes. They are, therefore, frequently employed in environments that expose users to applications that consume a lot of electricity, such as hydroelectric and thermal power plants.
---
Different Types of Safety Shoes Available At Moglix
At Moglix, some of the most common types of safety shoes which we have on offer are mentioned below:-
Low Ankle Safety Shoes - Low ankle safety shoes can withstand impact, heat, and chemicals. Because of their white lining, you can use them in demanding industrial situations. They have a highly breathable leather inside that provides an excellent cooling effect even in hot, humid weather. The light-weight, softly cushioned collar and tongue of the low ankle protection shoes add to their comfort. The antistatic and antibacterial lining provides users with a high level of security. These shoes are cozy for outdoor use since they include a comfy insole and are antistatic with a moisture management system.
High Ankle Safety Shoes - High-quality leather is used for the upper portion of high ankle safety shoes. The soles of these shoes are slip-resistant and very flexible. As a result, they can aid users in preventing slipping and falling in slick regions. They are pleasant to wear because of the delicate stitch detailing and cushioning insole support. Professionals in the petrochemical, pharmaceutical, oil, and gas industries can wear these high-ankle, black safety boots since they are chemical and oil resistant. They can be used in hot, humid weather.
Steel Toe Safety Shoes - Because steel-toe safety shoes are slip-resistant, the consumer can use them in slick, muddy conditions. Including a foam-padded neck and a solid heel counter guarantees the wearer the highest level of comfort, allowing him to be active for extended periods. Steel toe safety boots include PU double-density bottoms, which guarantee a high level of abrasion resistance. These shoes can be utilized in sectors including logistics, petrochemicals, oil & gas, metallurgy, real estate, etc., because they are oil and skid resistant.
Composite Toe Safety Shoes that we have on offer have soft upper leather. These shoes are slip, oil, and abrasion-resistant and therefore can be used both indoors as well as outdoors. They offer a high level of protection from electrical hazards also. These shoes are lightweight and have moisture-channeling spacer mesh comfort lining with an antimicrobial feature that keeps the foot dry.
These shoes have been manufactured using an anti-fatigue midsole and help the wearer to stay active and mobile for long hours. These protective footwears have a padded top collar that offers wearers with an optimal level of comfort.
Single Density PU Sole Safety Boots which form a part of our collection are anti-slip and offer a high level of protection from electricity, oil, and slipping. They are suitable and highly valued by professionals engaged in the electronics and automotive industries.
Our Double Density PU Sole Safety Footwear are electricity resistant. They are anti-slip and oil resistant also. A wide footbed and anti-slip tire tread sole design minimize the risk of ankle roll and increase slip resistance. These types of shoes are suitable for usage in industries such as construction, automotive, and logistics.
Safety shoes with PVC sole which form a part of our collection are skid-free and oil, heat, and chemical resistant. They are CE approved and have a skid fit lining. The upper part of these shoes is made from the best quality synthetic leather. These shoes protect the feet of the wearer from all types of impact. They are ideal for usage in construction sites, petrochemical plants, and oil & gas refineries. The smooth texture design of these shoes offers wearers with a high level of comfort and is skin-friendly. Their high-quality superior finish makes it highly durable in the long run.
---
Top Five Features to Consider Before Buying Industrial Shoes
Get the Correct Size - Selecting the correct size is unquestionably among the most crucial considerations when buying protective footwear. Always choose the proper size to prevent discomfort. Wearing too big of shoes can result in bunions, blisters, and other foot issues. Various foot abnormalities can result from wearing shoes that are too small.
Workplace - Many workers fail to consider the workplace environment. For instance, if you labor outside, you need different footwear than residential contractors who work in clients' homes. Similarly, those who operate with corrosive materials, chemicals, or other dangerous substances must exercise greater caution than those who do so in household environments, which tend to be safer. You can choose a pair that is suitable for you based on your unique needs.
Material - The materials' quality largely determines how long protective footwear will last and how comfortable it will be. The ideal pair to choose would have excellent safety features. Additionally, good protective boots are typically light and comfortable.
Safety Assurance - Safety assurance is one of the most crucial things to consider when buying a pair of protective shoes. Shoes should combine steel plate soles, safety toe caps, and metatarsal protections and must have good sole material for maximum foot safety. Flexible, dependable, and long-lasting materials should be employed in producing safety shoes.
Outsole Offering - The outsole of a good safety shoe must be flawless. They should offer outstanding protection against heat, chemicals, oil, gas, chips, marking, and slippage. An outsole should be your lifesaver when facing circumstances like a dangerous temperature.
---
Explore The Assortment of Safety Work Boots at Moglix
The safety shoes with steel toe prices have been devised keeping in mind the needs of our buyers, the majority of whom are working professionals. This ensures that our buyers do not feel a pinch in their pocket while buying Safety footwear online.


To meet the rising demands of our customer base, we have collaborated with leading safety shoe suppliers spread across India. This enables us to meet up with the demands of our buyers who want to settle for nothing but the best.


To stand out from other e-retailers, and suppliers offering these protective shoes, we keep a track of the concerns of buyers.


The seamless navigation on our site enables buyers to compare the features and prices of different brands before making the final decision. We follow the changing needs of customers and select safety shoes brands that are well-known for the quality of products they produce.


We strongly adhere to our corporate philosophy that experience lies in the cornerstone of online buying. Therefore, we give equal emphasis to all aspects of our business process, starting from sourcing to cataloging and delivery.
---
Protect yourself from Injuries at Mining and Construction Sites with Safety Shoes
In the mining industry workers are always at great risk and more prone to injuries and accidents. The mineworkers generally work on the most slippery surfaces and dark areas, which increases their chances of injuries due to slips, trips, and falls. They can prevent these injuries by wearing the correct safety shoes.
In the construction industry, workers are more exposed to so many hazards, feet injury being the most common one. To avoid these possible injuries, it is very important to choose and wear the right safety shoes at the construction site.
---
Explore the Wide Range of Safety Shoes for Men at Moglix
At Moglix, we pay great attention to how our client's needs change over time. We bring the greatest safety shoes available at the most affordable price. We have sourced these safety shoes for men from the most reputable brands to guarantee they give the optimum protection.
We have partnered with the top safety shoe brands in India to address the growing demands of our consumers. This enables us to satisfy the high standards of our customers. Our safety shoes for men come with a variety of discounts and deals.
To Choose the best safety boot for your day to day industrial tasks, refer our Safety Shoes Buying Guide
Frequently Asked Questions about Safety Shoes
---
Is it safe to buy safety shoes online?
Yes, you can buy safety shoes online. However, always check for ISI mark and other required parameters before making a purchase.
Safety shoes good for hiking/trekking?
No, Safety shoes should be used for industrial work only.
Does safety shoes need any marking as ISI?
ISI marking highlights that they are qualified to used in the tough working conditions. Thus, it is important for the safety shoes to be marked with ISI.
How long do safety shoes last?
The lifespan of safety shoes depend on the frequency of usage and work environment. Also, when used in wet conditions, safety shoes tend to wear & tear at a faster rate.
What features safety shoes possess for complete protection?
Safety footwear needs to comply with the requirements & specifications of the latest version of American National Standard for Safety-Toe Footwear, Z41.1. Examples of work which require safety-toe footwear are: warehouse operations; moving operations involving heavy equipment; work involving close contact with large animals; and jobs requiring work with certain chemicals.
How to make steel toe boots more comfortable?
These quick tips can make your boots more comfortable - selecting the right size, using insoles or extra soles, wearing socks, maintaining your shoes for a long-life, and covering foot with bandage if there is some problem area
What type of work is a composite toe boot for?
For long-distance walking and non-industrial work, a composite toe is better than a steel toe. It is light-weighted and easily passes through metal detectors.