Related Submersible Pumps Article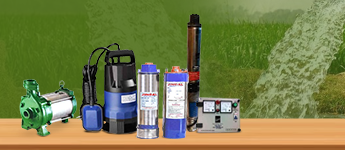 Know About Submersible Pumps that Can Make your Life Easier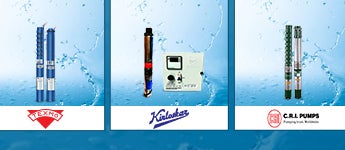 Best Submersible Pump Brands Available In India
Highly Efficient Borewell Submersible Pumps for Your Home
Water shortage is one of the most prevalent issues. As a water source for homes, businesses, and farms, groundwater has grown in importance. Submersible pumps are one of the techniques we use to draw water from the ground. A pump that can be completely submerged in water is a submersible pump. The pump's body and motor are tightly connected and hermetically sealed. Water is forced to the surface by a submersible pump, which transforms rotary energy into kinetic energy and pressure energy. This is accomplished by drawing water into the pump, first in the intake where the impeller's spin forces the water through the diffuser. It rises to the surface from there. There are several applications for submersible pumps, including irrigation, drinking, dewatering, and oil production. In addition to other industries, they are utilized in the mining, building, and construction sectors as well as by municipalities. We feature good quality borewell submersible pumps from highly reputed brands such as Wilo, Kirloskar, Shakti, Crompton, V-guard, Oswal, Venice, and many more.

Two Types of Submersible Water Pumps
Single Phase Submersible Pumps - Pumps operating on one power phase are frequently used in domestic applications. These are simple to start and don't require much starting torque. These pumps can be connected directly to the supply line and various power motors. These pumps are typically compact, robust, and solid. They can be used for domestic and industrial water supply in small and medium size plants. They can easily withstand wide voltage ranges, generating less vibration and lower noise levels.
Three Phase Submersible Pumps - A three-phase submersible pump is among the most widely utilised water pumping technologies. These pumps are powered by three-phase motors, which are more affordable and portable than single-phase motors of equivalent voltage. They are additionally made to vibrate less. These are dependable, strong, and designed to function in harsh environments. Three-phase powered submersible pumps are frequently used in commercial and industrial settings where you need more advanced water pumping solutions. The three-phase submersible pumps are effective, simple to operate, and require little upkeep.

Different Features to Consider Before Buying Submersible Motors
Flow Rate - The time it takes a water pump to move a specific volume of water is known as the flow rate, and it is often expressed in litres per minute. Choose a submersible water pump that can move more than 2500 litres of water per minute if you're buying one for farms or industrial purposes. However, a submersible pump with a flow rate of between 100 and 200 litres per minute would be plenty if you buy it for your home.
Bore Well Size - It refers to the borehole's diameter, which allows for installing a submersible pump. You can choose a pump whose outer diameter is smaller than the bore well's size, but not the opposite, as the latter would not fit.
Brand - The brand is a crucial factor to consider because it might affect the quality of the goods you receive. When you purchase from a well-known and established company, you can be confident that, should the need arise; you will receive high-quality and efficient customer support.
Type - Select the type of submersible water pump based on the project you'll be utilising it for. Look for one that can manage such a job for industrial or heavy load tasks.
Budget - There will always be a best-in-class option within your budget, but you'll need to research and pick one that a respected company produces, has dependable parts, and has an extended warranty period.
Head and Pressure - It refers to the highest point a pump can raise water. You should select the ideal pump based on the size of your home or farm and the local water table. The total head, often measured in feet or metres, is the distance between the depth of the earth where the pump is installed and the height of the storage tank. The kind of pump you select should have a higher head than you want to use it for.

Brands Selling High-Quality Submersible Motors at Affordable Prices
Kirloskar Submersible Pumps - Kirloskar, a well-known company, produces energy-efficient and high-efficiency designs. Their submersible water pumps use cutting-edge methods and are created in advanced facilities. They provide maximum efficiency with decreased energy use, saving you a lot of money. The motors have a wide range of voltage tolerance and reduce motor burnout at low voltage.
Crompton Submersible Pumps - The most effective pumps are Crompton Submersible pumps. They operate quietly, reliably, and with minimal installation effort. Low-energy Crompton submersible pumps are available that provide consistent performance. They are the best submersible pumps currently on the market. Crompton Submersible Pump Price is the most affordable available without compromising on quality.
Jindal Submersible Pumps - Jindal makes the best borewell submersible pumps for home. These pumps operate with higher suction power and high discharge rates. They are created with premium pump castings, which result in very slow pump rusting and extend pump life. The minimum vibrations from the pump protect its components from damage during operation.
Prakash Submersible Pumps - Prakash Submersible Pumps are designed to have compact designs for simple handling and installation and are built using high-grade engineering materials. They have simple designs to maintain and greater component interchangeability, allowing even semi-skilled operators in remote places to service the pump.
Sameer Submersible Pumps - Sameer Submersible Pumps are high-quality pumps available in a wide variety to fulfil your needs. Made from stainless steel, the pumps are durable and efficient. Sameer borewell submersible water pumps come with a warranty ensuring proper care is taken of the pump. They are high-quality and reliable pumps designed for use in water-based applications.
We also offer submersible water pumps from other highly reputed brands like Flexo, Havells, Usha, Deccan, Kobe, and more at wholesale prices.

Purchase Durable and Economical Submersible Water Pumps with Moglix
We at Moglix know buyers' primary concerns while searching for submersible water pumps. To meet the demands of our consumers, we have secured the most recent range of pumps that may be utilised in various settings. The products are put through quality inspections before being sent out for delivery. The buyer is, therefore, sure to receive their submersible pumps in the best possible working condition. If you want to buy a reliable pump from one of the top companies in the world, whether you're a professional or a homeowner, we provide reasonably priced options for you to pick from.
Frequently Asked Questions about Submersible Pumps
---
Can we run a submersible Pump on Solar power?
Yes, a submersible pump can run on solar power. However, it is important to provide electrical protection to the pump to avoid its under-powering. During cloudy days, the panels will not be able to provide enough electricity to the pump, causing the pump to slow down or stop, which may result in overheating. Hence, it is better to provide solar pumps with some Undervoltage lockout for better efficiency.
What is 3-phase submersible pump?
A 3-phase submersible pump is a pump which is powered by a three phase electric motor
How many horsepower is a submersible pump?
The horsepower of a submersible pump ranges between 1 horsepower and 100 horsepower
What is v4 submersible pump?
A V4 submersible pump can be used for 4-inch or more bore-well size.
How long does a submersible pump lasts?
The average life expectancy of a residential 3-wire is 10 to 15 years, and for a residential 2-wire well pump, the expectancy is 8 to 13 years. The life expectancy of a pump depends on many different factors, like quality of the pump, how often the pump is used and more