Related Centrifugal Pumps Article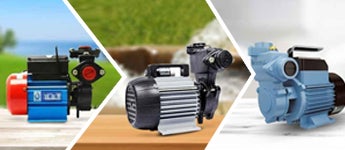 How to Find the Right Centrifugal Pump for Your Job?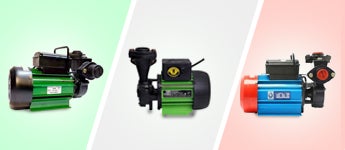 Check Out the Top Centrifugal Pump Brands Along with Their Price List
Goodbye to all Water Problems with Centrifugal Pumps
Centrifugal pumps are hydraulically operated devices characterized by their ability to transmit energy to fluids (in particular to liquids) through the work of a field of centrifugal forces. Their primary purpose is to transfer fluids through an increase in pressure.
Centrifugal pumps are mostly used for pumping water, solvents, organics, oils, acids, bases, and any 'thin' liquids in industrial, agricultural, and domestic applications. A centrifugal pump design is suitable for virtually any application involving low-viscosity fluids.

Types of Centrifugal Pumps
Single Phase Pumps: The single-phase pump is a single impeller pump, and the design and maintenance of this pump are straightforward. These pumps are perfect for actual flow rates as well as low-pressure fixing. Single-stage pumps are typically used in pumping services like high-flow & low to moderate total dynamic head (TDH).
Double Phase Pumps: The double-phase pump can be built with two impellers working side by side. These pumps are mainly used in middle head applications.
Multiphase Pumps: Multiphase pumps are defined as pumps in which the fluid flows through several impellers fitted in series. The head of a single-stage centrifugal pump is largely governed by the type of impeller and the circumferential speed.
Selecting factors When Buying Centrifugal Pumps
Capacity: Make sure to purchase centrifugal pumps with the required water capacity. There is various pumping capacity available. Be sure to buy the one you need.
Reliability: It should be reliable and should not fail suddenly and cause trouble. Buy the ones which are durable and of high quality.
Power: The power used for running pumps should be available quickly at a low cost. Make sure to buy centrifugal pumps with less power-consuming capacity; in this way, you will save a lot on your electricity bill.
Maintenance fee: The maintenance cost of running pumps should be as small as possible. This is only possible if you invest in high-quality centrifugal pumps.

Various top brands to Purchase Centrifugal Pumps
Sameer Centrifugal Pumps: Sameer Centrifugal Pumps are energy-efficient and have double ball bearings. It has an inbuilt thermal overload protection which protects the motor in case of heating for various applications. There are numerous uses for this water pump, such as residential use to transfer water from storage tanks to the bathrooms, kitchen, etc. Agricultural use transforms water from wells, lakes, rivers, and streams into farmlands and animals.
Kirloskar Centrifugal Pumps: Kirloskar Centrifugal Pumps are highly efficient and energy-saving. Its innovative design ensures optimum efficiency and lowers energy consumption resulting in significant cost savings. They have dynamically balanced rotating parts. Minimum vibrations protect components from damage during operation resulting in consistent performance. Kirloskar Centrifugal pumps are easy to maintain and can be easily operated even in remote areas by semi-skilled technicians.
Havells Centrifugal Pumps: Havells are well known for their high-quality products. Their dua; coated copper winding wires give high efficiency to the motors. Winding wires can withstand high temperatures, and this protects them from burning. Unlike most of the pumps available in the market have ordinary enameled copper wire or wire windings making, which makes them inefficient.

Buy Best Quality Centrifugal Pumps from Moglix
Centrifugal Pumps are required in every residential and commercial or even in construction sites and water bodies to pump water. There are typically three types of centrifugal pumps: single-stage, two-staged and multi-staged. Some important things to consider while buying centrifugal pumps are water capacity, reliability, power, and maintenance fee. Sameer, Havells, and Kirloskar are the most trusted brands to purchase centrifugal pumps. Moglix offers superior quality and genuine Centrifugal Pumps from renowned brands like Sameer, Kirloskar, and Havells. Quickly browse our assortment and explore more about price, specifications, availability, and deals online for Centrifugal Pumps. Buy these products from moglix at the best prices and deliver them to your doorstep across India.
Frequently Asked Questions about Centrifugal Pumps
---
What are the best water pumps for home use?
The pumps offered by brands like Kirloskar, Crompton, Sameer & Havells are best pumps for the home usage.
What are the main parts of centrifugal pump?
The main parts of a centrifugal pump include - an impeller, motor, coupling & impeller bearings.
What do you mean by priming in centrifugal pumps?
Priming is the process in which the impeller of a centrifugal pump is fully submerged in liquid without any air trap inside. This is required especially for first time pump startup. Though, it is advised to start a pump only after priming.
Can a monoblock pump lift water from 60 feet depth?
NO, submersible pump can lift water from 60 feet