Related Water Pumps Article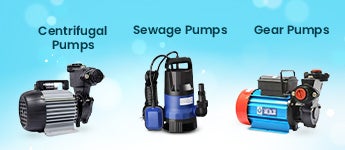 All You Need to Know About the Types of Pumps
Top Quality Water Pumps for Dwelling Water
Water pumps are devices for moving water; they play a fundamental part in agriculture as they move water from its source to the fields and crops. Water pump motors can be used with many forms of irrigation, such as drip, sprinklers, or hose. Water motors pump are vital for various residential, light commercial, or agricultural jobs, especially in rural areas; they can play a critical role. A water pump motor drains water from a basement or shallow flooded areas, drains and fills a swimming pool or dam, or can also be used in agriculture irrigation. Water pumps are also to get rid of excess water or transfer water between two points.
Various Types of Water Pumps
Centrifugal Water Pumps: A centrifugal pump is a mechanical device designed to move fluid by transferring rotational energy from one or more driven rotors, called impellers. Centrifugal pumps are primarily used in pumping water, solvents, organics, oils, acids, bases, and any 'thin' liquids in industrial, agricultural, and domestic applications. The centrifugal pumps available are 1hp water pump motors, 2hp water pumps, 3hp motor pumps, etc.
Submersible Pumps: A submersible water pump (or electric submersible pump (ESP)) is a device with a tightly sealed motor close-coupled to the pump body. Unlike jet sprays, submersible motor pumps push fluid to the surface; this creates a vacuum and relies upon atmospheric pressure. Submersibles use force from the surface to drive a hydraulic motor downhole rather than an electric motor pump. They are used in heavy oil applications with heated water as the motive fluid.
Sewage Water Pumps: A sewage pump transfers sewage liquids and solids from one place to another. Usually, in residential areas, sewage, including soft solids, is pumped from a drainage basin into a sewer system. A sewage motor pump is installed at the lowest point of the sewage basin. They are also used for water pump motors for the house.
Booster Pumps: A booster pump is a device that increases low water pressure and flow. To bring the water pressure to the desired level booster pumps are used. A water booster pump provides pressure to move water from a storage tank or throughout a whole house or commercial facility. Booster pumps increase low water flow in water systems or industrial equipment and transport water from a lake, pond, or storage tank for use in a home or commercial building. A household that doesn't receive enough pressure from the city water supply would need a pump to increase low water pressure. A hotel requires a sizable commercial booster pump to send water to the top story.
Factors to Consider while Buying Water Motor Pumps
Flow rate: This relates to the effectiveness of the water motor pump. Flow rate refers to the time a water pump takes to pump a specific amount of water, primarily measured in liters per minute. To purchase water motor pumps for either job sites or farms, you should buy one that can pump over 2500 liters of water per minute. A water motor pump with a flow rate of between 100 – 200 liters per minute is more suitable for household use.
The size of the inlet: The inlet is a significant factor. Generally, water motor pumps have an inlet size of between 1 to 6 inches, but in some cases, they can be more. Centrifugal water pumps also operate similarly, i.e. sucking in water from the inlet and discharging it through the outlet valve. In situations like these, the bigger the size of an inlet valve, the more water the pump will be able to pump out, and the faster it will do the job.
The quality of the pump: One of the most important to consider is the brand of the water pump. One should invest adequately in purchasing water motor pumps. The quality of water motors for houses should not be compromised, which will also save maintenance fees.
Type of fluid to be pumped by the water pump motor: The kind of water you will pump is also a factor to consider. Transfer pumps are different from firefighting pumps. Other types of water motor pumps include chemical pumps and trash pumps.
Most Affordable Brands To Buy Water Pumps
Crompton Water Pumps: Crompton Greaves Consumer Electricals Limited is an Indian electrical equipment company based in Mumbai, India. Crompton pumps give you higher water-pulling capacity, operate at general voltage levels, and are easy to install and use. The self-priming pump has a brass impeller for longer life. The inline circulation pump has automatic on/off operation and operates silently with less than 55 decibels of noise.
Lubi Water Pumps: Lubi Pumps has been a leading Water pump and motors manufacturer in India Since 1965. Lubi products are the most affordable. They provide premium quality water motors pump to their customers and believe in sustainable development. Lubi provides high-quality domestic water pump motors.
Wilo Water Pumps: Wilo SE is a European manufacturer of pumps and pump systems for the building technology, water, and industrial sectors with headquarters in Dortmund, Germany. Their products have lifelong permanent lubricated bearings, built-in thermal overload protection, TEFC, a capacitor start and run motor, and insulation. Their products also require low maintenance and low power, easy motor rewinding.
KSB Water Pump: KSB is the leading manufacturer of Water pumps. KSB water pumps are versatile, energy-efficient, and need low maintenance. Their water motor pumps can be used for decorative fountains, household water supply, dewatering stormwater in the basement, irrigation through sprinklers and drip systems, water supply to bungalows and high-rise buildings, and flood irrigation through open and dug wells. They also manufacture motors for water corporations.
Consider more top brands like Kirloskar pumps, Havells pumps, Usha motors and pumps, Sameer pumps, and more, which are available at the most reasonable price.
Purchase Water Motor Pumps from Moglix at Wholesale Price
Water pumps' main purpose is to move water from one area to another. They are often applied to construction sites as a form of water extraction, assisting in removing water when excavating, at sewage plants, in flooded areas or when dealing with water wells and oil wells. There are different types of water motor pumps: centrifugal water pumps, booster water pumps, sewage water pumps, and sewage water pumps. Each water pump has other purposes. Some of the best brands to purchase water pumps are Crompton, Wilo, KSB, and Lubi. Moglix is an online platform that sells water pumps from all these top brands. Moglix offers the best offers for 1 hp motor prices. Order water pumps online at the best price and gets them delivered to your doorstep.
Frequently Asked Questions about Water Pumps
---
Where are water pumps used?
A water pump's primary function is to extract water and transport it to the main unit. This product is used to pump water from a well, as well as to filter aquariums and ponds.
What is a pump suction lift?
Negative pressure on the suction side of the pump is referred to as suction lift. The pressure can be measured from the hydraulic part of the pump's center line down to the water surface on the suction side of the pump.
What is a pump head?
In simple terms, the head of a pump is the maximum height that the pump can achieve when pumping against gravity. In other words, if a pump can produce more pressure, it can pump water higher and produce more heads.
What is pump cavitation?
Cavitation occurs when the liquid in a pump converts to vapors at low pressure. It occurs because there is insufficient pressure at the pump's suction end.
Water Pumps - Price Range
This data was last updated on 1/30/23.