Related Kitchen Sinks Article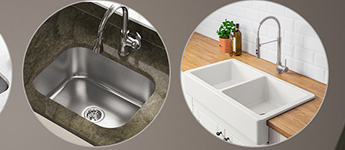 An overview on how to select the right kitchen sink for your home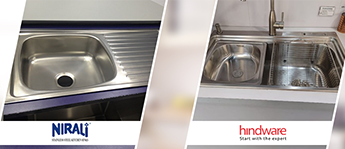 Top-rated kitchen sink brands in 2021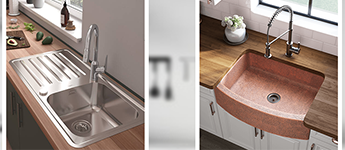 Eight different types of sink designs to revamp your kitchen
Buy from a Wide Range of Kitchen Sinks for Your Home
A sink is a bowl-shaped plumbing fixture frequently used for hand washing, dishwashing, and other tasks. Forming a significant part of one's daily life, a sink is not just merely a utility product anymore. How a sink looks, its placement, etc., has become an essential aspect of today's household. People are moving towards more aesthetic-looking sinks that bring out the look and definition of their kitchen. Of course, the utility remains a significant factor. Sinks endure a lot depending on the usage and are an integral part of your kitchen and bathroom. Buy kitchen sinks in various shapes, sizes, and variants from renowned brands like Uken, Jaya, Nirali, Bassino, Carysil, and many more.
Various Types Of Kitchen Wash Basins to Choose From
Under-Mount Kitchen Sinks - This type is attached to the underside of the counter. Under-Mount Kitchen Sinks are mounted from the bottom and secured firmly to the underside with brackets and silicone adhesive. Undermount sinks add a beautiful, streamlined, and contemporary look to your kitchen while also making cleaning the countertops easier. Because these sinks do not require a rim mounted on your counter, you can wipe any water or food debris right into the steel sink bowl.
Single Bowl Kitchen Sinks - A single bowl kitchen sink has one deep basin with no divider. It provides more space for washing oversized kitchen items and less space than a double-bowl kitchen sink. It even comes with a drainboard. Because it is big enough, you can wash large objects like casseroles and cookie sheets in a single basin. Single basins are best suited for large homes with many occupants and busy kitchens.
Double Bowl Kitchen Sinks - These are better suited to larger kitchens. Double bowls can accommodate many utensils, depending on your requirements. It makes it exceptionally simple to dump used dishes into one bowl, while you can use the other for cleaning or stacking utensils. This even comes with a drainboard. Double basin sinks are versatile and cover all sink functions, including washing, rinsing, and draining.

Factors to Consider While Buying a Sink Kitchen
Material - The materials used in sinks range from ceramics, porcelain, stainless steel, and cast iron. To avoid causing irreversible harm to your sink in the kitchen, be sure how often you'll get to clean it. Stainless steel sinks are always a good choice for busy areas because they are much easier to clean and maintain. Composite granite is becoming more and more popular because of its sturdiness, cleanliness, and attractiveness. Materials such as copper, quartz, natural stone, and coloured stainless steel are available for those looking for a sink for the kitchen that makes a statement.
Installation Type - Your choice of sink installation will have an impact on the surrounding countertop and cabinetry in your kitchen. Undermount, drop-in, integrated, and apron-front installations are among the installation choices.
Area - Choose your sink wisely depending on the size of your kitchen area. You can go for double bowl sinks if your kitchen location is large. If you have less space, you can go for a single bowl sink.
Functionality - Traditional sinks are undoubtedly attractive and straightforward. However, you can always consider a more contemporary variety when updating your kitchen sink. Sinks that include built-in faucets, filters, and waste bins can significantly aid your prep time.
Shape - There are many sinks, including rounded sides, double farmhouses, and built-in drainboards. An integrated drainboard will be the best choice for you if the sink is used frequently each day. Depending on the usage, you must choose a kitchen sink size accordingly.
Brands Selling High-Quality Sinks for Your Kitchen
Bassino Kitchen Sinks - Coming in various exclusive ranges, Bassino sinks for the kitchen have sleek and elegant designs, are durable and smooth ceramic, and are easy to maintain & clean. They are high-quality premium kitchen basins. They are renowned for their extensive product selection and capacity to create custom product lines for both small- and large-scale projects, allowing our customers to realize their visions.
Generic Kitchen Sinks - Generic is one of the top manufacturers of kitchen sinks. Each Generic kitchen wash basin is made with high-quality materials and cutting-edge manufacturing processes. Following thorough market research, the materials are procured from the most reputable and authorised suppliers. They provide sinks that are reasonable, durable, and aesthetically pleasing to look at.
Crocodile Kitchen Sinks - Crocodile Sinks are made to the highest quality standards and are available in a variety of finishes such as Matt, Glossy, Hi-Gloss, and Satin. Their sinks are most unique, elegant, fashionable, and high-quality, designed to handle the toughest messes & maintain beauty. They are heat resistant, have thick gauges, and are of Iasi 304 quality.
Renvox Kitchen Sinks - A premium sink brand, Renvox provides sinks made from high quality materials. Due to the design of these kitchen sinks, cleaning utensils and washing goods is a simple task. The Renvox Sinks also prevent rust and are easy to use. Their sinks are of high standard quality. They are scratch-resistant and can withstand normal wear and tear on your sink.
Jayna Kitchen Sinks - Jayna is a reputable brand that manufactures reliable, and affordable kitchen sinks. Jayna kitchen sinks are classy and durable, and the utensils fit in the sink properly without creating any mess. They are easy to install and make your kitchen look aesthetic. The kitchen wash basins come with a warranty period.
We also have a plethora of kitchen sinks from brands such as Apollo, Nirali, Stanley, and others.

Buy Kitchen Sinks at an Affordable Price from Moglix
Due to the increase in demand for kitchen sinks, brands have started producing reasonable kitchen sinks without compromising on quality. We at Moglix work towards helping you select the best brand and suitable sinks for your home with our easy-to-navigate website and filtering options. For complete customer satisfaction, we make sure that all products go through a quality check before they are shipped out. Here you can find kitchen wash basins at affordable prices and offers on bulk purchases. With various kitchen sink sizes and prices, we provide you with a range that can cater to all your needs. So go to our site and check the most affordable sinks for your kitchen.
Frequently Asked Questions about Kitchen Sinks
---
What is the most popular kitchen sink size for homes?
The standard size of a kitchen sink is measured in length of 24" and 36", whereas people prefer 30" or 33. Well, the requirement of your sink totally depends on the size of your family and food consumption.
Is a single or double kitchen sink better?
A kitchen that has a smaller counter space should always have a single kitchen, as it gets the job done with minimum space consumption. But if one has plenty of counter space in the kitchen, then they may opt for a double sink. In both situations, the user must understand if all their utensils can fit into the sink properly.