Related Kitchen Sinks Article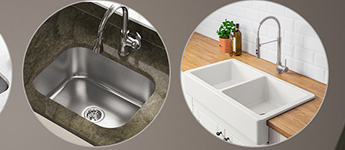 An overview on how to select the right kitchen sink for your home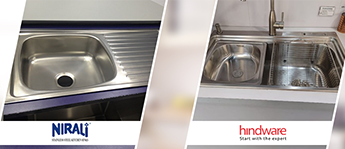 Top-rated kitchen sink brands in 2021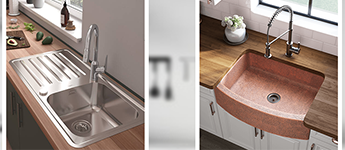 Eight different types of sink designs to revamp your kitchen
Buy Kitchen Sinks Online!
A kitchen sink is one of the most common, and the most indispensable accessory which you are likely to come across when you enter into a kitchen. being fully aware of the challenges that people face while managing their day to day work, Moglix has come up with the newest collection of kitchen sinks online at affordable prices. Our range of sinks are made from high-quality components such as stainless steel, Cast iron kitchen sinks, composite kitchen sinks, and Fireclay sinks. Glass, granite, marble, and copper are just a few of the more exotic materials being used to make kitchen sinks. Stainless steel kitchen sinks are classified in gauge, the lower gauge steel is heavier where as higher gauge is lighter. Available in a wide range of shapes and sizes, these kitchen sinks can be installed with ease.
Our collection of kitchen sinks comprises of models which are adept in retaining their original look over a prolonged period of time. Therefore, they can help users perform numerous kitchen-based activities smoothly without facing too many problems.
Top Kitchen Sinks Brands Available At Moglix
Kitchen sinks play a major role in maintaining a high level of hygiene within kitchens and commercial pantries. At Moglix, we have sourced kitchen sinks from some of the leading brands in the market. Some of the kitchen sink brands are mentioned below: -
Neelkanth - Neelkanth kitchen sinks have a matt finish. Some of them can be under mounted. The availability in different sizes and types makes Neelkanth a convenient option for buyers looking for kitchen sinks online.
Nirali - The Nirali kitchen sinks we offer, include models which have a satin finish. These Nirali sinks are made from high-quality stainless steel and can offer satisfactory quality of service over a long span of time at economical price.
Jayna - The Jayna kitchen sinks that are available at Moglix come with a matt finish. They have a glossy colour and thickness which ensures a high level of durability and functionality. Their international styling makes them suitable for usage over a long period of time.
Deepali - The kitchen sinks offered as a part of this brand includes models made from stainless steel of 204 gauges. The dual mount installation system of these kitchen sinks makes the installation process a lot less complicated for users.
The Deepali kitchen sinks are equipped with a rimmed brush and finishing matching the sink's interior. This enables the sink to be installed easily under a mount or flush. They have a satin finish which makes them easy to clean and highly durable.
Moglix – A Comprehensive Industrial Store
We also deal in products from other reputed brands available in the Indian market such as Camry, Carysil, Sanitop, and SteelKraft. Available in a wide range of shapes, designs, sizes & prices, these kitchen faucets will meet up with the expectations of buyers. The products sourced by us comply with all existing quality standards in the industry. Therefore, they can prove to be versatile accessories meant for long term usage.
Have a Pleasure Experience of Online Buying At Moglix
At Moglix, we deal in different types of kitchen sinks such as ceramic sinks, double bowl kitchen sinks, granite kitchen sinks etc. The sink faucets which we have as a part of our collection are suitable for usage in not just homes but restaurants, cafes, hotels etc.
Why buy Kitchen Sinks Online from Moglix?
At Moglix, we have sourced the newest range of kitchen sinks online. The products that we have on offer are updated with all specifications periodically to make online buying a comfortable experience for buyers. Moreover, the kitchen sinks price on our online portal is positioned competitively in view of the rising competition. Make your kitchens stand using the newest variety of kitchen sinks online at Moglix.
Frequently Asked Questions about Kitchen Sinks
---
What is the most popular kitchen sink size for homes?
The standard size of a kitchen sink is measured in length of 24" and 36", whereas people prefer 30" or 33. Well, the requirement of your sink totally depends on the size of your family and food consumption.
Is a single or double kitchen sink better?
A kitchen that has a smaller counter space should always have a single kitchen, as it gets the job done with minimum space consumption. But if one has plenty of counter space in the kitchen, then they may opt for a double sink. In both situations, the user must understand if all their utensils can fit into the sink properly.
Kitchen Sinks - Price Range
This data was last updated on 8/17/22.