Related Paint Sprayers Article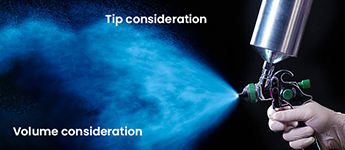 Important things to consider before buying and using paint sprayers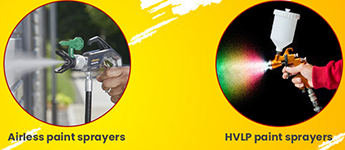 Guide to different types of paint sprayers and their applications
Buy Good Quality Paint Sprayers at a Reasonable Range
Paint sprayers are painting tools that atomize a fluid into a specific pattern using pressurized gas from a nozzle. The spraying nozzle functions by intruding high-velocity chaotic air just on top of liquid threads or films, leading it to break into drops of different sizes.
Sprayers that atomize fluid into a thin layer may also create a mirror-like surface on furniture or chairs when even minor brush marks are unwanted. Equally important is their capacity to cover rough surfaces like window shades and stair balusters, breeding grounds for brushing drips. Sprayers that atomize fluid into a thin layer may also create a mirror-like surface on furniture or chairs when even minor brush marks are unwanted.
Different Types of Paint Sprayers
Airless Paint Sprayer- The compressed air is not used by the airless paint sprayer. Instead, an electric pump propels the paint into the sprayer's tip, creating a fan or circle of paint. The paint adheres to the surface, leaving a smooth sheen.
HVLP Sprayer- The High-Volume Low-Pressure paints sprayer is a more precise machine. It functions at a lower pressure, as the name implies, implying that less color is discharged from the nozzle at any moment. It is also combined with the air molecules required to pressurize the paint. This implies that HVLP sprayer is simpler to handle, produces less waste, and can be utilized for precise work.
LVLP Sprayer- LVLP is an abbreviation for Low-Volume, and Low-Pressure, and these devices need around 10 PSI to function. Because they may employ relatively simple air compressors that are accessible for a portion of the price of those necessary for conventional compressed air systems, they are appropriate for use by the DIYer.
Compressed Air Sprayer- Compressed air sprayers, such as the LVLP gun, are simple paint sprayers. They employ a compressor to produce compressed air and drive it over the paint inside the tank. This drives the paint down the line and into the machine's nozzle or tip, resulting in a jet of paint mixed with air.
Factors to Consider Before Purchasing Paint Sprayers
Horsepower and Pressure: The level of pressure that a spray paint machine can apply varies. The rule of thumb is that the thicker the paint, the higher the pressure is needed. Speed is also an essential factor in the choice process. The more horsepower, the greater the gallons per minute of spray sprayed and the quicker the spraying pace.
The volume of the container: Determine the scope of the project you'll be primarily focusing on. A moderate-volume spray paint machine will suffice if you're planning to operate on hobby activities that need spraying tiny surfaces, like craft goods. Nonetheless, if you're a professional who has to work on large tasks, you should only choose a high-volume spray paint machine that will not require you to stop on numerous occasions during the job to reload.
Nozzel: The colour spray machine could be equipped with a variety of tips. The surface will determine the best tip for the job you would be going to spray & the form of coat you are using.
Price: Whether you want to spray just on rare occasions or exclusively for hobby tasks, you might opt for a less costly colour spray machine which is more liable to jam than its more expensive competitors.
Area Covered: You don't want to waste hours attempting to cover a wide region with a colour spray machine that barely moves an inch per minute. Most colour spray machines are graded based on the amount of paint they can cover in a minute or the amount of paint they release. Whenever the product description specifies fl. oz. per minute, this is a measurement of the amount of paint this can spray each minute. It's not as informative as the CFM (cubic feet per minute), although it does provide an overview of its effectiveness.
Different Brands Offering Good Quality Paint Sprayers
Lovely: Lovely Paint Spray Guns are ideal for your painting requirements. They are simple to operate and make your work much more straightforward. Lovely paint sprayers are high-quality, inexpensive, and ideal for experts and DIY lovers.
Hillgrove- Spray guns from Hillgrove are pieces of equipment that can spray colour or varnish onto a surface utilising air pressure. Such guns can paint on any surface or substrate, including metal, stone, wood, clay, & porcelain, as well as glass, plastic, & textile. As a result, Hillgrove spray guns are essential tools for any type of production industry & repainting facilities, as they enable the industrial completion of any of their goods in an efficient and economical manner.
Zebra- These Zebra Paint Sprayers are robust paint sprayers ideal for any home renovation job. Are you looking for the best paint sprayer? Take a look at the Zebra! Its fantastic sprayers have a strong engine that can manage any size paint job. And don't worry regarding overspray since these sprayers have built-in filtration to assist prevent it.
Krost- Krost Premium Painting Sprayers are ideal for individuals searching for a high-quality, long-lasting paint sprayer. These are composed of high-quality materials and feature a gravity feed cup, making them simple to use. The Krost paint sprayers are a high-quality, low-cost device that is ideal for your painting requirements.
Why Moglix Is Best to Choose Paint Sprayers
A paint sprayer is essential for providing your home or workplace walls with a fresh look. First and foremost, know what a painting sprayer performs. The paint sprayer seems to be an excellent painting instrument that may make our task more accessible and more pleasant. Moglix appears to be a one-stop shop for individuals looking for high-quality industrial items digitally. We provide the most incredible things from the top companies. So, if you want to purchase a paint sprayer digitally, explore our webpage Moglix.com & choose the best one.
Frequently Asked Questions about Paint Sprayers
---
Is it better to use a roller or paint sprayer?
Using a paint sprayer is the best option for speed and usability. They are primarily used by professional painters for this reason. But nothing tops a roller for those seeking quality. It has a better texture, a more even finish, and adheres considerably better.
Can you put regular paint in a sprayer?
As long as the paint is the appropriate kind for the sprayer you purchase, you can use any kind of paint with it. The majority of sprayers are capable of working with a variety of paint types, including latex, acrylic, primers, vinyl, alkyd, lacquer, enamel, high-heat paint, oil-based paint, epoxy, rust-preventive paint, and plastic paint.
Paint Sprayers - Price Range
This data was last updated on 2/5/23.