Shop More by
Related Scanners Article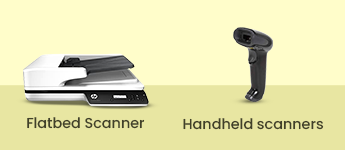 Scanners: Definition, Types, advantages, and price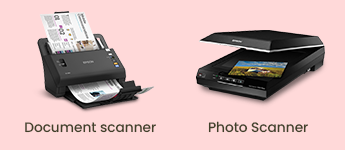 Scanners: Types based on their usage and applications
Scanners: Transform Physical Data to Digital Data Instantly
---
It was extremely difficult to transform physical data or papers (hard copy) into digital documents (soft copy) before the advent of scanning equipment. Still, the scanners quickly established themselves in the market. We can now scan documents and old photographs that are special to us, convert them to digital data, and save them as images on our computer, preserving the memories for all time.
A scanner is an electrical device that captures images from physical objects and converts them to digital formats that may be saved on a computer and viewed or modified using software applications. There are several types of scanners available, each with a different resolution.
Types Of Scanner Machines Available Today
---
All scanners are designed to perform specific tasks; for example, a photo scanner is designed to scan only photographs, whereas flatbed scanners are designed to scan documents. You'll find more examples below.
There are far too many scanning machines on the market these days, and in this article, you will learn about six different types of scanners that are well-known and widely utilized by small and large enterprises.
Document Scanners Document scanners, also known as sheetfed scanners, are primarily used for scanning papers of various sizes without difficulty. This is the greatest scanner to use if you need to scan many pages per day, such as thousands. It can quickly scan many pages every day and has specific built-in capabilities that make scanning simple and efficient.
More features mean more money, which is why a document scanner is more expensive than a flatbed. This device's capabilities include duplex scanning, which takes up less space and provides good quality. This scanner is best for scanning pages rather than books or sheets.
Photo Scanners: Photo scanners are scanners that are specifically designed to scan images, photos, and paintings. If you need a photo scanning device, a photo scanner is one to choose because it scans your photos in high quality. The device's key features are its high resolution and color depth.
A flatbed can scan photos as well, but a photo scanner produces superior results that should not be compared to other scanned images. The advantage of having inbuilt picture editing software on some photo scanners is that it improves the image quality. In comparison to others, a scanner with image editing software can be prohibitively expensive. You can check out image scanners online to know more about them.
Flatbed Scanners: A flatbed scanner is similar to a copy machine, except that t saves the document's file in memory instead of making a paper copy. This is the most common and popular type of scanner on the market. After an object has been scanned, it can be viewed on a computer screen, saved on a storage device, printed, faxed, attached to an e-mail message, included in another document, and publicly exhibited on a website or picture community.
Flatbed scanners can scan practically all types of documents and images, and because they're small and can handle all sizes of papers, they're an excellent choice for both businesses and homes. This flatbed scanning device's advantages include high-speed scanning, optional network integration, wireless scanning, and simple file management. The big and hefty machine takes up more storage space and is also more expensive than comparable machines.
Handheld Scanners: All of the scanners we've discussed thus far are large and cumbersome, requiring storage space, but handheld scanners are small and portable, allowing you to carry them in your pocket. This is a small rod type of gadget that can be used by your hand, termed a portable scanning device. It is not similar to others in construction design but similar in its function. This diagram depicts the many types of scanners in use today. It detects the outcome by focusing on the subject, reading the subject using light sensors, and displaying the result.
OMR Scanners: This device reads marks on the paper in specified regions. It can recognize hand-drawn marks made with pens or pencils, such as little circles or rectangles. These markings are made on a form such as an exam, survey, questionnaire, or answer sheet by a person.
The Optical Mark Recognition machines read the answer key sheet first to record correct answers based on light patterns before evaluating a test paper sheet. The OMR gadget then reads the rest of the document and compares the light patterns to the answer key sheet.
Barcode Scanners: A bar code is a collection of thin lines that represent a number. A bar code reader, also known as a bar code scanner, is utilized to input data from bar codes.
The majority of things in stores have bar codes on them. Bar code readers function by shining a light beam on the lines that make up the bar codes and measuring the quantity of light reflected.
Factors to Consider While Buying Scanners
---
--> Scanner kind and coverage area- Scanners come in a variety of shapes and sizes. Purchase the appropriate scanner for the job at hand. Consider the length of the topic you'll be scanning while making your purchase.


--> Resolution and color depth- Make sure your scanners have at least 700 to 1200 DPI resolution. Choose scanners with a resolution of at least 2000 DPI for scanned photos.


--> Software compatibility- Before purchasing a scanner, ensure it is compatible with your device's Mac OS or Windows version.


--> Connectivity- Some scanners connect by USB, while others use WiFi. Choose one that is appropriate for your workplace.


Buy Document Scanner Machine online at Moglix.com
---
There are too many different types of scanners on the market, but after reading this article, you will be able to select the scanning device that best suits your needs. Before acquiring any equipment, attempt to understand your needs first and then make a decision. Top brands like Canon, Epson, HP, Brother, and many offer scanners at affordable prices. You can choose the payment option of your choice and get the product safely delivered to your doorstep.
Frequently Asked Questions about Scanners
---
What should I do if my scanner stops working?
Check that the cable connecting the scanner to your computer is securely connected at both ends. If feasible, try an alternative cable to rule out any problems with the current one. You can also try another USB port on your computer to see whether a malfunctioning port is to blame.
Can I clean a scanner with paper towels?
Paper towels should not be used since they can leave dust on the glass. Avoid using compressed air since it can shove dust under the glass, necessitating the services of a professional cleaner.
Scanners - Price Range
This data was last updated on 12/6/22.