Shop More by
Related Scanners Article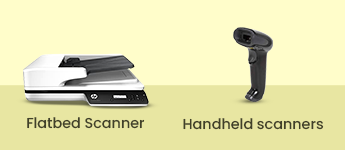 Scanners: Definition, Types, advantages, and price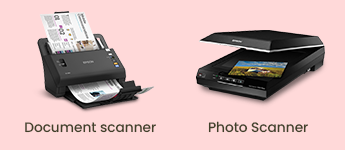 Scanners: Types based on their usage and applications
Purchase the Most Efficient Scanners at Economical Costs
A scanner converts light into digital data that computers can process for further image manipulation. A scanner is most commonly used to digitize traditional (non-digital) photo prints or other printed graphics for long-term archival or computer monitor viewing (or on a TV). A scanner can also convert printed/handwritten documents into editable/searchable text on a computer and scan film and/or slides, which can be especially useful for graphic artists and photographers. We offer the highest-quality scanner machines for offices sourced from the most prestigious brands like Canon, Epson, Startek, Fujitsu, Honeywell, and many others.
Types of Durable Scanning Machines to Choose From
Document Scanners: The main purpose of document scanners, often called sheetfed scanners, is to quickly scan papers of various sizes. This is the scanner to utilize if you need to scan thousands of pages every day. It can scan a large number of pages per day and has built-in features that make scanning simple and efficient. More features cost more money, which is why a document scanner costs more. One feature of this gadget is duplex scanning, which uses less room and offers good quality. Instead of scanning books or sheets, this scanner works best for scanning pages.
Photo Scanners: Photo scanners are scanners made especially for scanning artwork, photos, and other visual media. Because it scans your images in high resolution, a photo scanner is a great option for a photo scanning device. The device's high resolution and colour depth are its main features. Some picture scanners have built-in image editing software, which has the benefit of enhancing image quality. In comparison to other scanners, a scanner with image editing software can be unnecessarily expensive.
Flatbed Scanners: A flatbed scanner is similar to a copy machine, with the exception that it stores the document's file in memory rather than generating a paper copy. The most common and commonly applied kind of scanner available is this one. An item can be scanned and then saved on a storage device, displayed on a computer screen, printed, faxed, attached to an email, incorporated in another document, and made available for viewing by the public on a website or image community. Flatbed scanners are a great option for both homes and businesses since they can scan practically any sort of document or image because of their size and ability to handle all paper sizes. High-speed scanning, possible network integration, wireless scanning, and other advantages of this flatbed scanning device
Handheld Scanners: While all of the scanners we've discussed so far are large and bulky, necessitating storage space, handheld scanners are small and portable, allowing you to carry them in your pocket. A portable scanning device is a small rod-shaped device that can be used with your hand. It is not similar in construction design to others but serves the same purpose. This diagram depicts the various types of scanners that are currently in use. It determines the outcome by focusing on the subject, reading it with light sensors, and displaying the result.
OMR Scanners: These devices read marks on paper in specific areas. Hand-drawn marks, such as small circles or rectangles, can be recognized with pens or pencils. A person makes these markings on a form, such as an exam, survey, questionnaire, or answer sheet. Before evaluating a test paper sheet, the Optical Mark Recognition machines read the answer key sheet to record correct answers based on light patterns. After that, the OMR device reads the rest of the document and compares the light patterns to the answer key sheet.
Barcode Scanners: A bar code is a series of thin lines that represent a number. To input data from bar codes, a barcode reader, also known as a barcode scanner, is used. The majority of items in stores have bar codes. Bar code readers work by shining a light beam on the bar code lines and measuring the amount of light reflected.
Factors to Keep in Mind When Purchasing the Right Document Scanner Machine Online
Image Sensor: CCD (Charge Coupled Device) or CIS (Contact Image Sensor) image sensors are commonly used in modern scanners. CIS is a more recent innovation for low-cost entry-level consumer scanners. CIS-based scanners are smaller, less expensive, and use less power than CCD-based units, but they produce slightly lower-quality images.
Resolution: The resolution specification of a scanner helps to distinguish it from the competition. The resolution figure refers to the number of pixels that a scanner can sample/capture and is frequently expressed in dots per inch (dpi). Higher-resolution scanners can capture more information from a given image than lower-resolution scanners, providing more detail and image quality.
Speed: The importance of a scanner's speed is determined by how frequently you intend to use it. Speed may not be an issue if a scanner is only used once or twice a day, as is typical for most home/personal use. Of course, the situation can be completely different for those who are constantly acquiring images or documents. In general, scanning resolution, as well as other scanning settings such as colour depth, have a significant impact on scanning speed.
Color/Bit Depth: The bit depth refers to the amount of information that a scanner can record per pixel. The greater the bit depth, the more colour/grey gradations the scanner can record, resulting in higher image quality. Because more information can be stored per pixel, a higher bit depth also means a larger file size.
Budget: A premium option will always be available within your budget, but you must do your research and select one built by a reputable company with dependable components and a long warranty.
Brand: The brand is an important factor to consider because it can affect the quality of the items you buy. When you buy from a well-known and established company, you can expect prompt and high-quality customer service whenever the need arises.
Prominent Brands that Sell High-Quality Paper Scanning Machines
Canon Scanners: Canon is a leading provider of digital imaging solutions for consumers, businesses, and industries. It sells cameras, EF lenses, camcorders, printers, scanners, binoculars, projectors, and other items. Canon provides instant and great customer service, so there is no need for you to worry in case of any issues.
Epson Scanners: Epson is a globally recognized brand that offers cutting-edge imaging solutions. It is a global technology company that sells all-in-one printers, professional imaging, projectors, scanners, and other products. After conducting extensive market research, they purchase their raw materials from the most reputable and authorized suppliers.
Startek Scanners: Startek is well-known for its expertise in optical scanners, modems, and printer design and development. It provides a diverse range of imaging products, including film scanners and life science products. Startek scanners come in a variety of options and are easy to use. Following a thorough market analysis, the most dependable and well-known vendors are selected to supply the components needed to manufacture Startek scanners.
Fujitsu Scanners: Fujitsu is one of the world's largest IT services providers, offering a wide range of technology products, solutions, and services. It provides a wide range of products, including tablet PCs, desktop computers, scanners, printers, servers, storage devices, and many other peripheral devices. Their range of scanners is classy, affordable, and easy to use.
We also offer scanning machines for your office from reputed brands like Brother, Kodak, Mantra, Zebra, HP, and others.
Get the Best Scanner Machines Online from Moglix
We at Moglix pay close attention to the way our clients' needs change over time. We provide the most affordable paper scanner machines. We bring to you a range of classic, efficient document scanner machines from the most reputable brands to ensure they provide the best protection. We work with some of the world's most prestigious brands. This enables us to meet our client's high standards. Our scanner machines come with a variety of special offers and discounts. Visit our website to see the most affordable scanners from the leading brands.
Frequently Asked Questions about Scanners
---
What should I do if my scanner stops working?
Check that the cable connecting the scanner to your computer is securely connected at both ends. If feasible, try an alternative cable to rule out any problems with the current one. You can also try another USB port on your computer to see whether a malfunctioning port is to blame.
Can I clean a scanner with paper towels?
Paper towels should not be used since they can leave dust on the glass. Avoid using compressed air since it can shove dust under the glass, necessitating the services of a professional cleaner.
Scanners - Price Range
This data was last updated on 1/29/23.