Shop More by
Related Barcode Scanners Article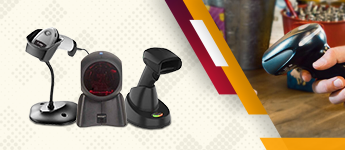 Barcode scanners: Working and different types available
Barcode Scanner: For Efficient Functioning of Business
---
Barcode scanners were first developed as a retail solution for grocery stores, but their practical applications quickly spread to other industries such as warehouse management, libraries, asset tracking, and more. In most commercial situations, barcode scanners have become an indispensable tool. Barcode scanners are such a widespread piece of technology that organizations cannot function effectively without them.
A barcode scanner, also known as a point-of-sale (POS) scanner or a price scanner, is a device that captures and reads data from barcodes. A light source, a lens, and a light sensor that converts optical impulses into electrical ones make up the scanner. They also have decoder circuitry that analyses the barcode image data sent by the sensor and sends it to a computer.
Working Process of a Barcode Reader
---
A barcode scanner measures the amount of light reflected after sending a beam of light across the barcode. The light will be reflected less by the dark bars on the barcode than the white spaces between them. The scanner subsequently transforms light energy into electrical energy, which is ultimately converted into data by the decoder and transferred to a computer.
Common Types of Barcode Scanners
---
Barcode scanners come in various shapes and sizes, depending on the area in which they are employed. Most scanners, regardless of type, perform the same function. Barcode scanners recognize barcode symbology and transfer that information to a computer or terminal to identify the product and other product elements, such as name, price, and inventory, whether in retail or industrial settings. There are several types of barcode scanners available, including:
Wireless scanner: Wireless barcode scanners have the advantage of moving the scanner to the inventory rather than having to transport the goods to the scanner, saving time and effort. Furthermore, cordless scanners increase efficiency by providing a greater scanning range, up to 200 feet in some cases. Internal memory storage is included on some wireless scanners, allowing users to save multiple scans without being close to the dock or cradle base station.
2D Scanners: A two-dimensional barcode scanner can read two-dimensional barcodes, which hold information in two dimensions rather than just black and white bars. 2D barcodes resemble checkers or a stack of regular barcodes layered on top of each other. 2D scanners detect barcodes using CCD and imaging technology.
Handheld Scanners: A handheld barcode scanner is operated while being held in the user's hand. Most handheld scanners include a grip and a trigger to begin the scanning operation. However, the phrase "Handheld Barcode Scanner" also applies to scanners that are better known as Mobile Computers that run their own full-fledged operating system.
Features of Code Scanners
---
--> Auto-start: As soon as the card is inserted, auto-start barcode scanners begin scanning. Because they are not always on, they are energy efficient.


--> Whether audible or visual, reading signs provides positive feedback to the user that the card was swiped correctly. For example, the 'ding' in the grocery shop as items are checked out is an aural indicator.


--> Battery-powered: The gadget is cordless because a battery can power it. This is useful for scanning products in a store or a factory.


--> Bi-directional scanners allow products to be swiped in any way and are not limited to left-to-right scanning.


--> Numeric or alphanumeric keypad: For user input, the unit has an inbuilt numeric or alphanumeric keypad. It can be used to fix a broken light source or change product info (such as price).


--> Memory is utilized for data and program storage to keep track of inventory.


--> The reader can read the barcode in more than one direction.


--> Scheduled access, date and time stamps, data formatting, and other features are available with programmable barcode scanners.


--> Portable: With the portable option, the barcode reader can be used in various settings, such as tracking attendance at various trade exhibitions and expositions.


--> Ruggedised: If the reader is used to control access to a building that is exposed to the elements, this feature will come in handy.


QR Code Scanners and the Method to Scan
---
A QR code scanner is a type of optical scanner that can read QR codes. QR code scanners are incorporated into the cameras of most tablets and smartphones. That implies you'll probably be able to scan and interpret QR codes with your camera.
--> Open the camera app that came with your phone that scans QR Codes.


--> When you point your device at the QR code, it will appear on your screen.


--> Your Android device will recognize the QR code and display a banner on the screen.


--> To finish signing in (if you aren't already signed in) and access the information linked with the QR code, click the banner and follow the steps.


Choose From the Assorted Range Of Barcode Readers Online
---
Barcode readers are commonly used for tracking products. To meet up the needs of people working in commercial areas, we are offering a vast range of barcode readers online. The products which we have on offer can be used in instant or storage mode. They can scan quickly, therefore making the entire process of product scanning a hassle-free one for the users. These barcode readers are shockproof and dustproof and are compatible with PC, laptop, mobile, PC, tablet, IOS, Android, and Windows. They can store between 500-1000 records.
Retrieve and Tabulate Data Using Barcode Scanners
---
Barcode scanners are highly useful for keeping a track of product prices and stock. To help professionals in stock management, we present the latest range of barcode scanners online. The products which we have on offer as a part of this range include Wi-Fi barcode scanners and wireless barcode scanners. The Wi-Fi barcode scanner models available here have a simple installation process. The auto caps lock detection feature of the keyword wedge ensures that the data always appears on the PC exactly in the way it is encoded in the bar code.
Our wireless barcode scanners are compatible with Windows and can work in the dual scanning mode. They operate using lithium-ion batteries. The Honeywell barcode scanners which are available as a part of this category can perform as many as 72 scans per second. They deliver an omnidirectional reading of linear bar codes and can be upgraded to enable PDF and 2D bar code scanning also.
Why Buy Barcode Scanners and Readers from Moglix?
---
Barcode scanners are now available in several forms. You'll need these to boost the productivity of your retail business, whether you already have one or are preparing to start one. They are employed in industrial sectors, healthcare institutions, and warehouses in addition to retail outlets. Thanks to online shopping, finding a barcode reader relevant to your business type has never been more accessible. Honeywell, Pegasus, Zebra, TVS, Newland, and many more offer top-quality devices. Order now and get them delivered to your doorstep.
Frequently Asked Questions about Barcode Scanners
---
Can you scan a damaged barcode?
We can still read the lines whether they are partially ripped or scrawled as long as there is a relevant component. If the lines are significantly damaged yet the text is still readable by people.
How long does a barcode scanner last?
Some barcode scanners can scan up to 120 pictures per second, allowing for continuous operation with little downtime. Handheld scanners are typically covered by a one- to five-year warranty.
Top Selling Barcode Scanners Price List in India
Barcode Scanners - Price Range
This data was last updated on 10/6/22.