Shop More by
Related Barcode Scanners Article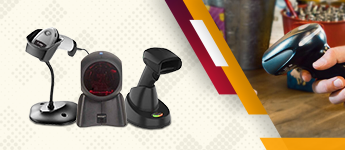 Barcode scanners: Working and different types available
Purchase the Most Efficient Barcode Scanners at Economical Costs
Barcode scanners were developed initially as a retail solution for grocery stores, but their practical applications quickly spread to other industries such as warehouse management, libraries, asset tracking, and others. Barcode scanners have become an indispensable tool in most commercial situations. Barcode scanners are such a common piece of technology that businesses cannot function without them. A barcode scanner, also known as a price scanner or a point-of-sale (POS) scanner, is a device that captures and reads data from barcodes. The scanner is made up of a light source, a lens, and a light sensor that converts optical impulses into electrical ones. They also include decoder circuitry, which analyses and transmits the barcode image data sent by the sensor to a computer. Depending on the application, barcode scanner guns come in a variety of shapes and sizes. The majority of scanners, regardless of type, serve the same purpose. In retail or industrial settings, barcode scanners recognise barcode symbology and transfer that information to a computer or terminal to identify the product and other product elements such as name, price, and inventory. Buy barcode scanner machines from Moglix from renowned brands like Pegasus, Honeywell, TVS, Retsol and many more at affordable prices.
Types of Durable Barcode Scanner Machines to Choose From
Wireless scanner: Wireless scanners have the upper hand in being able to move the scanner to the inventory rather than having to transport the goods to the scanner, saving time and effort. Furthermore, cordless scanners improve efficiency by extending the scanning range, which can reach up to 200 feet in some cases. Some wireless scanners include internal memory storage, allowing users to save multiple scans without being near the dock or cradle base station.
2D Scanners: Two-dimensional barcode scanners can read two-dimensional barcodes, which contain information in two dimensions rather than just black and white bars. 2D barcodes look like checkers or a stack of regular barcodes stacked on top of one another. 2D scanners use CCD and imaging technology to detect barcodes.
Handheld Scanners: A handheld barcode scanner is operated while the user holds it in his or her hand. To begin scanning, most handheld scanners include a grip and a trigger. However, the term "Handheld Barcode Scanner" also refers to scanners known as Mobile Computers, which have their own full-fledged operating system.
Factors to Keep in Mind When Purchasing the Right Barcode Scanner Guns Online
Corded or cordless: If the barcode scanner you want to buy will be used outside, on the factory floor, or across multiple warehouses, you should consider a cordless model. This is the best option, especially if your staff does not always have access to a powerpoint.
Durability: If you need a handheld barcode scanner that can withstand harsh conditions, look for one with an IP rating of IP54 or IP65. These models protect your barcode scanner from dust and water sprays. If you work in harsher environments, you will need to look for a barcode scanner designed for your specific environment, which our AIS experts can assist you with.
Connectivity: There are Bluetooth-enabled barcode scanners available, allowing you to connect wirelessly and transmit data to your database or management system.
Scanning Capabilities: It is critical to understand your company's symbologies and ensure that the barcode scanner you choose can read and decode 1D, 2D, and any additional symbologies required. Image vs. Laser Scanning Functionality: Imaging barcode scanners are more advanced than laser barcode scanners and typically provide a wider range of scanning capabilities.
Omni-Directional Scanning: It is recommended that if you plan to buy a laser barcode scanner, you get one with omnidirectional scanning so that your barcode scanner can decode 2D barcodes.
Software Compatibility: Some handheld barcode scanners are compatible with operating systems such as Android and PC, while others have their own built-in software systems. Some include a Software Development Kit, which allows businesses to create customer applications. Some barcode scanners work with Windows or iOS right away, while others require you to download specific drivers.
Scanning Distance: This tells you how far your barcode scanner can scan. This depends on the type of barcode.
Scanning Speed: If you have a large number of barcodes to scan, it is best to look for a barcode scanner with rapid, continuous scanning capabilities. Some models can scan up to 120 images per second.
Warranty: This is critical. The warranty period for handheld barcode scanners is usually between one and five years. If your barcode scanner is used in harsher environments, longer warranties should be considered.
Prominent Brands that Sell High-Quality Barcode Readers
Pegasus Barcode Scanners: One of the most popular handheld scanners are the Pegasus Barcode Scanner. You can scan and pass in a fraction of the time. Their scanners assist you in making your job easier and more enjoyable. Their devices are covered by manufacturer warranty.
Honeywell Barcode Scanners: Honeywell barcode scanner machines have soft grip, so your hands will not hurt even after working for a long time. Their handheld scanners work well with various interfaces including USB HID/USB COM/RS 232. If you're looking for efficient handheld barcode scanners, Honeywell is one of the best options.
TVS Barcode Scanners: The Honeywell barcode scanners are high-performance barcode scanners suitable for a wide range of applications. With fast scan rates and wide depth of field, their scanners can read barcodes of all sizes quickly and accurately. TVS provides quick, free, and simple scans with a high read rate.
Retsol Barcode Scanners: Retsol barcode scanners are suitable for use in a variety of environments. Their scanners are also dust and water resistant, with an IP41 classification. The scanners are covered by warranty. The Retsol barcode scanners are ideal for use in the office.
We also offer barcode scanner guns for your office from reputed brands like Fingers, Sunmi, Dcode, EBN, iBall, Swaggers, and others.
Get the Best Wireless Barcode Scanners Online from Moglix
So, before you invest in a barcode scanner for your business, consider the factors that will or will not work. Moglix, a well-known name in the industry, provides the best barcode scanners. Moglix pays close attention to how our clients' needs evolve over time. We offer the most cost-effective barcode scanner machines. We offer a selection of classic, efficient wireless barcode scanners from the most reputable brands to ensure the best protection. We work with some of the most reputable brands in the world. This allows us to meet our client's high expectations. Our barcode scanner machines include a number of special offers and discounts. Visit our website to see the best deals on barcode scanner guns from the top brands.
Frequently Asked Questions about Barcode Scanners
---
Can you scan a damaged barcode?
We can still read the lines whether they are partially ripped or scrawled as long as there is a relevant component. If the lines are significantly damaged yet the text is still readable by people.
How long does a barcode scanner last?
Some barcode scanners can scan up to 120 pictures per second, allowing for continuous operation with little downtime. Handheld scanners are typically covered by a one- to five-year warranty.
Top Selling Barcode Scanners Price List in India
Barcode Scanners - Price Range
This data was last updated on 1/29/23.