Shop More by
Related Paper Punches Article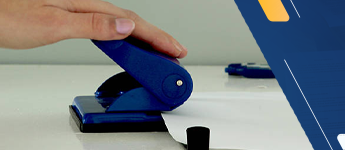 Paper Punches for Neatly Organised Paper Stacks: Meaning, Types, Benefits
Paper Punches for Perfect Organising
---
Paper Punches are tools that help make holes or punch holes at the required part of the paper to either pass a thread, chord, rod, or hook where it can be filed in a particular manner. These help in maintaining uniformity and keep the punched hole neat. This avoids unnecessary piercing with a sharp object to get the holes to set paper into a file.
The punched holes through these punching machines of paper help in reducing the effort and helps keep away the risk of tearing paper while punching holes in them.
Paper Punching Machines and its Variety
---
Paper punching machines are available in varied forms. Each of them is used for a different purpose. Some of the options in these paper hole machines are heavy-duty punch, double hole heavy-duty punch, three holes heavy-duty punch, eyelet paper punch, punch with the clip holder, and many more. These paper hole makers are available in different sizes and colors too.
Advantages of Heavy-duty Paper Hole Machines
---
There are several benefits of heavy-duty paper hole machines. They are user-friendly, and you need to set it up in a place as received, and there is nothing more to install to start working. In some institutions, punching holes in the paper are made regularly and in greater quantities. In such cases, heavy-duty paper punches play a significant role.
It reduces effort and energy on the task as you can effortlessly use these machines to punch holes into a stack of papers in one go. It is beneficial to punch holes into the entire document and when the documents shouldn't be mixed. At a stretch with one punch, you can make holes in the whole document in the required area and in a uniform way. This will save time, look neat, and be effortless too.
Punching each paper separately may make holes in different places, and when stacked together in a file, it looks uneven and shabby. It is used in binding centers when they have to spiral bind the papers and this will be an easy task with these heavy-duty machines.
Benefits of Hand-Held Paper Punch Hole Machine
---
These hand-held eyelet paper punching equipment come in different sizes and varieties like single hole punching and double hole punching. This is lightweight and handy. It is easily portable and doesn't need any elaborate procedure to install.
It is user-friendly. Individuals use these on a personal level, and thus people do not need heavy-duty machines. Simple and small punching equipment can help them as they need it for minimal use. It is neater than drilling or piercing the hole, quicker, and saves time and energy. So, a paper punch hole machine can be used for personal use to file documents or papers.
Buy Paper Punch Hole Machine Online at Moglix
---
Moglix is a well-known B2B e-commerce site that provides industrial, mechanical, and business-oriented products at premium quality and customer preference. Major brands, including Kangaroo and Kores, offer top-quality paper punches online, and you can choose the one that matches your requirements. Now shop for paper hole makers at home and stack your files neatly without any worry.
Frequently Asked Questions about Paper Punches
---
How do you take care of a paper punch?
To keep your punches from rusting, keep them in a dry, low-humidity area. Going a step further, punching through waxed paper or silicone-treated baking parchment might assist in giving lubricant (wax or silicone) to the punch's surfaces, preventing it from sticking. Keeping punches clean, brushing out any paper residue will also help.
What is the best way to sharpen a paper punch?
Multiple punches cause paper punches to become blunt over time; but, with a simple hack, you can cure this problem. All you need is foil paper. Simply fold the foil a couple of times and insert it in the punch, where it can be punched a couple of times. This will sharpen your punch and make it as good as new!
Top Selling Paper Punches Price List in India
Paper Punches - Price Range
This data was last updated on 10/4/22.