Shop More by
Related Paper Punches Article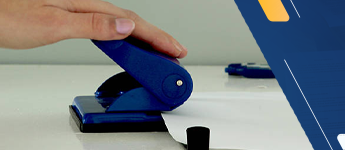 Paper Punches for Neatly Organised Paper Stacks: Meaning, Types, Benefits
Buy Paper Punches Online with Assured Quality and Best Prices
A paper punch, also known as a hole punching machine or paper hole punch, is a tool mostly used in schools, offices, hospitals, and various other official places and organizations. It is used for making holes in a paper or bundle of papers, for putting them into a folder or a folder. It makes your document sorted in one place safely so that you can keep a maintained record of your essentials at once.
At Moglix, we offer high-end, good quality, and long-lasting hole punching machines all in a single place from renowned brands like Kangaro. Moreover, a punching machine is a must in every office. Therefore, you should prefer this tool in your office or school and make a smart move in this fast and growing world to compete and stand at the top.
Types Available in Paper Hole Punches According to Different Needs
Three-hole Paper Punches: As the name tells itself, these three-hole paper punching machines let you make three holes in a paper, sheet, or bundle of papers or sheets. You can place the punched sheets inside a folder or a binder safely. Moreover, these three-hole paper punches are mostly used in schools, offices, etc.
Double-hole Paper Punches: This machine can be used for the purpose of punching at least two holes at a time. Moreover, it has the capacity of punching multiple papers at a time.
Single-hole Paper Punches: The single-hole paper hole punches are mostly used for doing crafts or making a scrapbook. Moreover, they are used to make holes into the tickets in various types of events or sometimes on the punch cards as well.
Spiral-hole Paper Punches: A spiral-hole paper punch is something different compared to the other punching machines available in the market. It creates a continuous series of holes along the side of a pile of paper or sheet which allows it to get bound with a spiral spine. Moreover, these types of hole punching machines are used for making booklets in schools, offices, etc. or to bind big-size files or projects. Various documents like a thesis, etc. are prepared with the help of this spiral-hole paper punch.
Important Factors to Check Before Buying a Punching Machine
Paper Capacity: Not all punching machines have similar capabilities, many have less capacity and multiple machines are made for heavy tasks. Adding more paper in the punching machine than suggested can result in the breakdown of the paper punch or it can make uneven or disoriented holes in the paper. Therefore, always choose a paper hole punch according to your need.
Ease of Use: Ease of use also matters as a factor, as different people prefer different types of paper punches according to their convenience. Therefore, you should buy a hole punching machine according to your need and make sure you can use it with ease.
Number of Holes: The number of Holes is also an important factor to consider before buying a paper punching machine. There are different paper punches available online that can punch a paper with a different number of holes such as single-hole paper punches, double-hole paper punches, triple-hole paper punches, etc. All of these punching machines can punch paper with different patterns.
Top Brands Available Online in the Hole Punching Machine Category
Kangaro: Kangaro is a well-known name in the industry of stationery products. Moreover, they offer various types of stationery products including hole punching machines. Kangaro is famous for stationary tools such as staplers, paper punches, etc. Kangaro offers great reliability and durability which makes it one of the top brands in this field, even after a tough, competitive, and challenging environment in the market. At Moglix, you can also get discounts on bulk orders.
Buy Paper Hole Punch Online at Moglix at Reasonable Prices
Stop here, if you are searching for a perfect paper punch according to your need and application. Moglix, one of the best E-commerce websites in India, offers you the best quality paper hole punches in a single place. Moreover, Moglix, has a 7 days return policy, through this policy you can also return the product within 7 days after the product is delivered. We offer you an all-around amazing experience with premium products, special offers, and a seamless online shopping experience.
Frequently Asked Questions about Paper Punches
---
How do you take care of a paper punch?
To keep your punches from rusting, keep them in a dry, low-humidity area. Going a step further, punching through waxed paper or silicone-treated baking parchment might assist in giving lubricant (wax or silicone) to the punch's surfaces, preventing it from sticking. Keeping punches clean, brushing out any paper residue will also help.
What is the best way to sharpen a paper punch?
Multiple punches cause paper punches to become blunt over time; but, with a simple hack, you can cure this problem. All you need is foil paper. Simply fold the foil a couple of times and insert it in the punch, where it can be punched a couple of times. This will sharpen your punch and make it as good as new!
Top Selling Paper Punches Price List in India
Paper Punches - Price Range
This data was last updated on 2/7/23.