Shop More by
Related Searches
Related Category
Related Projectors Article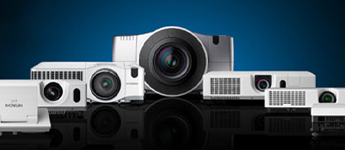 Projector Buying Guide 2021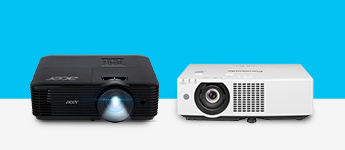 Top Projector brands available in the market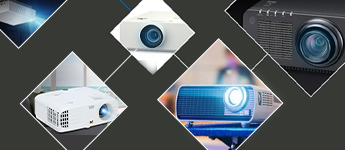 Different Varieties in Projectors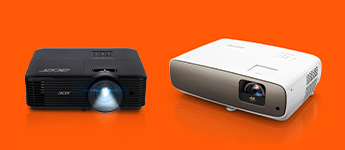 Types of Projectors based on their Applications
Projectors: A Smart Way for a Big Screen View
---
A projector is regarded as an optical gadget that helps to project any particular image or video on the projector screen. With the projectors, it is easy to capture a large screen view or watch any movie. In the projectors, the image or video comes on the screen with a shining light that passes through a tiny translucent lens. Although, many advanced projectors simplify this process by using lasers to show the image on the projector screen directly. When looking for home-based work, an LCD/LED projector is an excellent choice.
Things to Consider before Purchasing a new Projector
---
There are many different reasons for buyers a projector, some buy for their business, some buy it for educational purposes whereas some also buy for their personal use. Well, whatever the reason, one must consider the following points and consider their purchase based on that.
Portability: There is a range of projector that works wirelessly, they are the best option if you want to carry them around at different locations with you. They are user-friendly, lightweight, and are of manageable size. But on the other hand, you also have a range of wired projectors, these are suitable for those who want to get their device mounted at a single spot.
Input: Generally you will find HDMI, VGA, and DVI ports to convert your device to laptops and desktops. But the newer version generally has a USB and Bluetooth connectivity option. You must understand your requirements properly and select the right product.
Color Contrast: Make sure to check the natural flesh tones and color depth of the projector. Every brand offers a slight difference in the color contrast. One of the best ideas is to check the color stability.
Pixel Density: Display resolution is another important thing to keep in mind. 1920x 1080 real pixel is the ideal size one should prefer with the ability to display in 1080P format.
What are the different types of Projectors?
---
LCD Projectors: It is the latest type of projector which is suitable for home theatre, school, or office purposes. It uses LCD technology, which helps to show videos and images in a liquid crystal display. In the LCD projectors, the light is passed from a metal-halide lamp through a prism which separates the light into three panels to display images.
PICO or Mini Projectors: The mini projectors are also known as ultra-portable projectors. These are pocket-friendly suitable for laptops or any other device. It uses a solid light source instead of relying on conventional lamp technology.
DLP Projectors: Digital light passing projectors come with either one or three chips. In every single chip, there are millions of mirrors present, which helps to reflect the light several times.
LED Projectors: The LED projection technology is usually present in PICO projectors. When compared with the traditional lamp projectors, LED projectors come with a longer life span.
Video Projectors: The video projector is categorized as an image projector that received a signal and uses a lens to project the image on the screen.
Short Throw Projectors: It is a suitable product that can be used in applications where the projector screen and wall distance are kept to a minimum.
Laser Projectors: Laser projectors use laser beams to project on the screen to create an image that keeps on moving for entertainment purposes. The laser projector housing contains mirrors, galvanometer scanners, lasers, and so on.
Best Projector Brands for an Amazing Viewing Experience
---
Buying a projector is a big decision you have multiple options to choose from. You can make your purchase based on brands, pricing, and useability. Below we have listed top brands that are offering projectors at the most affordable price.
IBS Projectors: Mini projectors by ISB are a great option if you are looking for a portable option. This product is compatible with Android/iOS/HDMI/USB/SD/VGA. With multiple colors and price options, you can choose the one that best fits your requirements.
Egate Projectors: Egate is a company that manufactures, exports, and supplies a reliable range of Projectors. The range of Egate projectors is available in a variety of sizes, diameters, body constructions, and thicknesses to satisfy diverse needs.
BENQ Projectors: One of the most renowned brands Benq is the go-to option. They have a broad range of projectors to choose from. Depending on your budget and requirements, you make your purchase.
Check out the Latest Range of Projectors at Moglix
---
Buying a projector can't get easier than this. At moglix, you can select projectors depending on your budget and requirements at the most reasonable price. Every product listed here goes through multiple quality checks which ensures that you are investing your hard-earned money into something genuine. We don't stop here, we also provide you with easy payment options and all India shipping.
Frequently Asked Questions about Projectors
---
What is the range of brightness (lumens) in video projectors?
The ideal range of brightness in video projectors is 2000 to 4000 lumens. Well if you desire to have a larger screen display then it's recommended to also increase your brightness for a better viewing experience.
How are laser projectors different from normal projectors ?
A laser projector is very different from a normal projector, it offers long-lasting brightness, low maintenance, and amazing color contrast in comparison to similar lamp-based models.
What is the best distance for a projector ?
For any projector that you use, it recommends that the D/W(Distance/Image) ratio is 2/1. In simple words, for each foot of image width, the projector needs to be 2 feet away.
Top Selling Projectors Price List in India
Projectors - Price Range
This data was last updated on 10/5/22.