Shop More by
Related Hot Water Bottles Article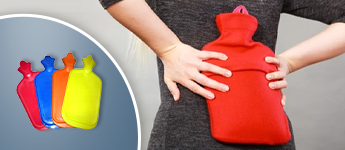 Hot Water Bottles: Meaning, Procedure to Use and Advantages
Hot Water Bottles and Process Of Perfect Healing From Body Aches
Hot water treatment dates back to ancient times when relieving any kind of pain. Heat packs help relieve cramps and pain while soothing the muscles. These hot water bags provide relief from stress and worry also. The hot bags can be used to heaten up the bed and sleep. Despite being a simple device, heat packs offer many benefits for reducing physical discomfort and improving overall health.
Heat packs serve a variety of purposes such as:
>> Menstrual cramps can cause physical discomfort, especially in the lower abdomen of women. This is where the hot water bag comes to rest.
>> Relieves knee joint pain caused by overuse or osteoporosis in arthritic situations.
>> Relieves muscle soreness, post-activity cramps, fitness activities, and sports-related irritation.
>> Relieves stomach problems, gas, bloating, ulcers, and stomach pain from hyperacidity and improves digestion.
>> Eliminate neck pain caused by sitting in front of the computer for a long time, reading a book for a long time, or sleeping in a strange position. Heat pack type
Different Types of Hot Water Bags
Rubber Hot Water Bags - A traditional hot water bottle/bag made of rubber that is heat resistant and somewhat waterproof. Also known as non-electric hot water bottles, these devices are rectangular in shape with a sturdy ribbed exterior and a sturdy top center stopper to tightly seal the container after being filled with hot water.


Follow the following steps to use these non-electric hot water bags safely:
--> Keep the bag in an upright position.


--> Unscrew the bag and fill it with hot water to a maximum of two-thirds capacity.


--> With your hands, expel the excess air.


--> Make sure the stopper is firmly in place.


--> Turn the bag upside down to check for leaks.


--> Place the bag on a hurting part of your body from the outside.


--> You can even lie down on top of the water bag while sleeping.


--> Once you've finished using the product, remove the stopper and drain all of the water.


--> Hanging the hot water bag upside down will allow it to dry naturally.


Electric Hot Water Bag - The electric hot water bag is a further refinement of the rubber hot water bottle. Shaped like a rubber heat pack, this rectangular tool has a connector for connecting to a power source and an LED indicator light that glows red while charging and turns off when fully charged. Already filled with water or swelling gel, it is ready to use. Just plug it in for 5-10 minutes and it will heat up.
Follow the following steps to use these electric hot bags safely:
--> Attach the filler nozzle to a 1-liter bottle and fill the bag with cold water if you need to fill it with water.
--> You can skip the steps above if your bag is already filled with gel. Connect the adapter to the socket on one end and the electric water bag on the other.
--> Then, after a few seconds, turn off the power source. Wait for the bag's temperature to reach the desired level.
--> At this point, remove the plug and use the hot water bag as needed. If the bag has lost its heat after being used, it should be reheated before being used again.
--> Return the bag to its original location after each use, making sure it is not too hot. You can drain the water from a water bag, but you can use that water for numerous purposes before changing it.

Points to Remember While Buying Hot Water Bags
Durability - The material should be durable, because if it's made up of low-quality plastic or any other compromised quality it may burn the skin or produce a rash. Moreover, the material should be durable and long-lasting and is able to bear extreme heat.
The material used - Much concern should be given to the material used as this may cause injury or the hot water bag may leak or blast due to the heat of the filled water. The material used should be heat resistant.
Mess-free handling - There shouldn't be any leakage or tearing of the hot bag or else it might create a mess which can be injurious also.
Customer Reviews - At times, the other customers' reviews are also helpful. Like what they liked or what they thought should be improved in a product. Hence it becomes helpful to consider other customers' points of view.
Brands Selling Hot Water Bags and Bottles at Lowest Prices
Hicks Hot Water Bags - Hicks' non-electric hot water bag can hold up to approximately 2000 ml water and delivers a relaxing, therapeutic massage. Manufactured from the highest quality of rubber, it provides great relief from cramps and muscle or joint pain. The hot water bag, once you fill it up with hot water, stays warm for long periods of time and aids easy transfer of heat and warmth to the aching areas of your body and its super-deluxe size means you can use it for larger surface areas such as the upper and lower back easily.
Easy Care Hot Water Bottles - Known for their massive range of everyday living aids and pain relief products, Easy Care brings to you another phenomenal product – the super-deluxe hot water bag. The classic design of this bag helps in alleviating aches and pain related to stress, cramps, arthritis, stiffness, soreness and swelling.
Dr. Morepen Heat Bag - Dr. Morepen offers a vast range of self-monitoring healthcare products. Their hot and cold water bottles are very high quality and give relief in minutes.


EGK Heating Pads - EGK is a very well-known brand for medical supplies and other products. They offer one of the best hot and cold water bags in the market.
Equinox Pain Relief Hot Bag: Equinox is very popular for its quality products. Find a variety of these bags as per your requirements from this brand.
Heat Water Bags: Spectacular Benefits and Proven Uses
Although a simple gadget, hot water bags provide numerous benefits for lowering bodily discomfort and improving overall health. Hot water bags can be used for a variety of purposes, including:
--> Menstrual cramps can cause body discomfort, especially in the lower abdomen in women. Hot water bags can give relief from this.
--> Reduces joint pain in the knees caused by overuse or osteoporosis in situations of arthritis.
--> Soothes muscle pain, cramps after activity, gym activities, and sports-related irritation.
--> Reduces stomach pain caused by gastric issues, bloating, flatulence/gas, ulcers, and acidity, and improves digestion.
--> Eliminates neck pain caused by lengthy duration spent in front of a computer, long durations of reading books or sleeping in unusual postures.
--> Headaches and migraines caused by stress, tension, and worry are relieved, and the mind is calmed.
--> Infuses warmth into the environment, especially during heavy monsoons and high winters ensuring a restful night's sleep.
--> Reduces low back pain caused by prolonged inactive periods or strenuous physical labor such as housework or job tasks.
--> When put around the jawline, it relieves persistent tooth pain and earaches.
Buy Hot Water Bags and
Bottles
Online at Moglix
A hot water bag is an essential thing that should be in every home. Even though a hot water bag is a cheap, simple, inexpensive item generally available online, it serves various purposes. It is effective at relieving body pain and inducing warmth in cold weather. To avoid any unintended side effects and improve overall health, use it properly and follow all safety measures. Sahyog Wellness, Easycare, Hicks, Max Pluss, Shakuntla, and many more offer the best quality hot water bags online at the best prices. At moglix, the main aim is to make it easy for customers to choose from the available brands according to their requirements under one roof. Order now and enjoy the hassle-free shopping experience.
Frequently Asked Questions about Hot Water Bottles
---
Does hot water bottle burn belly fat?
No, Hot water bottles are used for relaxing sore muscles and acute pain areas in body. It's a must have for elderly members of the family during winter especially.
How does hot water bags relieve pain?
They help in increasing blood flow in sore muscles thereby relaxing the soreness in the body.
What is the capacity range of hot water bottles?
The hot water bottles should be filled to two-thirds of their capacity. 1 to 2 liter of hot water or pre-filled gel can be put into the hot water bottles.
Top Selling Hot Water Bottles Price List in India
Hot Water Bottles - Price Range
This data was last updated on 1/27/23.