Shop More by
Related Gas Stoves & Cooktops Article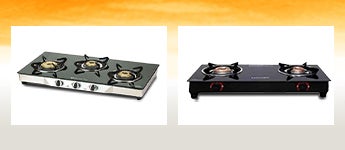 Things to Check Before Buying Gas Stoves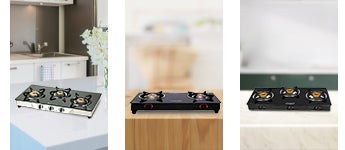 Gas Stoves Top Brands Price List In India 2021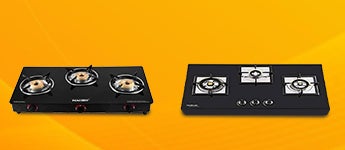 Explore Different Types of Gas Stoves Available Online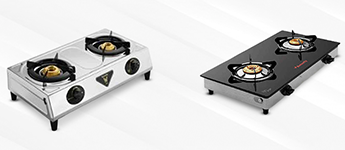 Bring home Butterfly Gas Stove and enhance your cooking experience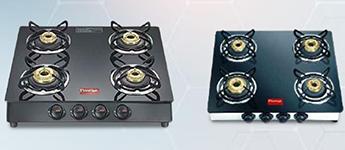 Enjoy comfortable and convenient cooking with Prestige Gas Stove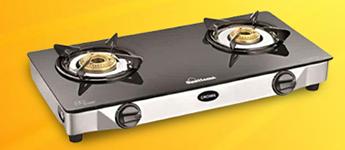 For efficient cooking in your kitchen, buy Sunflame Gas Stoves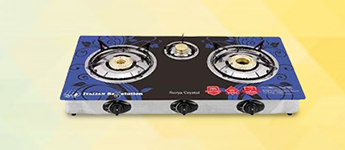 Enjoy safe and hassle free cooking with Surya Gas Stoves
Gas Stoves: A True Cooking Buddy In Your Kitchen
---
We have come a long way in terms of adding sophistication and safety to the way we cook our meals, from wood-burning logs through manual kerosene stoves to today's gas stoves with several burners. The majority of gas stoves serve the simple aim of assisting you in cooking over an LPG fire, but there is a wide range of stoves available based on the needs of the household, its size, and even the aesthetic requirements of the kitchen. Gas stoves are available in a variety of styles, from basic steel to sophisticated glass tops.
Factors to Consider Before Buying the Perfect Gas Chulha
---
An Indian household's life revolves around its kitchen. Whether you're a novice cook or a seasoned pro, whether you live alone or with a large family, or whether you only use your kitchen to reheat leftovers, it's critical to select a gas stove that meets your needs. Purchasing inappropriate equipment might cause your kitchen to become cluttered, making it difficult to enjoy your time there. To make things easier for you, we've compiled a list of things to consider when buying a gas stove:
Number of Burners: In India, two-burner gas stoves are the most common and commonly utilized. However, three- and four-burner gas stoves are becoming increasingly popular. The amount of burners you'll require is determined by your family's size.
Burner Distance: A burner distance is defined as the distance between two consecutive burners. You won't be able to use all three or four burners on a three- or four-burner gas stove simultaneously. To do so, you'll need to measure the distance between the burners. Because there isn't enough room between the burners, you won't be able to cook with different-sized containers at the same time.
Material of Gas Burner: It's crucial to check for burners made of brass or aluminum when buying a gas stove. Brass and aluminum burners, in comparison, are good and have a durable nature, good quality, and performance. Its operation is also influenced by the nozzle size and gas distribution system.
Size of the gas stove: The first thing you should consider is the size of the gas stove. Most stove models are rectangular or square in design, with widths of 60, 70, 80, and 90 cm. The size of the gas stove should be determined by the size of your kitchen counter and the range of the chimney hood. It also makes it easier to work comfortably and looks excellent in the kitchen.
Warranty: When purchasing a gas stove, keep an eye out for price and warranty information. The majority of Indians are drawn to offers, discounts, and cash-back plans. If you adore a product with great characteristics that best meet your needs, you shouldn't worry about money unless you have a limited budget.
Design: Earlier conventional types have a simple design structure with the only purpose of providing effective heating. They've been upgraded to include a variety of surfaces such as glass tops and steel and a greater number of burners and heating options. They appear to be even more appealing and trendy than previously. It is up to the individual to keep track of the various gas stoves on the market that are precisely suited to the home's needs.
How to choose from Varied Choices of Gas Stoves in Market
---
You can choose as per the number of burners. You can find single burner to 4 burner stoves online.


You can choose based on the functionality. There are manual ignition and automatic ignition stoves.


You can opt either for a stainless steel surface or a glass top smooth surface stoves.


You have options with Gas stove and even electric stoves.


Buy the Best Gas Stoves Online
---
Moglix offers a wide range of the best gas stoves from top brands like Hindware, Good Flame, Kaff, Fogger, Sun Flame, and many more. Choose the one that meets your needs and opt for the payment method which suits you best. Hurry up and order now! Shop at your comfort and get the product safely delivered to your doorstep.
Gas Stoves & Cooktops - Price Range
| Gas Stoves & Cooktops | Min Price | Max Price |
| --- | --- | --- |
| Hobs | ₹3800 | ₹66180 |
This data was last updated on 10/4/22.