Shop More by
Related Pressure Cookers Article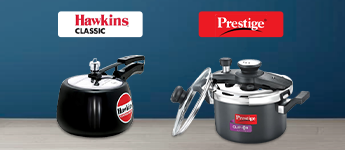 Best Brands of Pressure Cookers Available In India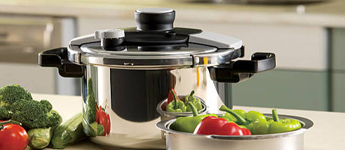 PRESSURE COOKER: Know All About It
Be smart and buy a pressure cooker online at an affordable price
---
Easy to handle, use, and clean, pressure cookers are one of the most common cookware present in every household. Since the food is being cooked in a sealed container, there is no loss of flavor or nutrients, promising your delicious meals.
Difference between Pressure Cooker and Pressure Canner
---
While pressure cookers come in different sizes and can be as small as a saucepan, the pressure canners are generally large in size. The second difference is in the purpose of cooking. A pressure cooker is mainly used to prepare food faster whereas a canner is meant for canning fruits and vegetables. Usually, the fruits and vegetables are placed in jars which are then put into the pressure canner.
Types of Pressure Cookers
---
First Generation: These cookers come with a weight-bearing valve that wobbles around while releasing the pressure within the cooker and makes a loud sound like a whistle.
Second Generation: These cookers have spring-loaded valves to handle pressure and make less sound. Most of these cookers also have an indicator to determine the pressure level within the pot.
Third Generation: Loaded with advanced features and automated settings, these electric pressure cookers offer safe and comfortable cooking experiences. The need for constant supervision gets reduced with the inbuilt timer settings, auto-pressure functionalities, temperature sensors, and more. An electric cooker auto regulates the heat, without asking for any manual adjustments.
Things to keep in mind before buying a pressure cooker
---
With a wide range of cookers available in the market, it becomes a challenging task to buy the perfect one. To make your selection easy, we have listed a few things to be considered before purchasing a pressure cooker online:
Size: This is the most important factor to look for, as a small-size cooker is not feasible for a large or joint family. For instance, a 3 Litre pressure cooker is enough for a family of three or four. Large families can opt for 5 to 7.5 litre cookers.
Durability: Stainless steel pressure cookers are considered the best when compared to aluminum cookers. Besides being highly durable, these cookers also ensure uniform heat distribution, thus saving a lot of time and fuel.
Compatibility: Most of the pressure cookers available today come with an induction bottom and hence can be easily used with an induction stove.
We offer various models of stainless steel pressure cookers of reputed brands like Hawkins, Usha, Prestige, Bajaj, and more. You can also find pressure cookers with different sizes like 1 litre, 2 litre, 3 litre, 5 litre, and so on. Browse now and choose the brand that pleases you the most and get amazing offers…!
Frequently Asked Questions about Pressure Cookers
---
What is the steam setting on a pressure cooker?
Use the steam setting for dishes that need to be cooked quickly for foods that are especially delicate, for dishes that you want to taste occasionally while they cook or for dishes that you want to season later. In general, you can use your pressure cooker as a regular cooking pot by selecting the steam option.
What are the minimum liquid requirements for a pressure cooker?
Every manufacturer has their own minimum liquid specifications; these specifications are based on the size of the pressure cooker, the kind of pressure valve it has, and, for cookers that need to vent to maintain pressure, the cooking time. More liquid must boil in order to generate the necessary amount of steam for a larger pressure cooker to build pressure.
Pressure Cookers - Price Range
This data was last updated on 2/1/23.