Shop More by
Related Searches
Related Category
Related Hard Disks Article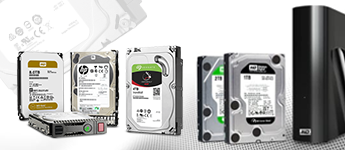 Everything about hard disk: Types and factors to be considered before buying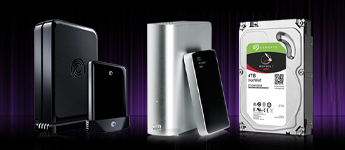 Popular hard disk brands available in the market
Different types of hard disks for storing vital information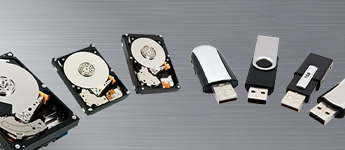 Popular Hard Disk as per their Storage Capacity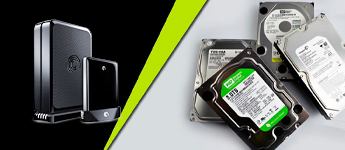 External and Internal Hard Disks For Maximum Storage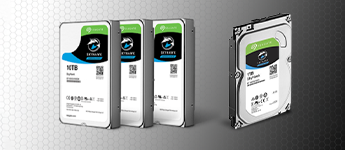 Seagate Hard Disk: Excellent and most powerful storage device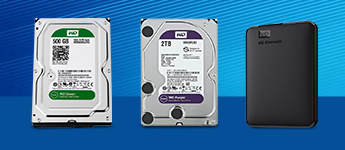 Top five Western Digital (WD) hard disk to buy
Hard Disks for Perfect Memory Storage
---
With the need for increased storage capacity in our computer systems for various reasons, a hard disk has become an essential component. Regardless of whether your PC is turned on or off, the device keeps your applications and data safe. Traditionally, a hard drive consists of a collection of spinning metal platters. Each platter contains a head that rotates quickly back and forth across the platter, reading and writing data as needed via magnets. While it must be entirely sealed inside the hard drive enclosure to protect the platter from even microscopic dust, the hard drive would resemble a miniature phonograph player with tonearm if it could be seen.
Because practically all hard drives are made up of a series of platters, a hard drive could be compared to a stack of miniature phonographs. Hard drive manufacturers boost capacity by stacking platters in the same disc because each platter can only hold so much data.
Types of Hard Drives
---
There are broadly two types of Hard Drives, which are- Internal and External. Let us know more about each one of them.
Internal Hard Disks
The Internal hard disk is a kind of an internal magnetic disk. Because it is fixed in the system unit, it is also known as a fixed disc. A hard disc comprises multiple circular discs known as platters that are sealed together inside a container. A motor rotates the disc in the container. To read and write data to the disc, it also has an access arm and a read and writes head. The data is stored on the platters. Magnetic material is applied to a platter in a hard drive.
These spin at a rate of 5400 to 15000 revolutions per minute in computers. The speed at which the disc rotates has a significant impact on its overall performance. Because of the high rotational speed, more data can be stored on the disc surface.
The following are some of the internal hard disk's most essential characteristics:
--> The hard drive has a lot of storage space. A personal computer hard disk's capacity ranges from 160 GB to 2 TB and beyond.


--> They are significantly faster than a floppy disc.


--> They are the principal storage medium for data and programs.


--> They outperform a floppy disc in terms of reliability.


--> Data stored on a hard drive is more secure than data stored on a floppy disc.


External Hard Disks
A separate hard disc connected to the CPU's USB connection is an external hard disc. Some hard discs can also connect wirelessly with the system unit. A removable hard drive can be linked to the system unit via the USB port or the firewire interface.
The following are some of the benefits of removable hard discs:
--> These are useful for moving a huge number of files from one location to another.


--> To some extent, all external hard drives are portable. Users can store data on portable hard drives, share it with other users, and move information to another computer using a simple plug-and-play interface.


--> Portable hard drives can give significantly more storage, freeing up space on the primary computer. External hard drives, which range in size from 80 GB to over 8 terabytes, provide even more storage capacity for digital assets, including images, music, and home movies. On portable hard drives, you can store whole virtual desktops.


--> Plug-and-play is how portable hard drives work. Many portable hard drives have both USB and Firewire ports, allowing for universal PC and Mac compatibility.


--> Users can back up all of their files on a portable hard drive. If a computer's hard disc needs to be reformatted, a portable hard drive is far more efficient in backing up files than DVDs or CD-Rs with lower capacities.


--> Another advantage of having an external hard disc if a computer system has several users is that the user can secure crucial files from unintended file corruption.


Buy the Best Brands of Hard Disks at Moglix
---
There are several hard disks available these days. However, if you are looking for the best quality you can buy the best brands of it. Let's discuss some of the top brands of hard disks available at Moglix.
Seagate – Seagate manufactures the hard disk with the best technology. Their external hard disk is very common and is used by many people. You can do the Seagate hard disk online purchase at the best price.
Kingston – Kingston is a well-known brand in the IT and Electronics category. Their machinery adds speed to the computer. You can rely on their hard disks. You can buy the best Kingston hard disk online at a very reasonable price.
Lenovo – Lenovo is one of the top brands when it comes to Electronics. With their hard disks, you can get the high-speed transition with massive storage space anytime and anywhere.
Hard drives, like all other computer peripherals, are quite significant, as previously said. You can browse through e-stores to locate the best hard drive for your needs. Hard disks from top brands like Seagate, WD, SanDisk, Crucial, and others are available at the lowest prices online. Sit back and order now at your comfort. You can also buy other IT & electronic products like tablets, mobile accessories, smartwatches, Televisions and many more.
Frequently Asked Questions about Hard Disks
---
Can their be virus on my hard disk?
Yes, a virus on a hard drive is known as hard drive malware, and it can take many forms, usually connected to software or information saved on a hard disc. Hard drive malware will not harm your hard drive, but it will disable it.
How can I repair my Hard Disk ?
TestDisk is a tool that can fix inaccessible hard drives. Despite its hard to use interface, this free tiny software proves to be a powerful tool for saving your hard disc. You can also use Ontrack EasyRecovery and its SMART tools
How long do hard drives last if not used?
Hard drives typically survive five years on average, though an unusable hard disc may remain a bit longer. If not utilised, a decent hard drive can live even up to ten years. A worn hard disc is more vulnerable to factors like electrical surges and other things that can shorten its lifespan.
What causes hard drives to fail?
Hard drives can malfunction for a variety of reasons, such as human error, hardware malfunction, firmware corruption, media damage, heat, water damage, power problems, and accidents.
Hard Disks - Price Range
This data was last updated on 2/8/23.