Related Power Banks Article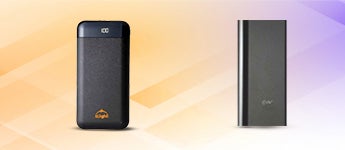 Power Bank Buying Guide - 2021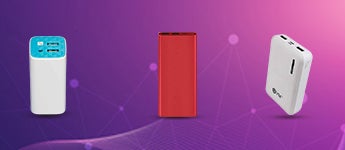 Top Power Bank Brands in India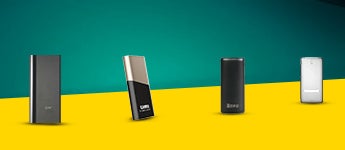 What Are The Power Bank Specifications You Need To Know?
Power Banks: Never Let Your Mobile Device Die
---
Smartphones and batteries are like bread and jam. They rely on each other for their operations. With processor speed no longer being the primary metric to consider when purchasing a smartphone, the battery is frequently a selling point. In terms of battery life, not all phones are created equal; some last longer, while others leave you scrambling for a charging source every 6 hours or so. The lucrative power bank market has seen several firms compete for the top spot, where the accessory market comes in. They are also called 'Battery Banks'.
When you don't have access to a standard wall charger, a power bank is a portable battery designed that can charge smartphones and a variety of other electronic devices. They can be used to charge portable speakers, mobile phones, cameras, gaming consoles, tablets, or even computers and range in size from small, pocket-sized devices to bigger, high-capacity power banks.
These are essentially rechargeable batteries that may also be used to charge other gadgets. However, even if they appear to be simple, power banks can include some sophisticated technologies. Read on to know more!
Method to Plug Into The Mobile Power Banks
---
Rather than attaching your phone to a wall charger, simply unhook the USB end of the wire and insert it into the power bank's USB port. When you're on the run, you can charge your phone. The majority of power banks can charge any USB-enabled gadget. They also come in various capacities; some are slower than a wall charger, slowly trickling down electricity, while others are speedier, charging your electronics in a matter of seconds. The bank's batteries are rated in mAh, or milliampere-hour, just like phones. As a result, the larger the number, such as 10000 mAh, the more juice they can store. And, like phones, these must be charged to provide enough electrical energy to power a device adequately.
Major Types of Battery Banks and Their Features
---
There are several kinds of these portable chargers available today. The following are the most common types:
Standard or Universal power banks: These are the standard portable chargers found in stores and on the internet. They are always charged using regular USB power sources that are compatible with USB chargers. These are usually charged with a typical USB charger, and the charge state is displayed on the gadget. This can be shown as a series of small LED lights or as a simple alphanumeric display that shows the percentage of charge remaining. A micro USB connector is commonly used to provide power in this connection.
These can be used to charge additional gadgets once they have been fully charged. Depending on the power bank, one or multiple Type A USB sockets (depending on the power bank) may be available to charge the devices that require charging.
Solar power banks: These can be charged using sunlight. Photovoltaic panels are used for this. Because the solar cells are small, they can only trickle-charge the in-built internal battery when put in sunlight. Nonetheless, this can prove to be a helpful capability, but only in extremely bright or sunny settings.
They can be charged even by using the USB charger because solar charging is slow. This charging method is a good backup, especially if you're going somewhere without access to electricity. Some of these modern devices contain solar panels that are exposed or extended to show a greater surface to the Sun, ensuring that the highest amount of sun's energy can be converted. Some of the batteries can take up to 24 hrs to charge smartphones. Because charging times, capacities, and other factors differ significantly, it is always wise to carefully examine the data if you consider purchasing one.
These power banks contain the regular Type-A USB connectors for the output and a micro USB connector for the power input from a USB charger, just like a wired power bank.
Wireless Power Banks: This is the most advanced concept that has been imbibed in this sector since numerous products such as ear-pods, phones, and the like now can be charged without connecting wires.
Powerbanks that charge themselves from a conventional USB supply are available, and these can charge phones and many other wirelessly compatible charging electronic gadgets. These support the Qi wireless charging standard, used by almost all electronic devices that can be charged wirelessly. The electronic device to be charged is put on the power bank. Here, the alignment is often critical. So, you need to read the instructions carefully. There will be a button that is usually clicked to turn on the wireless charging ability of these devices. Then the process continues until the gadget is fully charged.
Turn off the wireless charging power bank once it has finished charging so that the wireless charging circuitry is disabled and the power bank is not depleted unnecessarily.
Benefits of Carrying a Battery Bank With You
---
--> What if you run out of power and haven't had a chance to charge your phone or tablet? Suddenly, you're confronted with a dire scenario. You'll never be without mobile power if you have a charged power bank in your home. Power banks are instrumental in emergencies, whether at home or on the road, and they can save your life.


--> Watching your phone's battery slowly diminish, whether you were out for a night on the town or taking in the sights as a tourist, may be unpleasant. Having an extra battery on hand will help you relax significantly.


--> You have a wide selection of features and prices to choose from. This makes it simple for you to make decisions based on your budget.


--> In terms of fashion, power bank designers have gotten ahead of the game. Many different power banks on the market can match your style and your requirement for extra battery power. Slim power bank designs, stylish shapes, and various color possibilities are all things to think about.


--> A simple single USB power bank would be enough if you only need to charge one gadget at a time. If you want to charge multiple devices, though, you can acquire a power bank with numerous high-speed USB connections embedded into the product's body.


--> These devices are now highly affordable.


--> Power banks can range in size from a brick to a lighter. You'll never have access to a more portable backup power choice, with power banks getting smaller by the day.


--> Several power banks on the market can withstand a lot of abuse before losing their functioning.


--> You can use your mobile power bank to charge anything with a USB port, such as a camcorder, camera, smartphone, or tablet.


Buy Power Banks Online at Affordable Prices
---
If you are looking for the best portable charger, you can find a large variety of them at Moglix.com. There are some best brands available in the affordable range.
Ambrane Power Banks - It is one of the best brands which you can consider when buying a power bank. It comes with 10,400 mAh battery capacity which enables your phone to last much longer.
Intex Power Banks - It extends the battery of your mobile phone. These are one of the most trusted brands when purchasing a portable charger, you can simply rely on it whenever moving out of the home without a charger.
Mobile power banks have swiftly become one of the hottest gadgets of the decade. Consider investing in a power bank if you want to ensure that you are always ready to charge your devices. These gadgets are available from Portronics, Quantum, Zebronics, iBall, and many other wonderful brands for the best offers. Hurry up and order now! We are confident that you will find the ideal product for your needs online.
Top Selling Power Banks Price List in India
Power Banks - Price Range
This data was last updated on 2/1/23.