Shop More by
Related UPS Article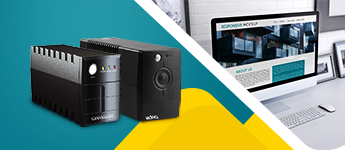 Computer UPS: Perfect solution for extending the lifespan of your system
Buy UPS for Uninterrupted Power Supply and Protect Your Work
---
Uninterruptible Power Supply (UPS) devices keep IT equipment and computer systems safe and operable during power breakdowns and surges. When the flow of electricity ceases or drops to an inadequate voltage, the UPS starts functioning and provides battery backup power. In a mission-critical situation, an uninterruptible power supply is essential.
Backup power is given for a particular period, which depends on the technology and size of the UPS unit until they can get the generators to engage or let the network components shut down appropriately. Computers, accessories, and some appliances are kept safe from damage when the electricity flows freely. A UPS unit can protect a single device or the entire network.
Types of UPS
---
Standby UPS: The battery and inverter remain "on standby" until needed, making this the simplest and least expensive UPS system.
Standby-Ferro UPS: This is also in standby mode until needed, but with a better standby design. The main difference is that the transfer switch on the standby UPS has been replaced with a Ferro resonant transformer, which works as a buffer if the primary power is lost.
Line Interactive UPS: An entirely different design than the standby. This design uses a composite inverter/converter to replace the separate battery charger, inverter, and source selection switch. The inverter/converter charges the battery when line power is available; when line power is unavailable, the system acts in reverse.
Double Conversion: In the event of a power cut or outage, a double-conversion UPS has no transfer time.
The Delta Conversion UPS: This is the most recent design intended to address the shortcomings of the Double Conversion UPS by delivering a more energy-efficient design.
Multi-Purpose Serving of a UPS
---
--> Protects against power outages.


--> Provides enough power during short-term outages and "ride-through" periods to switch to backup power.


--> Improves the electricity quality when it enters your building, office, and equipment.


--> Includes a backup source, such as generators, for long-term disruptions.


Benefits of Desktop UPS:
---
--> A UPS device is battery-powered that allows a computer to run when the electricity or the main power has gone out. This will enable operators to shut down open programs in a controlled manner, decreasing the risk of losing a critical document in the middle of work or losing data that was unsaved. A UPS also "conditions" the current coming into a computer, preventing damage of hardware components from power spikes or surges when the electricity or the main power is restored.


--> Configuring these UPS devices to safeguard one or more computer systems can be done in a variety of ways. To give individual protection, one option is to install a tiny desktop UPS device at each desk. The alternative option is to use a powerful UPS system that can protect all of the computer parts by safeguarding the circuits in the entire room.


--> Many configurations may be built, something for every budget, depending on the need and size of your organization and the equipment you wish to protect.


--> In addition to these desktop computers, UPS systems are essential for keeping IP phone systems, modems, routers, and external drives operational for the brief period required to shut down all processes gracefully.


--> The peace of mind that comes with knowing you have more time to securely shut down your computer equipment without risking data loss is invaluable. Don't put off getting a reliable UPS system until it's too late.


The Industries that Benefit from UPS Setting
--> Telecommunications and cable companies


--> Hospitals and medical centers


--> Electronics manufacturers


--> Data and call centers


--> Banks


--> Universities


--> Utility companies


--> TV stations


--> Production-based manufacturers


Buy UPS Online from Moglix
---
Due to frequent fluctuations and an old electrical distribution grid, utility power is not always a reliable alternative. When there is a power outage, all of the crucial data you were working on can be erased in a fraction of a second. In cases like this, a UPS comes to your rescue. You can now buy a UPS online, thanks to the rise of online buying portals. Microtek, Frontech, Enter, Intex, and many other brands are available. These e-commerce sites also provide filters that allow you to compare two or more products' features, characteristics, and prices. For a prudent purchase, you might also consult some web reviews. When you shop online, you can save a lot of time.
Frequently Asked Questions about UPS
---
Can you plug anything into a UPS?
If the loads on a real power strip are small, such as a few low-wattage wall chargers, the strip can be safely hooked into a UPS output outlet. A "surge strip" or "surge protector," on the other hand, DOES offer some protection.
Is inverter and UPS same?
In contrast to the inverter, whose primary job it is to convert AC power into DC power, the UPS's main purpose is to store the electric supply. In contrast to the inverter, the UPS switches over from the main supply to the batteries quickly during power outages.
Top Selling UPS Price List in India