Shop More by
Related Chairs Article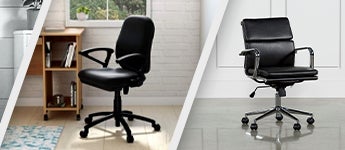 Types and How To Choose a Chair That Suits You The Best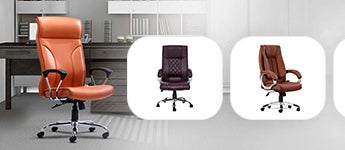 Types of Professional Chairs Available Online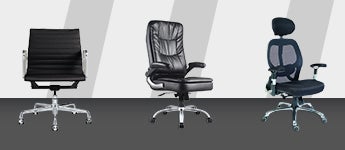 Check out the Types of Commercial Chairs and Their Uses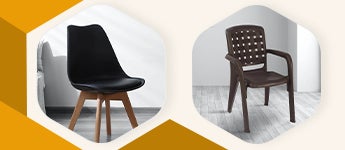 List of Chairs that suits your Home Decor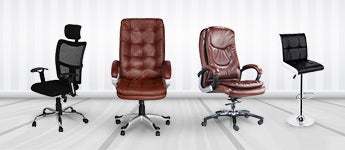 What are the different chair types according to built up?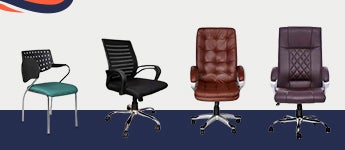 Best Office Chair Brands in India 2021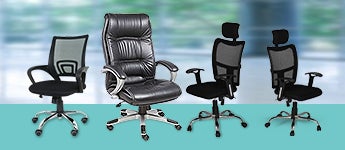 Different Types of Chairs for Your Home
Right Choice of Chairs Create a Comfortable Zone for Work or Study
---
Many of us are professionals who spend most of our days sitting in chairs at home or work. Our posture is harmed by prolonged sitting, and many people end up negatively damaging their spines, resulting in back discomfort resulting from inappropriate chairs. With a sedentary lifestyle, we spend most of our time sitting and working in chairs. The most acceptable option may be a decent chair with a backrest, wheels, armrest, etc., that offers comfort to people who use them. These chairs are suitable for use in both the home and the workplace. These chairs are easily accessible online, where you can choose from a wide assortment of the finest chairs with unique designs and functions.
Types of Chairs and their Features
---
There are different types of chairs available today for varied purposes. They are:
Office Chairs - An office chair, sometimes known as a desk chair, is designed to be used at a desk in an office. It's commonly a swivel chair with wheels for mobility and height adjustment. Modern desk chairs often include a single, discrete weight-bearing leg (widely referred to as a gas lift) positioned beneath the seat. This leg splits into numerous smaller feet near the floor, often wheeled and referred to as casters.
Gaming Chairs - A gamer chair is a sort of chair explicitly made for gamers' comfort. They have a higher backrest than other office chairs designed to support the upper back and shoulders. The armrests, back, lumbar support, and headrest can all be adjusted for comfort and efficiency. With the rise of Twitch and other online game streaming platforms, the gaming chair has become increasingly popular. Sitting at a computer for hours on end while playing games prompted streamers to acquire gaming seats.
Plastic Chairs, also known as monoblock chairs, are made of thermoplastic polypropylene and are injection molded. Plastic chairs are made of lightweight polypropylene and can be found in a variety of settings. Plastic chairs are a cost-effective seating option for both home and business properties.
Ergonomic Chairs - An ergonomic chair is a piece of furniture that has been developed to enhance human function and comfort, lowering the risk of musculoskeletal difficulties, joint pain, back problems, neck pains, arthritis, constricted organs, and high blood pressure.
Wooden Chairs - Multipurpose chairs made out of wood are these wooden chairs. They can be placed anywhere in the house or in an office where the interiors complement them.
Study Chairs - These chairs are steadily gaining appeal among people who work long hours at a home desk, not just students. With the growing usage of laptops and desktop computers and many professions trending toward sedentary lifestyles, this chair has become necessary in every home. Not only that, but these chairs are suitable for both students and wor. Seats give you essential support all of the time, and pupils will notice the difference if you choose the right chair for them. They can even sit for a few additional hours if necessary to study more thoroughly. You'll see a difference when small backaches or neck problems don't keep your children from studying.
Recliner Chairs - A reclining chair is an upholstered chair with a user-activated metal mechanism that pushes the back out and raises the footrest to suit the user's lower legs. The majority of recliners are armchairs, which means they have arms. The chair's upholstered backs and seats make it a relaxing piece of furniture.
Factors To Consider While Purchasing Chairs for Home or Office
---
The right kind of chair can improve our health and productivity at work simultaneously. On an aesthetic level, the suitable chairs reflect one's corporate image and form a lasting first impression of a company or home. Here are some things to keep in mind while purchasing chairs for office purposes:
Versatility - One of the most important factors to consider when purchasing office chairs for people of varying stature with differing perceptions of comfort is how versatile the model is. A good chair should be designed to accommodate different bodies in terms of fit and preference. Look for a chair that offers adjustable arm support, seat depth and height, and tilt tension range. Be sure that the chair you consider encourages healthy postural change and is equipped with a backrest that changes shape to provide continuous support.
Intended Use - Remember how chairs are most frequently used in your office space, and look for chairs that meet your specific needs. You might want to consider purchasing a few models based on your requirements before placing a huge order. If your employees are seated for 8+ hours a day, you'll naturally want to look for different specifications than what you would look for in a chair primarily used for brief meetings or conference calls. Suppose your company tends to do a lot of collaborative work. In that case, a chair with wheels will limit the hassle of moving from one location to the next, as the right chair for someone who uses multiple desktop monitors will inherently vary compared to someone who does most of their work on a laptop.
Materials & Maintenance - You will also want to think about which materials will hold up best. Generally, office chairs shouldn't require too much routine maintenance, but specific healthcare regulations might require that chairs should be cleaned and sanitized. Vinyl and leather tend to be the most accessible fabric to wipe clean, and both rip infrequently. Still, they also tend to trap body heat and might require a breaking-in period before they become optimally comfortable. Many newer chairs opt for using mesh, a more breathable (and often more affordable) option, although it tends to provide less lumbar support. Dark colors are less likely to stain, and black chairs remain the sleekest and most popular color choices.
Different Brands Of Office Chairs
---
Mezonite Office Chairs: These chairs feature Superior Lumbar Support and Quality Leatherette & Gas-Lift Mechanism. They are made with Soft Cushioned seats & Padded Arms, so they ensure Full Comfort. This Office Chair Requires Basic Assembly, which is DIY (Do It Yourself). Further, these chairs have Pneumatic Seat-Height Adjustment, 360 deg Swivel & Smooth-Rolling Casters.
MRC Back Revolving Office Chair: These chairs are Adjustable and have Height Sit Back & Relax Against Full-Length Leatherette Padding. You can also adjust the Lever for Lowering or Raising the Chair's Height. Another prominent feature is rocking Back, Forth 105-120 degree Tilt Back, and Tilting Mechanism, Chrome Base. You may consider these chairs over others as they are Easily Assembled, Long Lasting & Posture Friendly, thus Ensures Extended, Comfortable Working Hours.
Caddy Adjustable Office Chair: These chairs are comfortable from Every Angle and Can Swivel 360 Degrees without Noise. Designed to Give You Maximum Support & Comfort, these chairs are equipped with Freely Adjustable Lumbar Support and Headrest Support to Protect Your Spine & Neck.
MRC Ergonomic Chairs: if you want a gaming chair, then this chair Gives you that Perfect Feel of a Racing Style Seat for that Incredible Gaming Experience. Further, these chairs have various Adjustable Features Like Headrest, Armrest, and Tilting Position, which provide that sense of perfect sitting posture.
Importance of Making the Right Choice of Chairs
---
--> Chairs allow you to sit, stand, and relax safely. Your chair will support and aid you in shifting from a seated to a standing position, making the transition easier and safer.


--> They help you maintain good posture.


--> Maintaining good blood flow and lowering blood pressure requires a chair with the proper seat height.


Why Buy Chairs Online at Moglix
---
Although active sitting necessitates some muscle effort, this tiny investment can significantly pay off comfort and productivity. And it turns out that even a small amount of muscle activity has several crucial metabolic benefits, some of which could even increase one's lifespan. To facilitate the best seating postures, you can go for the best chairs available online by determining the purpose of your purchase. Browse through the collection of chairs that can meet your needs. Order now and enjoy the hassle-free shopping experience.
Frequently Asked Questions about Chairs
---
Which are the best office chairs for home?
One can choose between Task chairs, Ergonomic chair, and executive chairs based on need and budget. Executive and ergonomics chairs are the most preferable choice.
How should you sit in an office chair?
Before sitting on the chair one must check the technical and feature points to avoid any breakage.
Which office chair is best for back?
High back ergonomic chairs are the best choice for back support with the reason that it applies scientific knowledge and principle of human work environments along with various modifications.
Are high back chairs better?
High back office chair is a preferred choice when one needs to sit for long hours. Chair with lumbar support that is adjustable in different angles and height is recommended for users who suffer with back pain for more comfort.
Chairs - Price Range
This data was last updated on 1/27/23.