Shop More by
Related Door Locks Article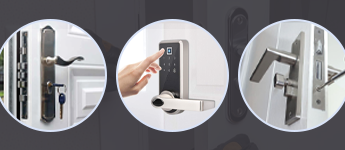 Know All About Door Locks
Invest in Secure and Strong Door Locks
You cannot take security lightly when defending your property from potential threats, some components of home security shouldn't be ignored. A door lock is one such element of home safety. Safety door locks deter trespassers and robbers from entering a property. The door latch must be durable and reliable. Regarding safety must-haves, considerably more sophisticated and attractive door locks are taking the place of those more traditional ones. To keep you safe, many different kinds of door locks are available, including sliding door locks, door padlocks, automated door locks, double door locks, knob locks, fashionable door handle locks, and many others. At Moglix, we sell high-end, robust, highly secure door handle locks from renowned brands such as Bonus, Plaza, Atom, Europa, etc.
---
A plethora of Door Handle Locks to Choose From
Knob Locks - The market's most popular form of door lock and the primary security measure for most doors are knob locks. Instead of being within the door, the lock cylinder is inside the knob.
Cam Locks - A fastener with an attached arm or cam that rotates to lock makes up cam locks. They have a metal tube with a hole on one end that helps position the bolt when inserted, and they are cylindrical. These door locks are frequently used in vending machines, filing cabinets, desks, or display cases to prevent unauthorized access. They are mostly undetectable inside entirely built cabinets. Specific cam locks secure cabinet doors, making them desirable for protecting delicate goods.
Deadbolt locks - Deadbolts provide even more effective security against break-ins and burglaries. They have lock bolts that operate without the use of a spring when a knob or key is turned. They are less vulnerable to a knife or hand tool because of their unique locking mechanism, which is better able to withstand physical assaults, hammering, and boring. There are three main varieties of deadbolt locks: single, double, and vertical.
Padlocks - Padlocks are free-standing objects. Unlike other lock types, they are transportable and not affixed to a door or container permanently. They are available in several models divided into the keyed and combination categories. Keyed alike, keyed differently, and keyable are some kinds of keyed padlocks.
Mortise Locks - Mortise locks, which come in light-duty and heavy-duty types, are strong locks used on exterior doors. They contain a mechanism inside, making them more of a lockset than a lock. These locksets, which may accommodate knobs or levers, offer excellent security. They use mortise parts that have been inserted inside the door and are threaded.
Keypad Locks - You can access keypad door locks without a key by punching numbers on an attached numerical keypad. They can be mechanical or battery-powered, typically using mortise locks, knob locks, or deadbolt locks for the actual locking mechanism. Although many of these door locks also have keyholes for alternative unlocking processes, these door locks provide increased adaptability and permit admission without a key.
Smart Locks - There are additional ways to lock and open a door with smart locks, which are adaptable electronic door locks. The ability to lock and open a smart lock using a phone or key fob is its most significant advantage, even though many smart locks also contain a keypad and a keyhole. Many smart locks can connect to home automation services and are Wi-Fi or Bluetooth enabled.
---
Features to Consider Before Buying Gate Locks
Door Location - When purchasing a new lock, it is crucial to note where your door is located. There are numerous sorts, each with a range of features and levels of security. These characteristics render it ineffective for one kind of door and ideal for another.
Kind of Lock - The type of protection you will require for a door depends on where you want to install it and how strong of a security system you want to set up. Every door has a unique purpose, varying in passage, entry, and privacy. Thus each one requires a particular doorknob or deadbolt installation. Handle sets, doorknobs, deadbolts, intelligent locking systems, and door levers are common residential-type locks.
Features - Different varieties have been updated with additional capabilities to improve your home or business security over time. Your property is more secure thanks to smart technology that includes remote features and automation programs. For internal doors, you might not require a lot of sophisticated features. You must do some research to decide which extra features to have in your new door locking system.
Looks and Finish - You must also concentrate on the door lock's appearance. Many different finishes are available, so you can pick one that goes well with the rest of your decor.
Security Grade - A security-grade number is allocated to a particular locking system to determine its durability and longevity. The manufacturers assign these grade numbers following performance testing. Using grading or rating numbers, one may choose the number of cycles a lock can sustain without breaking or degrading.
---
Top Brands to Look at for Main Door Locks
Godrej Door Locks - Godrej is one of the leading door lock manufacturers. It creates complex bespoke technical solutions and produces branded consumer items like furniture, appliances, door locks, and security solutions. Godrej locks are appropriate for bathroom, main, connecting, shutter, and grill doors.
Bonus Door Locks - Bonus offers a wide selection of mortise, knob locks with various features, and a comprehensive range of cylinders and keying options. These locks provide robust security, durability, great aesthetics, and modern designs. Bonus produces a wide range of locks for both domestic and industrial use. Their locks are made from high-quality material with cutting-edge technology.
Europa Door Locks - This brand provides locks with the best features, strength, and durability for main doors, single doors, double doors, and sliding doors with deadbolts. Europa main door locks, central door locks, night latches, cylinder locks, Diamant padlocks, and center shutter locks are just a few variations of Europa door locks.
Plaza Door Locks - Plaza is a brand that provides architectural hardware solutions that are the ideal fusion of state-of-the-art German technology with superb design. When it comes to safety, nothing beats gear made by Plaza. Its locking systems are the epitome of a sophisticated, classic style patented technology-perfected.
Dorset Door Locks - The consumer-focused business Dorset is the industry leader in locks, door locksets, and security systems. In addition to a broad selection of locking systems, Dorset also provides a vast selection of architectural hardware, kitchen hardware, and furniture hardware. Rim locks, mortise locks, euro profile cylinders, cylindrical knob locks, furniture locks, and other locks and security systems are all provided by Dorset.
We also offer door locks from other renowned brands such as Link, Zaha, Duke, Shrida, and Everest.
---
Buy Dependable Door Lock Latch from Moglix
We at Moglix aspire to provide our customers with the best service. We offer them an accessible navigational site with top brands selling high-quality door latch locks. We provide enticing specials and discounts in addition to high-quality goods. Before shipment, each item is put through a quality check to ensure that only the best products get to the customer. We make sure you like working with our goods by making sure they are easy to use, sturdy, and have minimal maintenance. We strive to offer our clients affordable door locks of the highest caliber and highly safe.
Frequently Asked Questions about Door Locks
---
How secure are keyless door locks?
People have always relied on traditional locks from the very beginning. However, technology has made advancements and now we have a variety of options to choose from. Well, a keyless lock is completely safe until the passcode is known by trusted people only.
Door Locks - Price Range
This data was last updated on 2/3/23.