Related Sprayers Article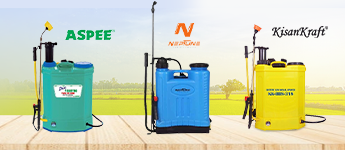 Best Brands of Sprayers Available in India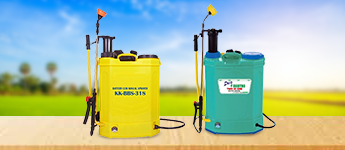 Everything You Need to Know About Sprayers
Buy Best Quality Sprayers for Your Farm and Gardens
A sprayer is a machine that projects a liquid; they are frequently used to project water, weed killers, crop performance materials, pest maintenance chemicals, as well as ingredients for manufacturing and production lines. A sprayer is a piece of equipment used in agriculture to apply fertilizers, insecticides, and herbicides to crops.
Sprayers are complete mechanical systems, which means they are made up of a number of parts and elements that work together to produce the desired result, in this case, the projection of the spray machine fluid. Spray machine come in a variety of sizes, from man-portable units (typical backpacks with agriculture spray pump) to trailed sprayers attached to tractors to self-propelled units resembling tractors with boom mounts ranging in length from 4 to 151 feet (1.2 to 60.46 meters), depending on the engineering of the tractor and the size of the land.
---
Understanding the Types of Sprayers
Knapsack Sprayers- Comes with a knapsack-style shoulder strap for simple transport while allowing you to pump and direct the garden sprayer with your hands. It is perfect for raising water sprays in both indoor and outdoor spaces. Easy usage and cleaning are made possible by the big filler orifice at the top and the filter. The most common and traditional piece of equipment used worldwide is the knapsack sprayer. To prevent pest attacks on the crop in agricultural regions.
Hand Operated Sprayers- They are intended for light to medium spraying tasks in outdoor and agricultural settings. The majority of commercial liquid fertilizers, weed killers, insecticides, herbicides, and fungicides are suitable with these reliable garden sprayers. These Manual agriculture spray pump are Lightweight and very handy.
Battery Operated Spray Pump - There is no need for manual labor to create pressure, and the process is simple and quick. The pressure is adjusted with a regulator, and the back rest and shoulder pad are fastened for simple spraying. Ideal for applying herbicides, insecticides, pesticides, and fungicides. To prevent pest attacks on the crop in agricultural regions. These Power Sprayers are used extensively in horticulture, agriculture, sericulture, plantations, forestry, and gardening and have a variety of uses.
---
Key Factors to Consider Before Selecting Spray Machine
Comfortability- You should find it easy to carry for extended periods of time. A comfortable strap makes labor simpler by easing the strain on the shoulders and back. You may rapidly alter the length of the straps at the front hasps to bring the backup closer to you and lessen any weight when it is fully filled.
Adjustable Spray- The adjustable spray machine is ideal for misting, soaking, and all of your needs, and it completely empties the tank of all remaining liquid. Make sure there are no leaks in the sprayer before buying it.
Air Valve- When there is too much air, a pressure relief protection valve can be used to immediately evacuate it. Therefore, it is safe to carry around a sprayer tank that is equipped with an Air Valve.
Ease to fill- One of the best features of any product is the simplicity of tank filling. The top is simply unscrewed, and water or other non-harmful water-based products can be added. The directions are posted on the back of the sprayer, so someone can refer to them if they forget how many chemicals need to be added.
---
Best Sprayers Manufacturers You Can Rely On
Neptune- The Neptune Backpack Sprayer pump is the ideal instrument for applying pesticides for agriculture, row crop farming, and pest management. It is made to function efficiently. Backpack Sprayer is composed of sturdy brass and copper that resists rust and wear. Additionally, it is designed with cushioned shoulder straps for lower vibration to provide the best operator comfort yet.
Farmearth- The large filler opening at the top and the filter make for simple usage and cleaning and are compatible with typical fertilizers, weed killers, and insecticides. If and when the battery runs out while performing pest control, you can switch it to manual operation. This sprayer pump is perfect for municipal projects, industrial pest management, tea gardens, and field crops.
Greenleaf- It is ideal for misting water on crops including wheat, corn, and rice as well as on greenhouses, orchards, plantations, and fruit trees. Fixed with a regulator for pressure control, Fixed with a shoulder pad and backrest for comfortable spraying. The tube's top aperture makes filling simple and mess-free. Manual, This heavy tank has durable fittings and is operated with an Extension Lance.
Kunfun- Smooth and streamlined appearance. The ergonomic form of the tank mimics the shape of the human back to enable secure attachment. A voltmeter is located on the base; it is used to time the charging of the electric sprayer. It will prolong the life of agriculture spray pump. Simply fill the bottle to the top and secure the lid. You can now increase the pressure and get going.
---
Shop at Moglix for Quality Assured Sprayers
Sprayers come in a variety of design styles, sizes, equipment configurations, and performance standards. They differ in size from little spot-spraying devices to enormous sprayer pumps that cover a lot of ground and plants. Sprayers pump in agriculture have been designed to maximize their effectiveness and adaptability for the variety of uses that they are put to, whether they are employed on soil, vegetation, or crops. Purchase your garden sprayers, water spray guns, and agriculture spray pump only at Moglix. At Moglix, with a quick and fast delivery option, you can also rely on the genuineness of the products.
Frequently Asked Questions about Sprayers
---
What is a boom sprayer used for?
They are used for spraying small farm plots, rolling pasture land, large multi-acreage crop fields & more. Boom sprayers are simple in design and feature nozzle-equipped sprayer arms that gets attached to a tractor or vehicle with span reaches up to 30 feet.
Sprayers - Price Range
This data was last updated on 1/27/23.