Shop More by
Related Brush Cutters Article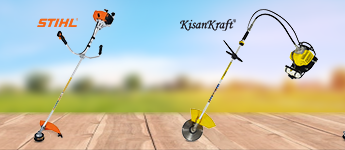 Best Brands of Brush Cutters Available in India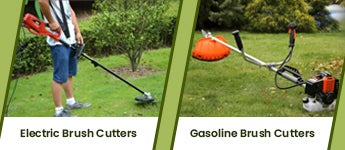 Brush Cutters To Clear All Weeds
Get a Hold of Robust Quality Brush Cutters
Are you a gardening enthusiast, or are you a professional gardener? Switch to a durable brush cutter for a cleaner garden look and witness this versatile equipment work magic. Choose between a cordless brush cutter, industrial brush cutter or heavy-duty brush cutter according to need.
A powered garden or agricultural instrument known as a brush cutter machine is used to trim weeds, small trees, and other foliage inaccessible by a lawn mower or rotary mower. The machine can be equipped with different blades or trimmer heads for particular tasks. It has a variety of engines and is a more durable and powerful machine than a grass trimmer. A grass cutter's three primary power sources are gas engines, electric motors, and cordless electric motors.
We at Moglix provide excellent brush cutters that comply with legal safety standards. Choose from trustworthy brands such as Pro Tools, Greenleaf, Agriplus, Neptune, Bajaj and many more.
---
Various Types of Brush Cutters Available
Handled Brush Cutter - The smallest type of brush cutter is the handled brush cutter machine. They have long lines, larger engines, and metal brushes, making them perfect for cutting saplings, grass, and overgrown weeds. Both 2-cycle and 4-cycle engines are readily accessible. You can choose any of these depending on your preferred method for blending gas and oil.
Walk-Behind Brush Cutter- The walk-behind cutter is for you if you need to manage large projects yet have a limited amount of time. The hand-held brush cutter machine is perfect for working in confined spaces. On the other hand, a walk-behind brush cutter is ideal for larger areas and overgrown brush. These grass cutter machines are excellent for clearing a vacant lot or a neglected portion of a property.
Tow Behind Brush Cutter- The tow behind brush cutter's bottom is comparable to a lawnmower. As the name suggests, you must tow it behind your tractor or any other vehicle. They are perfect for clearing dense brush and vast landscaping areas, such as weeds along a large property's perimeter, an abandoned field, grassland, or an area of wild brush.
Backpack Brush Cutter- The backpack grass cutter machines enable more comfortable transportation. In addition, these brush cutter machines perform routine farm tasks like cutting in flat areas where tall grasses and weeds need to be controlled. However, due to the brush or grass cutter's weight and gravity, which may induce falls, these are not appropriate for muddy soils.
Loop Handle Brush Cutter- The loop handle brush cutter machine is perfect for tasks in the field, including huge weed bushes, long trees that need pruning, and various other concealed objects like boulders. These are suitable for pruning above the head level and on steep slopes.
---
Factors to Consider When Shopping for Brush Cutters
Intended Use - The first thing to consider when looking at Brush Cutters is the purpose of using the equipment. Think about what kind of debris will the brush cutter be used on.
Brush cutters are designed to handle particular brush heights and thicknesses; if these parameters are exceeded, the equipment will get damaged. Select a grass cutter machine with a long service life for professional use. Purchase a heavy-duty brush cutter to handle overgrown plants, heavy brush, and weeds for challenging projects like clearing vacant properties. Choose a medium brush cutter that is adaptable and simple to use if you are working on a small or medium area with hedges, bushes, and small trees. In such a case, cordless brush cutters can help.
Size- Size might not be a huge concern for individuals who only need a grass cutter machine for their porch or garden. But size is unquestionably a factor for professionals who use it for long working hours. A large, powerful engine will weigh more, like an industrial brush cutter. Although you can cut through the debris more quickly, you will tire more quickly. The ideal situation is to balance size and power while ensuring that the device is powerful enough to handle the desired task easily.
Characteristics - The characteristics should be a significant consideration as you compare different brush cutters. For safe operation, search for a machine with a wraparound guard running along the handlebars plus the front of the equipment.
Next, check if the brush cutter has a heavy-duty steel cutting deck and steel front deck plates.
The best brush cutter has a preset for speed restriction to prevent overdrive conditions. The brush cutter should remain in position when stopped on a slope; therefore, make sure it has a parking brake.
Ease of Use and Maintenance- Usefulness is a crucial factor to take into account. Find out if changing the trimmer heads and cutting blades is simple. Additionally, look for equipment with simplified upkeep. For instance, some are bolted rather than welded to make mending individual parts easier.
---
The plentitude of Brands to Choose From
Pro Tools Brush Cutters- Pro Tools manufactures powerful, versatile brush cutter machines that are perfect for various tasks. They provide long-term durability products and comply with legal standards, ensuring your safety while you work. They are renowned for their extensive product selection, allowing customers to choose from a wide range.
Greenleaf Brush Cutters- Greenleaf is a leading supplier of industrial cutting tools that utilise high-quality raw materials. The products have a fantastic speed range to help you work swiftly and efficiently. The Greenleaf brush cutter machine is essential to cut grass or weed if you own a garden. Their products are ideal for farm use and offer value for your money.
Agriplus Brush Cutters- Agriplus provides premium products and manufactures products using quality assured material and advanced techniques, which make them stand out in this challenging field.
The materials used to make Agriplus Brush Cutters are obtained from the most reputable and authorised suppliers, chosen following thorough market research. The outstanding quality of Agriplus brush cutters is highly recognised in the industry.
Neptune Brush Cutters- A renowned brand, Neptune offers high-quality brush cutter machines at reasonable prices. Their products are unique as they help cut costs, have low fuel consumption, and make less noise. Neptune brush cutters are easy to use and are low maintenance. You can use the brush cutters for professional and personal use, and their speed can be adjusted according to the need.
Bajaj Brush Cutters- Bajaj, a prominent name in the industry, designs and manufactures reasonable grass cutter machines. They provide the best quality and high-speed brush cutters at the best rates. Bajaj's products can be used for Agriculture, Gardening, Lawn Grass Trimming, etc.
Bajaj brush cutters are lightweight, multipurpose, and powerful machines used for agricultural purposes.
---
Shop for Reasonable and Efficient Brush Cutters at Moglix
Brush cutters and trimmers can be an excellent solution if you also want to maintain your garden. These are considered all-purpose instruments for cutting different things, such as grass and weeds.
We at Moglix provide Brush Cutters from highly reputable brands that ensure the product's durability. The pieces of equipment are tough, strong and can cut through anything. We also provide bulk purchases of brush cutters and only deliver products that are easy to use and maintain.
Select from our wide range of excellent products and buy grass cutter machines at reasonable prices with exciting discounts and offers.
Frequently Asked Questions about Brush Cutters
---
Can we convert a brush cutter into a pruner?
No, you cannot convert a brush cutter into a pruner.
Can a brush cutter cut paddy?
Yes, a brush cutter can be used to cut paddy.
What's the best lawn mower for home use?
You can choose the right lawn mower depending upon the usage & specifications and your requirements.
How to maintain a brush cutter?
Firstly, you must drain the fuel tank before cleaning the cutter. Remove and examine the spark plug thoroughly. Clean or replace (if needed) the plug before storing the machine. Next, remove and clean the metal cutting blade, check for damages and any signs of corrosion. Store the brush cutter in the hanging up position. This position saves space.