Shop More by
Related Chain Saws Article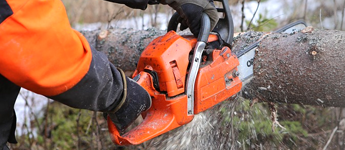 Chainsaw For Easier Felling: Meaning, Types, Advantages
Get Hold of the Most Secure and Efficient Chainsaws
If you're facing issues with overgrown branches of trees or in keeping your garden trimmed to perfection, this is your sign to invest in a good quality chainsaw. An electric, gasoline, or battery-powered portable saw with teeth attached to a spinning chain and propelled along a guide bar is known as a chainsaw. It is employed in tasks including tree felling, limbing, bucking, trimming, cutting firebreaks for putting out wildland fires, and harvesting firewood. Buying the right chainsaw is a process of matching the tool to the job at hand. We at Moglix provide excellent choices of chain saws from leading brands such as Yking, Capital Tools, Pro Tools, Stihl and many more.
---
Types of Chainsaws to Pick From According to Need
Electric Chainsaw- Electric chainsaw machines are powered by electricity and can operate at higher amperes because they are plugged into a power source. They have significantly greater cutting power, but the main drawback is that you can't travel too far from the outlet. Because they don't require fuel or rechargeable batteries, corded models are often the most affordable.
Petrol Chainsaw- You'll frequently discover that a petrol chain saw has the greatest strength because of its gas engine, which, compared to its electric equivalents, can create more cutting force and power at a longer bar length. This makes it easier to cut giant trees. Unfortunately, the strong motor also brings a heavier tool and a much higher noise. They arguably offer the most variable use for money and are completely mobile.
Cordless Chainsaw- An electric chainsaw is powered by a lithium-ion battery, a common rechargeable power source making the chainsaw the lightest type. A rechargeable chainsaw's battery life will vary according to the brand. Additionally, it depends on how much you use it at once. Cordless chain saws machine \often have less power, making them ideal for clearing brush in locations where you cannot use an extension cord.
---
Essential Factors to Consider When Buying a Chainsaw
Working Space- A significant factor would be to realise what you will use the chainsaw for. An electric chainsaw is what you need if you want to prune and lightly trim your garden; it is the ideal option for this kind of task. The petrol chainsaw is the best option if you need to cut down medium-sized trees or remove heavy branches from a wooded area.
Engine Capacity- The chainsaw's engine is a crucial component. It is what fuels the chain saw.Chainsaws come with two types of engines: petrol powered and electricity powered. Petrol chainsaws have more power than those that run on batteries. However, they are also bulkier and more challenging to start. Electric Chainsaws are lighter and simpler to start. However, they lack the strength of petrol chainsaws. A petrol chainsaw is required if you plan to cut a lot. On the other hand, an electric chainsaw will work just fine for light cutting.
Safety System- Chainsaw machines are hazardous instruments, so it's crucial to pick one with the appropriate safety features. There should be a chain brake on every chainsaw. This safety mechanism prevents the chain from moving when you release the trigger. A throttle lock must be included with chainsaws stopping the chainsaw from unintentionally starting up. Check for all these safety measures before finalising the chainsaw.
Right Bar Length- The metal component holding the chain is called the bar. The size of the tree you might be able to cut will depend on the length of the bar. You need a 10 to 12 inches long bar if you are only going to be chopping tiny trees. A bar 18 to 20 inches long is required if you plan to cut huge trees.
Weight- A chainsaw can be heavy, so if you plan to use it for long periods, you should select a lightweight one. Petrol chainsaws are usually heavier than electric ones. Therefore, you must pick an electric chainsaw if you're looking for one that is lightweight.
---
Brands Selling High Quality Chainsaws at Affordable Prices
Yking Chainsaws- Yking promises and provides products with lyrical styles, low noise, strong power, high performance & durable life. Their chainsaws are ISI certified, ensuring you are safe during its usage. They provide portable machines that do not produce heavy vibrations during operation.
Capital Tools Chainsaws- Capital Tools' engineering services are synonymous with quality and precision. They use the contemporary CAD system to create engineering designs that speak for themselves. Their product has chain interval with counter-attack shrapnel, guide oil hole, and automatic refuelling with protective cover and ergonomic handle. Capital Tools Chain saw Combines High Performance with Better Fuel Economy & Lower Exhaust Emissions.
Pro Tools Chainsaws- Pro Tools manufactures powerful and versatile saws that are perfect for various tasks. They also feature chain brakes and anti-kickback systems to help keep you safe while you work. They are renowned for their extensive product selection allowing customers to choose from the wide range.
Stihl Chainsaws- Since 1971, Stihl has been the world's biggest selling chainsaw brand. Stihl provides outstanding performance, excellent power to weight ratio and classic design. Their designs are human friendly, safe and easy to use. Following thorough market research, their materials are procured from the most reputable and authorised suppliers.
iBell Chainsaws- iBell provides impeccable quality assurance and does not leave their customers disappointed. Fitting your budget and your needs, iBell provides chainsaws in all ranges. They follow all safety measures and provide excellent quality work. Their products are mainly used for tree felling, limbing, bucking, pruning, cutting firebreaks in wildland fire suppression, and harvesting of firewood
---
Purchase Durable and Economical Chainsaws with Moglix
The primary worries that purchasers have when browsing for chainsaws are something we at Moglix are aware of. We have acquired the most recent line of chainsaws that can be used on farms, gardens,lawns, wood cutting,etc to live up to the expectations of our consumers. Before being sent out for delivery, the goods are put through quality checks. As a result, the buyer is guaranteed to get their chainsaws in the most satisfactory operational condition. Whether you are a professional or a homeowner, if you intend to get a durable chainsaw from one of the leading brands worldwide, then we provide affordable products that you can choose from.
Frequently Asked Questions about Chain Saws
---
What happens if the chain breaks while using a chainsaw ?
The chain in the chain saw often breaks when the saw blades go blunt. The best way to cope up with this issue is by sharpening the blades using a file every time you refuel. But if in case you are using this tool to cut through a stone, then you shall sharpen them after every use.
How often should you flip the bar on a chainsaw ?
It is highly recommended that you flip the bar on your chainsaw after every use, preferably when you are cleaning. Well, more easy advice is that you flip the base when you plan to change the blades.
How do you start a chainsaw ?
Chain saw is a very powerful cutting tool, it is really important to stay cautious at all times. First, you need to stabilize your chainsaw from a safe distance, check if there is any chain breaks, open up the choke to warm up the device, pull the start cord, and then safely proceed with the task.
Top Selling Chain Saws Price List in India