Related Bike Horns Article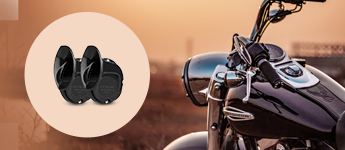 Bike Horns for Safety While Riding- Meaning, Types, and Features
Buy from a Wide Range of Bike Horns at Economical Rates
Bike horns are one of the most crucial components in ensuring your safety while driving. It plays an important role in road safety. The purpose of the horn is to alert others of your presence and thus prevent accidents. Bike horns are sound-producing devices that are used to warn drivers of oncoming vehicles or to alert them of a potential hazard. It is critical to keep your bike's horn in working order while on the road. You can always upgrade the horn on your vehicle by purchasing advanced bike horns. Bike horns are extremely useful when dealing with and passing through dense Indian traffic. As a result, investing in a high-quality bike horn increases your chances of arriving at work on time and, more importantly, avoiding any mishaps on the road. Shop for good quality, reliable bike horns at Moglix from various trust-worthy brands such as JBRIDERZ, Love4ride, AOW, AllExtreme, UNO, and so many more.
Various Types Of High Sound Bike Horns to Choose From
Air Horns: These horns can produce extremely loud sounds to provide signals. This is a pneumatic device with a compressed air source that passes through a reed or diaphragm into a horn. This stream of air causes the reed or diaphragm to vibrate and produce sound waves, which the horn amplifies, making the sound even louder. These are commonly used as bike horns nowadays, but the sound level range should be kept in mind as it should not be too loud.
Electric Horns: Electric horns are the most commonly used because they are the most recent. They transmit warning signals generated by an electronic circuit. They can generate sounds up to 140 decibels. They are powered by a rechargeable lithium-ion battery or two AAA batteries.
Factors to Consider While Buying a High Quality Motorcycle Horn
Durability: Before buying your bike horns, consider how long they will last. When determining whether or not a horn will last a long time, the metals used in the horn should be considered. Invest in some long-lasting horns because the non-durables will need to be replaced on a more regular basis.
Technical information: Various technical characteristics, such as sound range (which should not be too loud to contribute to noise pollution), working temperature, sound patterns, and frequencies, should be considered. When purchasing, keep these points in mind.
Vehicle compatibility: Some horns are designed to work with all types of bikes, regardless of model or manufacturer. Simultaneously, some horns are expressly designed for a specific type of bike. Based on their preferences, people can choose the type of horn that best suits them.
Installation: Choose horns that are easy to install and fit because they will result in lower installation costs; however, if you purchase a horn with a complicated installation technique, the installation cost will be high, and the horn will be less durable.
Brand: Because it might have an impact on the quality of the products you receive, the brand is an important consideration. When you make a purchase from a reputable and established business, you can be sure that, if the need arises, you will get excellent and timely customer service.
Credible Brands that Sell Cost Effective, Best Horns for Scooty
JBRIDERZ Bike Horns: All JBRIDERZ products are made of high-quality materials and comply with all applicable industry standards and regulations. As a result, they are well-liked, and a sizable user base prefers their bike horns. JBRIDERZ's motorcycle horns are ideal for safe travel in low-light conditions. They come in many different sizes and shapes and are easy to use.
Love4ride Bike Horns: High-end, top-notch bike horns are available from Love4ride. They are constructed with premium materials and provide enough riding safety. The motorcycle horns from Love4ride are strong, long-lasting, and priced reasonably. They are portable and light.
AOW Bike Horns: AOW is a dependable source of bike horns. Each AOW motorbike horn is produced utilising high-quality materials and contemporary manufacturing techniques. After doing a thorough market investigation, the materials are purchased from the most reliable and authorised vendors. They offer bike horns that are inexpensive, strong, and stylish.
AllExtreme Bike Horns: One of the top manufacturers of the best horns for scooty is AllExtreme. They are dependable and appropriate for all bikes and vehicles. It is a fantastic option for anyone looking for high-quality, affordable bike horns. AllExtreme motorbike horns are made using premium components and cutting-edge production procedures to ensure that they meet this very demanding market.
UNO Bike Horns: Excellent performance, gorgeous designs, and effective bike horns are all provided by UNO. Their designs are straightforward, secure, and user-friendly. Their resources are from the most reputable and authorised sources. Because of its strength and effectiveness, UNO motorcycle horns are appropriate for usage in extremely crowded areas.
We also have a plethora of best horns for scooty from other brands such as Hella, Pricol, Delhi Deals, Meenu Arts, A4S, and others.
Buy Superior Quality Motorcycle Horn at an Affordable Price from Moglix
As a result of the increased demand for suitable quality motorcycle horns, brands have begun producing affordable bike horns with loud sound without sacrificing quality. We at Moglix strive to assist you in selecting the best brand and best horn for your scooty by providing an easy-to-use website and filtering features. To ensure complete client satisfaction, we conduct quality checks on all products before they are shipped. We also offer discounts on bulk purchases of bike horns at reasonable prices. We have a variety of bike horns in various sizes and prices to meet all of your needs. So visit our website to find the most cost-effective motorcycle horns.
Frequently Asked Questions about Bike Horns
---
How do you diagnose a horn not working?
Riders passing through well-lit regions should use a light with a lumen output of 100 or 200. You'll need a greater lumen count if you're riding through dark places and want to improve visibility. Especially for riders, anything between 200 and 600 lumens is great.
Is HID or LED the best option?
LED lights last more than 20,000 hours on average, which means they need to be replaced considerably less frequently than HID headlights, which last up to 5,000 hours on average. HID lights are also less durable than LED headlights.
How do you diagnose a horn not working?
Quickly touch the other end of the clamp to the positive battery connection after attaching one clamp to the horn's terminal. The horn won't work if the fuse blows. If the horn clicks, there might not be a good ground connection, which would cause the issue. Try re-powering the horn after cleaning the ground connection.
Why my bike horn is not working?
If your bike has a horn fuse, start there. Examine the area carefully for damaged insulation, frayed connections, and other common indications of electrical trouble as blown fuses frequently point to poor wiring. Next, check the horn directly.
Bike Horns - Price Range
This data was last updated on 1/30/23.