Related Water Purifiers Article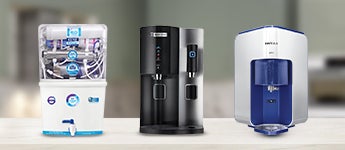 Water purifier buying guide: Things to consider before buying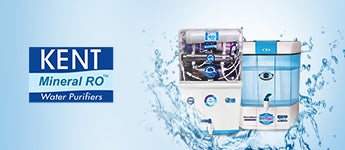 Water purifier brands in India for safe and pure drinking water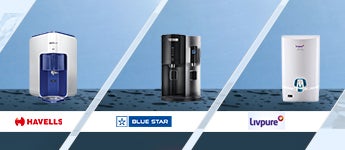 Types of water filter based on their applications
Water Purifiers: Stay Safe, Stay Healthy with Pure and Healthy Drinking Water
---
It all begins with you! We bathe, wash our hands frequently, and maintain a clean environment. This is especially critical in light of the current circumstances. But that's not all; eating healthy foods and maintaining proper digestion and bowel movement are also essential. All of these things require clean, safe water.
Nowadays, finding pure, clean, and safe drinking water is difficult. Given this condition, it is even more critical to understand various water purifiers on the market to ensure high-quality drinking water.
Although water contains numerous minerals beneficial to the human body, ingesting too much of it can lead to various ailments. An effective water filter removes suspended particles, excess salts, and bacteria, but vital minerals and vitamins are retained. With so many manufacturers in the water filtration market these days, it's tough to know which ones are good, which ones aren't, and which ones fulfill the minimum requirements.
Water Purifier Working and Advantages
---
Water purifiers and water filters operate on the same type of mechanical mechanism. They take in the polluted raw water first. Then, filter out contaminants like microorganisms and sediments, and give out safe and clean water. However, one important difference between the two is that a water purifier can eliminate all the viruses and germs that the water filters cannot. To eliminate or catch viruses, some purifiers utilize chemicals, while others use an electrostatic charge.
RO Water Purifiers and Their Features
---
Purifiers have become indispensable in every home. With so many filtration methods on the market, people are frequently unsure which one to look for when purchasing a water purifier, with RO purification being the most common and effective. Reverse osmosis, or RO, is a water purification method that removes ions, undesirable compounds, and hazardous particles from drinking water using a partially permeable membrane.
--> They're great for dealing with hard water. RO applications are best suited to underground water sources and sources with a TDS level of greater than 500 mg/lt.


--> The purifier removes TDS as well as soluble contaminants from the water.


--> The RO water purifier kills pathogens.


--> They improve the flavor and odour of regular tap water.


--> These purifiers take a little longer for RO to cleanse water.


--> The majority of RO systems use a storage tank.


--> The cost is more than UV because of its advanced features.


Benefits of Alkaline Water Purifiers
---
The term "alkaline water" refers to the pH level of the water. On a scale of 0 to 14, a pH level is a number that indicates how acidic or basic a substance is. The pH level of alkaline water is greater than that of regular drinking water. In this vein, some proponents of antacid water believe it can neutralize the acid in the body. Drinking alkaline water has various advantages. As a result, you may get Alkaline Water Purifiers from the greatest Alkaline Water Purifier Manufacturers, and their benefits are as follows:
--> Your body's pH level is balanced.


--> Detoxification is aided.


--> Boost your immune system.


--> They aid with weight loss.


--> Improves hydration.


--> Increases your energy levels.


--> Acids in the blood cells are reduced.


--> Reduces the loss of bone mass.


Buy Water Purifier at the Best Price from Moglix
---
To remove organic and inorganic pollutants from water, modern water purifiers use a variety of innovative technologies. UV (ultraviolet radiation) or RO (reverse osmosis) technology is used. Reverse osmosis (RO) is now one of the most effective purification methods, followed by UV water purification. You can find the best appliances online from top brands like Kent, Nasaka, Aquaguard, Eureka Forbes, and many more at reasonable price offers. Hurry up and buy the best water purifiers online.
Frequently Asked Questions about Water Purifiers
---
Does the water purifier really work?
The answer to this question is yes; purifier not only removes dirt and impurities but also gives a peculiar taste to water. It keeps the mineral and vitamins retain in water.
Is RO water good for health?
Yes! RO water is pure like distilled water. It does not have any chemicals in it so it will not affect your health.
Top Selling Water Purifiers Price List in India
Water Purifiers - Price Range
This data was last updated on 1/30/23.