Related Sewing Machines Article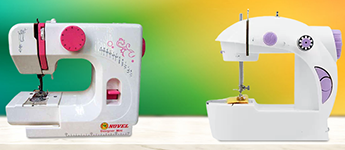 Sewing Machine Buying Guide: Tips To Consider Before Buying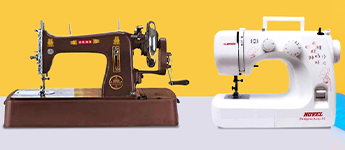 Most popular sewing machine brands in India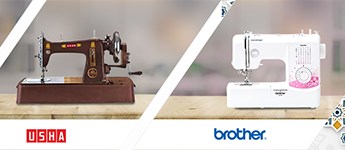 Enjoy seamless stitching experience with these amazing Sewing Machine brands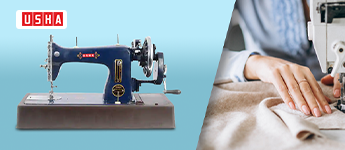 Everything you need to know about Usha Sewing Machine
Get Your Hands on Easy to Use and Reasonable Sewing Machines
A sewing machine is a device that uses thread to sew fabrics and other materials together. There is a wide array of foot-operated, electric sewing machines ranging from industrial machines for sewing leather, book pages, etc., to machines with a shuttle for a spool of thread and a needle for sewing clothing. Depending on what you plan to utilize the silai machine for, various models are available. Beginner-friendly machines are available, as well as industrial machines for professionals. Shop for good quality, reliable, and reasonable stitching machines at Moglix from various trust-worthy brands such as Singer, Usha, IBS, Novel, and so many more.
---
Different Types of Stitching Machines for Both Domestic and Industrial Use
Hand Silai Machines - These resemble hand staplers more. However, you can sew on materials. You can use them to mend various items, including bed sheets, couch cushions, denim clothing, and drapes. These machines may be used anywhere and are portable for quick repairs. Beginners can use these machines to learn how to sew as well.
Miniature Sewing Machines - These sewing machines are small and have a wide range of capabilities. Even little sewing machines can stitch around complex curves. If you rotate your fabric by 180 degrees, you can also create a backstitch! Cotton is a light fabric so these machines can sew cotton clothing. Get yourself a little sewing machine if you enjoy stitching on small pieces of fabric. These tools are ideal for improving your sewing interests.
Electric Sewing Machines - Professional users love electric sewing machines. These have motors built into them that make operating simple. Additionally, they take up little room and are lightweight. Some electric sewing machines also use LCDs. You may see what kinds of stitch patterns you can reproduce on these screens. They have tons of features and are powerful. Numerous built-in stitches are available with electric sewing machines. People with advanced sewing skills may operate these machines with ease. Their upkeep expenses are also minimal.
Computerised Sewing Machines - Best-in-class devices with internet access are computerised sewing machines. These machines have a minimum stitch count of 50 and a maximum stitch count of 200. Despite being specifically made for industrial use, these machines can also be purchased by small business owners. These types of equipment are larger than electric equipment. They are huge because several needles and spool spinners are used to produce the desired pattern. These machines can quickly sew a large number of garments. They, therefore, fit industries better than residential areas.
Embroidery Sewing Machines - Embroidery sewing machines are made specifically to duplicate exquisite and stunning embroidery patterns. Many sewing machines already have embroidery stitches built in. Get a machine that focuses solely on this region if you want perfection. Sewing machines used for embroidery resemble regular electric sewing machines in appearance. However, the way they work is different. An embroidery sewing machine embellishes plain fabric with designs and patterns. These apply to any cloth. Be it chiffon, cotton, denim, or any other material.
---
Features to Consider Before Buying Wholesale Tailoring Machine
Budget - Whatever your budget, there will always be a best-in-class alternative available; all you need to do is do more research and pick one that has reliable components, an extended warranty period, and is manufactured by a reputable company.
Brand - The brand is essential when it comes to sewing machines. Singer, Usha, and IBS are a few of the most renowned manufacturers of high-quality sewing machines. These brands have earned the respect of the consumers and are well-known for consistently supplying the market with top-notch machines.
Computerised vs. mechanical - Nowadays, most high-end machines are fully automated and equipped with cutting-edge features like touch screen dashboards and programmable stitch patterns. These machines have a stronger motor and stitch quality is better. Additionally, because they can be programmed, they may make high-quality, uniform, and error-free components. You could take the mechanical route with a constrained budget since this has a cost.
Frequency of use - You can either be a heavy user or a light user when it comes to sewing machine usage. For instance, if you work in the sewing industry and must use your machine often daily, you may require a heavy-duty tool that can handle multiple projects while requiring little upkeep. On the other hand, if all you need is a machine sometimes to hem a few clothes or sew some new pillows, you might require a simple machine.
Stitches - The stitches your selected machine offers are essential to consider once you've determined your sewing machine budget. You must focus on the types of stitches offered rather than just the numbers.
---
Top Brands that Sell High-Quality Silai Machines
Usha Sewing Machines - Inbuilt with Japanese technology, Usha Silai Machines are remarkable and have easy-to-use features that complement and express your style. The electric sewing machines are lightweight and portable. The materials to manufacture these high-quality machines have been sourced from the best in business after thorough research.
Novel Sewing Machines - Novel tailoring machines are well known for their superior quality in the industry. Due to easy-to-use operations, their machines are user-friendly, leading to increased operability. The silai machine is built to operate at maximum speed with the least amount of noise and vibration and improved dependability and durability.
IBS Sewing Machines - IBS is one of the top manufacturers of sewing machines. IBS silai machines are of high standards in terms of quality. They are fast and have simple operations making them consumer and beginner friendly. Their electronic sewing machines are durable, have a warranty, and have adjustable features. IBS silai machines are a great option because you have many modification options to make the machines ideal for your requirements.
Singer Sewing Machines - Singer is renowned for its high-quality, durable automatic machines that uphold the company's traditions. Their electric sewing machines ensure that they produce high-quality output while offering maximum convenience. It offers several advantages. They have heavy-duty metal interior bodies and are widely used and favored. From total beginners to seasoned professionals, a Singer silai machine is available in a range of designs and with great patterns for everyone.
---
Shop for the Best in Class Electric Sewing Machines with Moglix
Look through a large selection of tailoring machines offered by us at Moglix at affordable costs. Check and compare sewing machine prices to choose the one that best meets your needs with our easy-to-use filtering options. Also, express your style and enhance your creative skills with durable electric sewing machines. The products are put through quality inspections before being sent out for delivery. The buyer is therefore ensured to receive their silai machines in the best possible condition. We offer bulk sales, wholesale sewing machines, exciting discounts and offers, and easy navigation on the site. The best companies are featured here, selling their ergonomic, affordable tailoring machine. We at Moglix now make it simple for you to buy a reliable and hygienic machine that suits your demands.
Frequently Asked Questions about Sewing Machines
---
Which is the best sewing machine electric or manual?
Manual sewing machines are ideal for basic sewing and quilting. Electric sewing machines, on the other hand, are ideal for quilting or fashion garment making due to the greater variety of stitches and features available.
What should one look for in a sewing machine?
There are numerous factors to consider when purchasing a sewing machine, but the most important ones are the stitch option, the machine's dimensions and weight, the mechanism, and your budget.
How to set up a sewing machine?
Assembling a sewing machine is a simple task that does not necessitate the assistance of a professional. Following the simple steps outlined in the manual included with the package will make your task even easier.
Sewing Machines - Price Range
This data was last updated on 9/30/22.