Related Room Heaters Article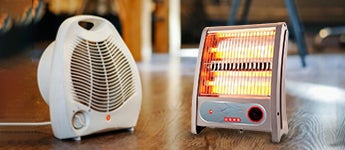 About Room Heater : Types, Features Tips and How to choose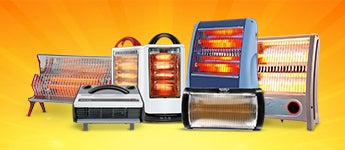 Top Room Heater Brands Available Online 2021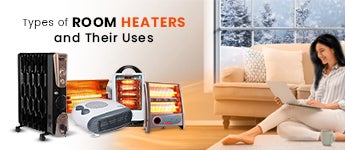 Types of Room Heaters and Their Uses
Purchase Top-Notch Room Heaters to Warm Your Living Places
Winters become colder and more brutal every year, and room heaters are becoming the necessary equipment. Everyone has tried-and-true methods for staying warm and cozy in the winter, but a room heater is often the most practical and efficient solution. There is a limit to how much warmth and comfort can be provided by comforters, shawls, warm clothes, and woolen clothing. A lot of heat can be delivered by a warm cup of coffee, soup, or tea, but it won't last. An electric room heater is the contemporary analog of this.
Room heaters employ three kinds of room heating technologies: convection, oil filled, and radiant. Convection room heaters heat a bigger area than radiant heaters because warm air spreads outward. There is a wide range in price, style, and colour when it comes to room heaters, so if you're in the market for the best one, you could feel overwhelmed by the options. Continue reading to know more.
What are the Various Types of Room Heaters?
Radiant tube heater: The most cost-effective heating option is a radiant tube heater, which uses resistive heating technology to warm up a room. Heat is dissipated to the surrounding region using radiation plates with a mirror finish.
Halogen tube heaters: Halogen tube heaters use halogen tubes instead of coils. Halogen tubes are more effective, dependable, and long-lasting than coil heaters. These room heaters are lightweight and equipped with safety features, including automatic shutoff in the event of a tilt or fall to ensure the user's safety.
Fan Heaters: The coil and fan in these heaters are the main working parts. Unlike fan room heaters, which rely on convection to distribute heat, radiant heaters disperse heat directly to the room's interior through the surface they cover. The coil is used to transfer heat from outside air into the interior.
Carbon fiber infrared heater: These heaters use electricity to offset the collision and friction of carbon atoms performing Brownian movement, producing thermal energy. Carbon fiber heaters can generate heat fast, reaching 100 °C in about 2 minutes.
OFR Room heaters: OFR Room heaters of the oil-filled radiator kind distribute heat in the same way as the name implies. The radiator's enormous surface area allows for effective heat dissipation while oil is cycled through the system. Compared to radiant or fan heaters, they are far less dangerous.
Factors to Consider When Purchasing Room Heaters
Humidity: Practically speaking, room heaters warm a room by using the oxygen present in space. It's worth noting that this causes a dramatic decrease in humidity, particularly in enclosed spaces. Finding a humidifier or room warmer that keeps humidity levels steady while running is the easiest way to prevent this issue.
Portability: Room heaters are portable and easy to carry from one room to another, thanks to a built-in handle and little weight. Having a heater that can be moved easily is especially useful if you share your home with an elderly person.
The Length of the Cord: When looking for an electric room heater, it's important to find out how long the power cable is. It's preferable if the cable is long enough so that you may set it wherever is most convenient.
Energy use and wattage: Look at the room heater's heating capability; a higher number indicates a more powerful heater. To offer you a basic illustration, a 2000-watt room heater should be sufficient for an area that is 200 square feet in size.
Automatic shut-off: There are several advantages to using an automatic shut-off heater. The first benefit is that the user may turn on the heater and forget it till morning. An additional perk is that using a timer may save valuable energy.
Noise levels: You'd think twice before getting a noisy room heater that you know would keep you up all night. Now more than ever, it's crucial to pay attention to the decibel levels of potential room heaters, even though most new models are designed to operate quietly.
Cost: Although pricing shouldn't be your primary concern, the heater you choose should be worth the money. Before settling on a heater, it is essential to shop and evaluate pricing and discounts.
What Are The Different Brands of Room Heaters?
Orpat: Orpat Group is a national pioneering brand whose contributions to extraordinary technological advances in home appliances are widely acclaimed. This brand's space heaters have a smooth, excellent appearance. The space may be heated quickly and efficiently by the modest equipment. Several control options for the heaters' power sources are provided. In addition to having favourable characteristics, such as low energy consumption and cheap pricing, they are also widely accessible.
Bajaj: Bajaj has strong brand recognition and dedicated customer service. Its roots may be traced back to 1938 when it was first created. Each of its retail locations in India and its e-commerce portals provides various heating options, including halogen heaters, fan heaters, and radiant room heaters.
Usha: Everyone knows the Usha name when it comes to home appliances. The room heaters produced by this company have the highest possible safety ratings. They are equipped with cutting-edge innovations that improve use and comfort. The space heaters are both a source of constant warmth and fresh air circulation. This device may be used as a dehumidifier since it does not add moisture to the air.
Morphy Richards: This brand was founded in 1936. Morphy Richards offers a variety of electric heaters to Indian consumers. Their goods have a wide price range (Rs 2,300 - Rs 15,000). Some of Morphy Richards' best-selling room heaters are the Tipsy, Daisy, OFR series, Maisy, etc.
Urja Lite: The Urja Lite is well-liked in the Indian market. There are several different heating methods available for these units. In addition to providing excellent goods, they also have service centers in almost every major city in India.
Sameer: Sameer has built a solid reputation as a reliable room heater manufacturer because of its high-quality offerings and responsive customer service. There are a variety of high-end Sameer room heaters available for purchase on various e-commerce sites. Some examples of the heaters they provide include oil-filled models, PTC models, wall-mounted models, etc.
Why Choose Room Heaters from Moglix Online?
Room heater is a necessary electrical gadget for those who reside in colder climates or suffer harsh winters elsewhere. The warmth and coziness of a house or space are maintained through the use of heaters. Moglix is your one-stop store if you're seeking high-quality room heaters online at affordable costs. Looking to purchase a coffee maker online in India? Moglix has the greatest prices and selection. At the present moment, you may purchase the most popular room heater brands. Moglix has a fast and reliable delivery system. Begin your hands on your mobile and get shopping on Moglix right now!
Frequently Asked Questions about Room Heaters
---
Which type of portable electric heater is better, halogen or fan ?
In this chilly winter season, a room heater is considered one of the essential items. Buying a portable fan electric heater will ensure uniform warming in a small area, whereas a halogen or radiant room heater gives concentrated heating to a particular area.
Which type of room heater is good for your health ?
When a room heater is used on regular basis for long-duration it depletes the moisture and oxygen level of the room which leads to dry eyes and breathlessness. So it is always advisable to keep a bucket of water in the corner of the room to maintain the moisture and oxygen level of the room.
Do fan heaters use a lot of electricity?
Fan heaters use a significant amount of electricity, as they rely on electric resistance to generate heat. They are less energy efficient than other types of heaters.
What is the difference between a space heater and a fan heater?
A space heater is a device that uses electricity or fuel to heat a small area, while a fan heater uses electricity to heat air and then blows it out using a fan. The main difference is that a space heater heats objects in a room, while a fan heater heats the air.
Top Selling Room Heaters Price List in India