Related Refrigerators Article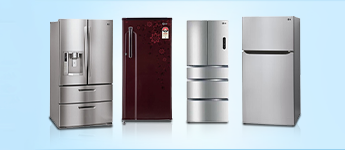 Refrigerator buying guide: tips to consider before buying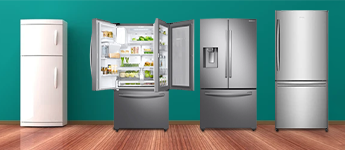 Top Refrigerator brands in India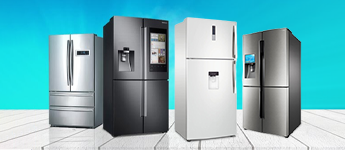 Different types of Fridge in the market
Refrigerators: Retain the Freshness of Your Food and Their Nutrition
---
Nothing beats a glass of ice-cold water or late-night ice cream during the summer. It's the ideal time to upgrade your refrigerator because you'll be able to have something refreshing whenever you want it.
A nutritious diet is necessary for a healthy lifestyle. You also need a robust and high-end refrigerator in your home to keep a healthy diet. This essential household device allows you to preserve vegetables, fruits, dairy goods, beverages, poultry, dinners, frozen items, ice creams, and anything else you enjoy. It helps you consume excellent handmade cuisine every day by keeping your delicacies fresh. There are refrigerators with various features, capacities, and styles to guarantee you discover the appropriate fit for your house. There are mini-fridges for single users and freezers that can handle the needs of large families.
Types of Refrigerators Available Online
---
Single Door Fridge
If you have a limited budget, have a small family, or have limited space in your kitchen, a single-door refrigerator may be the best option. A single-door fridge has a freezer and a vegetable section within the fridge itself.
Double Door Fridge
These refrigerators provide greater capacity and have a better chilling effect, allowing you to store food for more extended periods. Their volume ranges from 235 to 495 liters. You can find some of the top double-door fridges with energy-efficient star ratings that are designed to optimize electricity usage and consume less power, resulting in lower power bills.
Top Freezer Fridge
When most of us hear the word "fridge," this is the model that comes to mind first. It's a single-column refrigerator with a separate freezer section in the upper third (about). This is the most common form of a refrigerator, which means it's also the cheapest and has the most options.
The most energy-efficient type of refrigerator. It saves 10 to 25% more energy than refrigerators with bottom or side-mounted freezers. So, if you're concerned about your electricity expenditures, this could be the refrigerator for you. They are as follows:
--> Generally inexpensive, but without frills.


--> Have a top-mounted freezer that is easy to access.


--> Often more cost-effective to operate than other types.


Bottom Freezer Fridge
These refrigerators, often known as bottom-mount refrigerators, are the polar opposite of top-freezer models. The fresh food compartment is located on the top, with the freezer located below and accessed by a side-open door or a pull-out drawer. This design gives you a classic refrigerator aesthetic while also making fresh foods more accessible.
--> The refrigerator compartment is larger than the freezer compartment.


--> Fresh foods are easily accessible.


--> Large door clearances necessitate a larger amount of free space in front of the unit.


--> A pared-down set of features and a low starting price.


French Door Refrigerators
The layout of this refrigerator is similar to that of a pantry. Dual doors on the top open showing one of the refrigerator compartments, and a drawer for the freezer opens out from underneath. When compared to other types of refrigerators, French door refrigerators usually has greater capacity and functionality. They're a good choice for larger families or those searching for more upscale accommodations.
--> There are vast designated spaces and freezer sections for products like huge casserole dishes or frozen pizza and platters.


--> More freezer capacity vs refrigerator capacity.


--> Customizable storage with adjustable shelves, divisions, and more.


--> The water and ice dispensers are on the outside.


Side-By-Side Refrigerators
These smart refrigerators resemble a cabinet with two doors that open in tandem. Side-by-side refrigerators are quickly becoming popular in modern houses since they have more amenities than single and double-door fridges, such as an LED display, multi-air flow cooling, greater capacity, and a water dispenser. The layering of shelves right from the top to the bottom allows you to keep vital goods, such as frozen and fresh foods, at the level of your eye while putting less-used items at the bottom. Side-by-side refrigerators, like these French door refrigerators, usually have comparatively more total capacity and more amenities than other types of refrigerators or higher-end touchpoints.
--> In comparison to a French door refrigerator, there is a somewhat higher freezer capacity.


--> Fresh and frozen foods can be kept at eye level with vertical storage.


--> Adjustable door bins, shelves, and other storage options are available.


--> Their water and ice dispensers are on the outside.


--> Door swing clearing is minimized, which is ideal for narrow or cramped locations.


Mini Fridge/ Undercounter Fridge
They are significantly smaller or compact than any full-size refrigerator. Just as the name implies, they are set under the counter, which makes them a type of luxury built-in fridge. The majority have only a single refrigerator cavity, while some versions have a zone for a freezer. mini beverage centers and wine cellars are customized versions designed to keep cans and bottles of beer or wine at the perfect temperature.
--> Extra beverage or food storage is available.


--> They have the ability to construct overflow cold food storage or temperature zones.


--> There is only one reversible door.


--> For a perfect integration with cabinets, install under the counter.


Consider these Factors when Purchasing a Refrigerator
---
Type: Refrigerators come in different types. The choice depends on your requirements, including the size of your home, the number of people in your household, and so on. A more expensive side-by-side refrigerator is a great alternative if you have a large family or a bigger kitchen. If you live alone, a small top freezer or mini refrigerator will suffice.
Capacity: This is very dependent on the type of food you wish to store. Refrigerators come with two options: large freezer capacity and large veggie capacity. When purchasing a fridge, make sure you do your homework. It makes sense to choose the latter if you are a vegetarian who doesn't keep many frozen foods on hand. A large freezer capacity is a superb option if you store a lot of meat and frozen seafood, chocolates, and ready-made frozen delicacies.
Defrosting type: Consider whether you want a direct-cool or frost-free refrigerator while purchasing. A direct cool method saves electricity, preserves food for a shorter time, requires manual defrosting, and keeps the fridge cool via natural convection. A frost-free refrigerator uses less energy, preserves food for a longer time, automatically defrosts meals, and uses electric fans for cooling.
Energy consumption: Greater power entails higher costs. On the top-right corner of each refrigerator is a tag with star ratings. To determine your fridge's energy use, the Bureau of Energy Efficiency (BEE) employs a star grading system. Higher the number of stars, the lower the fridge's energy consumption.
Inverter compressor: An inverter compressor or a regular compressor will be installed in your refrigerator. An inverter compressor produces less noise, saves you money, and uses less energy than a traditional compressor.
Brand: It is important to purchase from a reputable brand that offers a strong warranty, service, and maintenance. Brands such as Samsung, Whirlpool, and LG should be your first choice.
Advantages of Buying a Smart Refrigerators from Moglix
---
For all seasons, a refrigerator is a must-have home appliance. The size of your family, the amount of food that needs to be preserved, the price of a refrigerator, and other factors all influence your decision to purchase this huge home appliance. If you're looking for a device like this for your house, you can get an extensive range of refrigerators online from major brands like LG, Samsung, Whirlpool, Haier, and others. Moglix provides an unrivaled shopping experience to all of its consumers, from product packaging and delivery to handling returns and exchanges. Purchase your first refrigerator from Moglix at unbeatable prices. Order now and enjoy the hassle-free shopping experience.
Refrigerators - Price Range
This data was last updated on 9/25/22.