Related Irons Article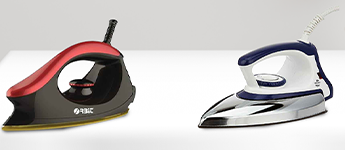 Get perfect wrinkle-free clothes every time with Pressing Iron

Best steam and dry irons brands available in India for smoother press

Enjoy high quality ironing in a few minutes with steam press iron
Find Different Kinds of Irons Online at Moglix
---
People want to be dressed properly according to the occasions and that is why no one wants to go out in wrinkled clothes. Therefore, irons have become an important part of our daily routine. Earlier, irons were metal stones that are heated and pressed over clothes to remove wrinkles. But with technological advancement, iron properties, and features have been simplified like lightweight materials, steam burst, great body design, and more.
Nowadays, manufacturers look for innovative ideas to make ironing an easy chore. These irons are easy to clean after usage. These are ideal for fabrics such as cotton, nylon, polyester, and more and offer moisture to smoothen out the surface.
Types of Irons You can Get Here
---
Dry Iron: These types of irons do not release any steam and have been used for years. Dry irons are very simple and easy to use that is why these are very convenient for users. The primary work of this iron is to set the temperature according to the fabric. Dry irons do not consume much energy as these use only 30% of the electricity, no matter how high the temperature is.
Steam Iron: On the other hand, steam iron generates steam through micro steam holes on the soleplate. In this way, the iron removes wrinkles and creases present on clothes. These irons come with a steam trigger, sprayer jet and LED display. These features make it a bit complicated but provide the option of a more customized ironing experience.
Best Brands of Electric Irons Available at Moglix
---
Bajaj: Bajaj Group is a flagship company and is the world's leading 2 and 3 wheeler manufacturers. Now, they have started offering home appliances also. Their irons are on the best in the market.
Havells: Havells India Limited is a leading Fast Moving Electrical Goods (FMEG) Company and a major power distribution equipment manufacturer. They manufacture a great range of home appliances that are durable and reliable also.
Orpat: Orpat is a group of leading companies Based In the state of Gujarat, India. Over The Years, Orpat has offered great services with its expertise, service and excellent customer relationships. You can find a vast range of irons from this brand.
Philips: Philips India Limited is a subsidiary of Royal Philips of the Netherlands, a leading company focused on improving the technology to meet the requirements of their customers. Their irons are genuine and available at a great price.
Why Buy Iron for Clothes Online at Moglix?
---
Buy irons online through moglix.com. Moglix, an online retailer, offers spray, dry and steam irons from popular brands like Philips Irons, Baja, Havells and such. You can choose various models according to their power consumption. Payments can be done through credit/debit cards, net banking, cash on delivery, as per your convenience.
Top Selling Irons Price List in India
Irons - Price Range
This data was last updated on 10/3/22.