Shop More by
Related Air Coolers Article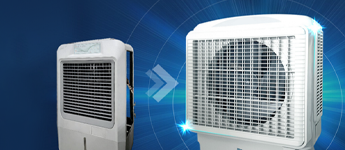 A Guide to Buy The Perfect Air Cooler For Your Home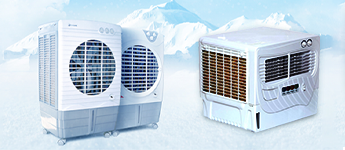 Experience efficient cooling with these popular Air Cooler brands in India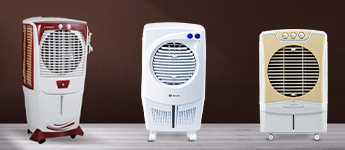 Different types of Air Coolers for your home or office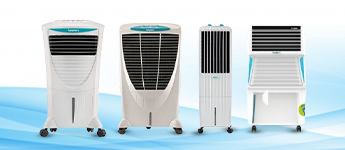 Beat the Heat with Symphony Coolers
Air Coolers: For a Cooling Atmosphere
---
With a sense of relief, air coolers enter the picture, assisting us in dealing with yet another summer season. For regions that are hot and dry, an air cooler is one of the greatest cooling options. They're popular because they're both cost-effective and environmentally beneficial. Choosing the correct air cooler, on the other hand, can be a little perplexing. There are numerous alternatives available on the market, as well as other additional characteristics to consider.
Necessary Features To Consider While Buying Air Coolers
---
Before making a purchase, you should be aware of these qualities to make the best purchase.
--> The cooling pads are where the majority of the action takes place. The material used to make the pads and the thickness of the pads are important considerations. Cooling pads with honeycomb patterns are preferable. To provide the appropriate quantity of cooling, the pad should be at least 9 mm thick. The cooling pads' durability is also affected by this.


--> Electronic thermostats are used in modern air coolers to make operation easier. This allows the unit to change the fan's speed and turn the pump on and off automatically to keep the room at the desired temperature.


--> This is for devices that do not have internal tanks and are connected to a constant water supply. This feature keeps the water level at a pre-determined level that is suitable for the unit's operation. It will keep the unit from flooding.


--> Air coolers with internal water tanks must keep the water level at a specified level to keep the equipment running effectively and avoid mechanical faults. It can be exhausting to constantly check the water level to ensure that it is still adequate. You can do this without opening and closing the machine every now and then if you use a water level indicator.


--> Temperatures might fluctuate throughout the day, requiring varying amounts of cooling at different times. Depending on your mood, you may also need to modify the cooling pace, which is accomplished by adjusting the fan speed.


--> For most room air coolers, this is a desirable feature. It improves the units' portability. You may easily transfer a unit from one section of the house to another using castor, depending on where you want to be at the time.


--> You may need to alter the settings of your air cooler from time to time, as previously stated. It is much easier to do this with remote control. You don't have to get up and walk to your unit every time you need to make a minor change. You can do it from the comfort of your own home.


--> A timer can also be quite useful in ensuring that you have the best possible experience while using your air cooler. You may fall asleep while relaxing in your room's cool environment. There will be no need to be concerned about the temperature dropping too low as a result. You can tell the machine to shut down at any moment and go to sleep whenever you choose with the timed feature.


Types of Air or AC Coolers
---
Desert air coolers, personal air coolers, tower air coolers, and window air coolers are the four basic types of air coolers. Let's take a closer look at each of these air cooler kinds.
Desert Coolers: Desert Coolers are larger air coolers with a water storage capacity of 40 to 60 liters, making them ideal for larger areas. These air coolers are also appropriate for use outside. In hot and dry climates, desert coolers function well. They can run for long periods since they have large fans and powerful pumps with large tank capacities. These coolers have castor wheels for easy mobility, so you can easily move them from one location to another. These air coolers are suitable for usage in halls, restaurants, banquet halls, large workplaces, prayer rooms, and other similar locations.
Personal Coolers: Personal Coolers are small, portable devices that can be placed near your bed, sofa, or dining table. These air coolers have a tank capacity of 25 to 40 liters with blowers for enhanced air delivery indoors. Personal coolers are often equipped with castor wheels for simple mobility. Depending on your needs and the water storage capacity of the appliance, you may easily move them from the bedroom to the dining room or other rooms. They utilize less electricity and produce less noise than desert coolers. These are designed to cool down smaller regions or spaces indoors, such as a bedroom, living room, or other similar locations.
Tower Coolers: If you're short on space, Tower Coolers are the greatest option for delivering better air while also contributing to the beauty of any place. This thinner and sleeker version of air coolers is ideal for tiny spaces, taking minimal floor space. They feature a 20 to 40-liter water tank capacity and may easily be used for lengthy periods. Tower air coolers are easier to clean and require little maintenance. They may be readily moved from one location to another when castor wheels are present. Furthermore, these evaporative coolers are suitable for use in small to medium-sized spaces.
Window Coolers: Window Coolers, as the name implies, are those that are installed in windows. These are comparable to window air conditioners in that they don't take up a lot of space when installed. If you don't want them to be shown in a window, you can make them portable by purchasing carts separately. Window coolers, which have a water tank capacity of up to 50 liters, are energy efficient, using only 1/10th of the energy consumed by an air conditioner. These are appropriate for use in tiny offices, children's rooms, and personal spaces.
Buy Best Brands of Air Cooler from Moglix!
---
Are you looking for the best air coolers online in an affordable range? Moglix is one of the major e-retailer companies that is offering an impressive range of branded air conditioners.
Bajaj - Their air coolers are best to cool down the room temperature. They have a wide range of room coolers with them at the best price. You can get some of the best deals on air coolers.
Havells - They have an innovative range of air coolers with them; you can shop for some advanced air coolers from them which have unique features.
Buy Air Coolers Online from Moglix
---
You may acquire a range of coolers for your home on online purchasing sites. They are available in a variety of sizes, ranging from 10 liters to 60 liters. You can choose a cooler that best meets your needs based on your room, region, and preferences. Many of these appliances also come with high-quality castors, allowing you to move them around your home easily. Some types have a removable tank that makes cleaning and refilling a breeze. Symphony, Maharaja, Crompton, and Bajaj are the top brands that offer the best air coolers for the best prices. Hurry up and order now! Invest in an air cooler today to stay cool and calm throughout the summer.
Frequently Asked Questions about Air Coolers
---
How much can an evaporative air cooler reduce the temperature?
In ideal conditions, you can reduce the temperature by up to 7 to 8 degrees.
How can I improve the cooling performance of my air cooler?
You can add ice to the compartment for more cooling, Keep the air vent free from any obstructions, and make sure the air tank is filled with fresh and clean water. These are a few methods to increase the performance of your cooler.