Related Induction Stoves Article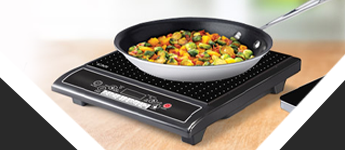 Induction Stove - The Modern Day Master Chef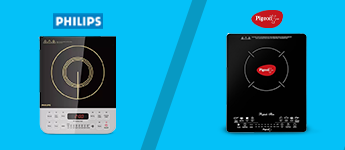 Some Best Induction Stove Brands in India
Induction Cooktops for a Hasslefree Cooking
---
A few years ago, gas burners were the most common cooking option, but as technology has advanced, so has the cooking medium. The induction cooktop is gaining popularity as a result of its suitability for today's lifestyle. With the introduction of induction cooktops and induction stoves, cooking has become a lot easier. You can set the timer, regulate the temperature, and select the function from the preset menu with one of these valuable appliances on the induction stove.
Induction Stoves are often praised for their superior cooking performance and sleek designs. It is also known as an induction stove. Induction cooking is performed using direct heating of stainless steel cookware you don't have to rely on indirect radiation, convection or thermal conduction. An Induction Stove has a coil of copper wire that is placed under the cooking pan and an alternating electric current is passed through it.
Working Process of Induction Cooking
---
Induction cooking uses electrical induction to heat a cooking pot rather than thermal conduction from a flame or an electrical heating element. A ferromagnetic metal, such as cast iron or stainless steel, must be used or contained in the cooking pot. Because the heat comes from within the pan, this form of cooking is much more efficient. As a result, make sure your pans are suitable for use on an induction cooktop. Copper or aluminum pans would not work until extra magnetic layers were placed to the bottom. Check to see if a magnet will stick to the bottom of your pans to see if they are still usable!
Types of Induction Cooktops
---
--> Induction cooktop with a single element: There is only one cooking burner on these induction cooktops. These cooktops are portable and simple to use, although they are inconvenient to use when cooking many dishes.


--> Induction cooktop with multiple elements: Multiple burners are available on these cooktops, which are helpful when cooking multiple foods simultaneously. They are less portable, cost more money, and consume more energy.


--> Built-in induction stovetops: These cooktops are available in various sizes based on the number of burners. They're designed to fit snugly inside the countertops, giving the impression that they're one item. Because of their optimization capability, they are pricey.


--> Induction cooktop on a freestanding countertop: Because these induction devices are free-standing, they do not require a countertop (as the name suggests). Depending on the use, they can have numerous burners. These are quite useful while cooking outside.


--> Induction unit for commercial use: These are intended for use in industrial or commercial settings. They must withstand rough handling and have greater power ratings to cook more food in less time.


Features of Induction Stoves
---
--> Temperature control is more precise with smart touch screen controls, which are also easier to clean.


--> Auto-Shutoff: The induction burner will automatically shut off once the maximum temperature is reached throughout the cooking process to avoid burning food. Timers and a thorough grasp of your induction cooker's temperatures will aid in ensuring that your food is thoroughly cooked.


--> The portability of a two-burner induction cooktop makes it ideal for use on a kitchen counter. Single-element portable induction cooktops are ideal for travel and fit into tiny kitchens.


Benefits of Using Induction Chulha
---
--> Induction cooking is more energy-efficient than previous methods, consuming up to 70% less energy and directing 90% of the energy produced into the pan itself. That means food cooks faster while using less energy.


--> One of the intrinsic benefits of induction cooking is its safety. The inbuilt Pan Detection System detects when a pan is placed on the hob, ensuring that the heat is not left on (and no need for as much extraction). This decreases the chance of food and staff being burned.


--> Induction is a safer option because there is no flame or element to ignite gases or cause burns. When pans are removed from the stove, the heat is turned off


--> Space-saving induction hobs can assist mobile caterers – think food trucks and stalls – keep food hot, fresh, and ready to serve.


--> Induction cooking keeps the kitchen cooler because the surface only heats up when a pot or pan is placed on it, rather than needing to keep your cooking appliances warm and ready during busy service periods. Because the heat is contained in the pan, it does not escape into the surrounding air.


--> Induction hobs are very easy to clean and maintain because they have a completely flat surface. There are no hidden nooks or crevices where food or greasy particles can get caught, and spills won't bake on.


Buy Induction Cooktops Online from Moglix
---
Compare the prices of induction stoves from various brands and pick the best deal for a hassle-free cooking experience. The best move you can make is to invest in high-quality induction chulha. Pigeon, Prestige, PHILIPS, Bajaj, and others are among the leading manufacturers of induction cooktops. These brands provide models that are best suited to your requirements. Now is the time to buy one from the convenience of your own home.
Frequently Asked Questions about Induction Stoves
---
What kind of pans can you use on an Induction Stoves?
Some non-stick aluminum or copper pans suits the Induction Stoves best. You can also use stainless steel, cast iron, and carbon steel pans.
Do I need special utensils for induction cooking?
All pieces of cookware sets do not work on induction. Induction cookware must be made of a magnetic-based material, like cast iron or magnetic stainless steel.
Top Selling Induction Stoves Price List in India
Induction Stoves - Price Range
This data was last updated on 9/27/22.