Shop More by
Related Mixer Grinders Article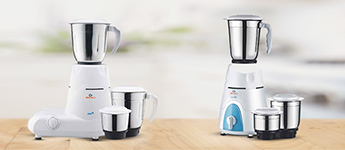 Everything about mixer grinder: Tips to conisde before buying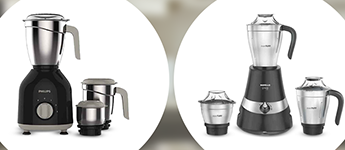 Popular Mixer Grinder brands in India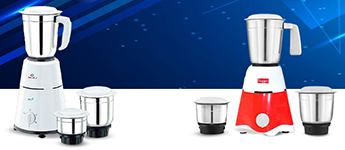 Everything about Bajaj mixer grinder
Cook Food Easily with Mixer Grinder
---
The powerful set of mixer grinders can blend, combine, and grind a wide range of ingredients. This is a piece of excellent equipment for making pastes, purees, batters, and liquids in the kitchen. The powerful motor in these appliances aids in the grinding of ingredients to the desired consistency. These sturdy mixers have powerful motors that provide smooth grinding action. You may choose from various brands based on your needs and compare the prices of these appliances online to learn about the features, specifications, and user reviews before purchasing a mixer for your home.
Benefits of Having a Mixer Grinder Machine
---
There are several mixer grinder machines available in the market, and the benefits of having them in your kitchen are as follows:
--> Mixer grinder machines are flexible kitchen appliances that may be used daily to make smoothies, milkshakes, and ice creams, or you can use them to grind and chop tougher food like meats vegetables, spices, and nuts.


--> Mini mixer grinders are fantastic time savers. Using this excellent electronic gadget, you may easily reduce the amount of time spent on various tasks. You can chop vegetables or pulverize fluids without first cutting them into tiny bits, as is customary.


--> It's easy to use this machine, and it's also easy to keep it in good working order. The parts are simple to disassemble, clean, and reassemble. It also combines mixing and grinding, making it more dependable. Not only that, but you'll save a decent amount of money without disrupting your kitchen's necessities or compromising on quality.


--> Frequently, some foods call for granulated sugar, while others call for fine sugar. You can also grind your sugar to a fine powder and store it in jars for future use, saving you time and effort.


--> Small mixer grinders are portable and can be set where ever you need them.


--> They are available in various colors, and you can choose the one that matches the interiors of your kitchen and the features that you prefer.
Factors to Consider Before Buying the Best Mixer Grinders
---
Cooking has become a lot more enjoyable as mixer grinders develop thanks to technological improvements. But how can you decide which mixer grinder is right for you when there are so many options? What aspects should you consider when shopping for a mixer grinder online, and what characteristics should you seek? Confused? Read ahead to gain more clarity regarding the same.
Some of the important factors that you need to consider before buying these mixer grinders are as follows:
--> One of the most important elements to consider when purchasing a mixer grinder is the wattage. When grinding or blending tough substances, the higher the wattage power, the better. For ordinary kitchen use, anything up to 750 watts will suffice.


--> The design of the mixer you purchase should complement your kitchen and make it blend well with the other appliances in the kitchen.


--> Your mixer should be cost-effective, which is within your budget, while also providing good quality and features. Any mixer grinder you buy should have more than one jar because a single jar will not be able to meet all of your needs.


--> With motor safety features like a resettable overload protector, they should also provide overheat prevention. 100% copper motors mixers may deliver exceptional results.
Why Buy Mixer Grinders Online at Moglix
---
When it comes to home appliances, most of us are pretty selective about which brand we choose. There are a variety of mixer grinders available from various brands like Bajaj, Fogger, Sujata, Butterfly, and many more. Some brands may charge a premium for features that are available on a lower-cost model. So, you must make a decision depending on the budget you have established. Order online and enjoy a hassle-free shopping experience.
Frequently Asked Questions about Mixer Grinders
---
Why does mixer blade break?
This primarily occurs because your mixer grinder is really old and you should buy a new one. Other causes for this include worn-out rubber gaskets, loose blades, cracks in one of the jars, etc.
Why is my mixer grinder stuck?
The seal on the bearing of the blender mixer blades leaks in the majority of cases of mixer grinder jar jamming, allowing salty water from food liquids to seep into the bearings, corroding them, and ultimately causing the jar to jam.
Top Selling Mixer Grinders Price List in India