Shop More by
Related Mixer Grinders Article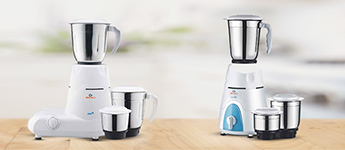 Everything about mixer grinder: Tips to conisde before buying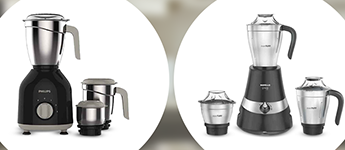 Popular Mixer Grinder brands in India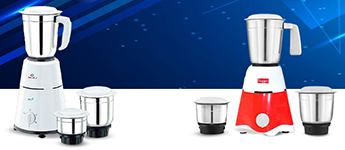 Everything about Bajaj mixer grinder
Cook Food Easily with Mixer Grinder
The powerful set of mixer grinders can blend, combine, and grind a wide range of ingredients. This is a piece of excellent equipment for making pastes, purees, batters, and liquids in the kitchen. The powerful motor in these appliances aids in the grinding of ingredients to the desired consistency. These sturdy mixers have powerful motors that provide smooth grinding action. You may choose from various brands based on your needs and compare the prices of these appliances online to learn about the features, specifications, and user reviews before purchasing a mixer for your home.
Variety of Mixer Grinders Available In The Market
Wet Grinders - Wet grinders are grinding devices that make a fine paste out of scraped coconut, lentils, and soaked grains. They are intended for heavy grinding. Wet grinders are also used on a large scale to grind masala or chutneys. Some grinders come with an atta kneader extension that may be used to knead various kinds of dough.
Bullet grinders - The creation of blenders was one of the most beneficial innovations for humanity. Heavy-duty mixers make culinary tasks easier and more dependable. However, these blenders are useless if you have little work, such as making smoothies or a morning drink when you are usually in a rush. The bullet blender comes in helpful here. Bullet blinders feature a distinct form and shape blade that allows for speedier outcomes.
Egg Beater Mixer Machine - It is a marketable type of mixer for combining egg whites. They feature a powerful motor and are simple to use, producing a complete mixing result each time.
Chutney Mixer - It makes chutney preparation a breeze. These mixers contain razor-sharp blades that aid in the preparation of chutney.
Meatloaf Mixer - A meat grinder is a culinary tool to finely chop and/or blend raw and cooked meat, fish, vegetables, or other similar foods. It takes the place of instruments such as the cutting blade, which is also used to prepare, filling, etc.
Benefits of Having a Mixer Grinder Machine
There are several mixer grinder machines available in the market, and the benefits of having them in your kitchen are as follows:
--> Mixer grinder machines are flexible kitchen appliances that may be used daily to make smoothies, milkshakes, and ice creams, or you can use them to grind and chop tougher food like meats vegetables, spices, and nuts.
--> Mini mixer grinders are fantastic time savers. Using this excellent electronic gadget, you may easily reduce the amount of time spent on various tasks. You can chop vegetables or pulverize fluids without first cutting them into tiny bits, as is customary.
--> It's easy to use this machine, and it's also easy to keep it in good working order. The parts are simple to disassemble, clean, and reassemble. It also combines mixing and grinding, making it more dependable. Not only that, but you'll save a decent amount of money without disrupting your kitchen's necessities or compromising on quality.
--> Frequently, some foods call for granulated sugar, while others call for fine sugar. You can also grind your sugar to a fine powder and store it in jars for future use, saving you time and effort.
--> Small mixer grinders are portable and can be set where ever you need them.
--> They are available in various colors, and you can choose the one that matches the interiors of your kitchen and the features that you prefer.
Factors to Consider Before Buying the Best Mixer Grinders
Cooking has become a lot more enjoyable as mixer grinders develop thanks to technological improvements. But how can you decide which mixer grinder is right for you when there are so many options? What aspects should you consider when shopping for a mixer grinder online, and what characteristics should you seek? Confused? Read ahead to gain more clarity regarding the same.
Some of the important factors that you need to consider before buying these mixer grinders are as follows:
The mixer grinder's speed setting - Check the number of speeds that the Mixer Grinder Machine has. Slow rates are important for crushing and juicing since they allow you to generate tasty and solid concentrates. Make sure your mixer grinder has at least three-speed levels. The quicker speed option is ideal if you need to grind the vegetables thoroughly. A high-level component, such as an electronic speed sensor, would be a fantastic idea to ensure that grinding is at the adjusted speed as soon as feasible.
The mixer grinder's warranty - Before purchasing any equipment, it is critical to review the warranty. Choose brands that provide a good warranty on their products. A warranty length ranging from two to five years is a good option when selecting a model. You should also anticipate a grinding machine with an extended guarantee on the grinder's engine. This will ensure that the mixer grinder is protected for an extended period.
The number and quality of bundled containers - Choose a blender with at least three containers so you may use it for a long period. So you don't have to walk around cleaning dishes while preparing many of them. Check that the container has elastic or solid plastic handles for a good grip and hard and durable caps to be used daily. When selecting a mixer grinder, ensure all mixers have a security lock mechanism. This eliminates the need to grip the container while the mixer is running. Most heavy-duty mixer grinders do not function unless the lids on containers are properly secured.
The Motor's Power - An effective mixer grinder's performance is mostly determined by its motor. Compared to a mixer grinder, a juicer requires a motor with a higher power to operate. Mixers may serve all applications with a power range of 500–700W. Before selecting a mixer, make sure the motor has a larger wattage.
Price - Last but not least, the ideal option is a mixer-grinder with moderate and acceptable costs and all the features above. To choose the most cost-effective mixer grinder, you must compare and assess the various types of mixers. The price and size of a hand mixer, stand blenders, and industrial grinders vary.
Top Brands Selling Mixer Grinder Machine
Bajaj Mixer Grinders - With Bajaj Mixer Grinder, you can take your culinary abilities to the next level! It has been developed to help speed up your cooking by performing various duties. Consider this a component of your household now and discover new flavors. The Bajaj mixer grinder has a stylish design on the liquidizing jar that promises sturdiness and easy grasp handles. These let you simply and rapidly ground and combine items of varied textures.
Fogger Mixer Grinders - The Fogger Mixer is a robust, long-lasting kitchen device for regular use. This equipment is multifunctional, easy to use, and may be used for various tasks such as wet grinding, mincing, dry grinding, chutney grinding, and blending. Their motor features Copper binding for enhanced heat control quality. It contains a bottom cushion of rubber material linked to motors to control motor movement, which helps to protect it from breaking or being damaged.
Sujata Mixer Grinders - Sujata was established in 1979 with an unwavering desire for perfection. They seek to give consumers high-quality appliances at a decent cost, providing outstanding value for money and a sense of ownership. Buyers should receive the finest product & user experience possible, with no compromises in design, reliability, productivity, or safety. You can now prepare coconut shavings, chutneys, and a variety of smoothies in a matter of minutes, thanks to this juice mixer grinder.
Havells Mixer Grinders - Havells Limited is a (Fast Moving Electrical Goods, FMEG ) Corporation with a significant global presence due to its Make in India concept, broad distribution network, and world-class quality. They also sell high-quality mixers that will complement your kitchen.
Prestige Mixer Grinders - We are all familiar with the prestige brand because it has dominated the market for many years. Their mixer grinder has a strong motor that makes it easy to grind various food. It comes with various jars of stainless steel, which do not corrode rapidly. It has an appealing shape and robust arms that are easy to grasp. It comes with effective stainless-steel blades that enable easy grinding.
Why Buy Mixer Grinders Online at Moglix
When it comes to home appliances, most of us are pretty selective about which brand we choose. There are a variety of mixer grinders available from various brands like Bajaj, Fogger, Sujata, Butterfly, and many more. Some brands may charge a premium for features that are available on a lower-cost model. So, you must make a decision depending on the budget you have established. Order online and enjoy a hassle-free shopping experience.
Frequently Asked Questions about Mixer Grinders
---
Why does mixer blade break?
This primarily occurs because your mixer grinder is really old and you should buy a new one. Other causes for this include worn-out rubber gaskets, loose blades, cracks in one of the jars, etc.
Why is my mixer grinder stuck?
The seal on the bearing of the blender mixer blades leaks in the majority of cases of mixer grinder jar jamming, allowing salty water from food liquids to seep into the bearings, corroding them, and ultimately causing the jar to jam.