Shop More by
Related Wall Fans Article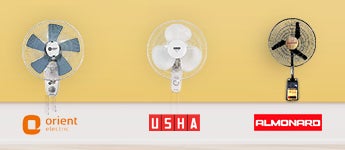 Wall Fans for Summer Relaxation: Prominent Brands and Their Features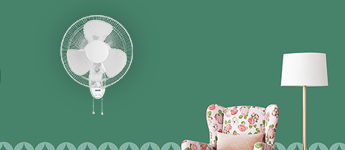 Beat Summers Heat with Wall Fans
About a Wall Mounted Fan?
A wall mounted fan, commonly known as a wall fan, is referred to a small, oscillating fan that is mounted on the wall of a room, primarily for air circulation purposes. These wall fans are an ideal solution for cooling small spaces, and even large ones. In summers, the air inside a room, becomes substantially hotter than the air outside, this curates a suffocating environment inside the room. This is when a wall mounted fan comes into picture; the oscillating feature of this fans helps in pushing the hot air out through windows, unlike a ceiling fan which circulates the same hot air inside the room, making it unbearably hot for people inside the room.
What are the benefits of wall fans?
Mentioned below are three benefits of using a wall mounted fan, in place of a ceiling fan.
Cooling Effect
Almost every wall fan is equipped with blades that are strategically molded to a certain degree, which helps them in creating a high-pressure circulation, displacing the hot air, and pulling in the cold. This can help a great deal in keeping your room or premises significantly cool during steep summers, in addition to putting lesser pressure on your air conditioning systems.
Oddly Shaped Corners
Sometimes, it might not be possible for you to have a ceiling fan or a cooling system in certain areas that are oddly cornered or difficult to reach. Wall fans are small in size and fit perfectly well in any room!
Buy Wall Fans Online at Moglix at Lowest Price
Shop online by browsing through the extensive collection of Wall Fans at Moglix.com. You can now buy branded Wall Fans online at attractive prices with special discounts. If you have been shirking from buying branded Wall Fans because of the prices, here is your chance to bag a great deal! You can choose from a plethora of brands, such as Bajaj, Orient, Almonard, Havells, Jetsons & more. Save loads of money by buying Wall Fans online from Moglix.
Frequently Asked Questions about Wall Fans
---
What is the best spot for installing wall fans?
It's best to put your fan in the center of the room so that it can cover more ground. This means that on a hot day, you may be standing anywhere inside a room and still get air to cool you down. Another suggestion is to place your wall fan opposite your window to create a more airy atmosphere.
What is the difference between a ceiling fan and a wall fan?
A ceiling fan circulates air, while wall-mounted fans push air around the area in which they are installed. You may conserve floor space, circulate air, and add instant cooling air movement by adding a wall-mounted fan.
Is it okay to leave a wall fan on all the time, 24/7?
You can leave a fan running for up to eight hours without fear of wall damage or fires in your home. However, using your fan all day won't help you cool down any faster; instead, make sure you have adequate ventilation for a pleasant cooling experience.