Shop More by
Related Wall Fans Article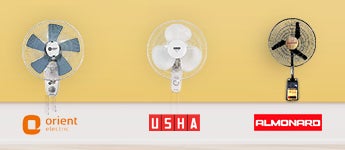 Wall Fans for Summer Relaxation: Prominent Brands and Their Features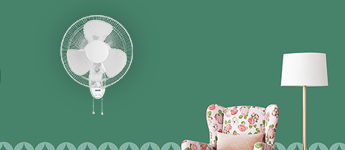 Beat Summers Heat with Wall Fans
Buy Efficient and Affordable Wall Fans Online
A wall mounted fan, often called a wall fan, is a tiny, oscillating fan fixed on the wall of a room, usually for air-circulation purposes. Small and even big spaces can be comfortably cooled with these wall fans. In the summer, the air inside a room becomes significantly hotter than the air outside, creating a suffocating environment. This is where a wall mounted fan comes in; the oscillating feature of this fan aids in pushing hot air out through windows, as opposed to a ceiling fan, which circulates the same hot air inside the room, making it unbearably hot for people inside.
These fans can be found in a variety of settings, including home gyms, workshops, greenhouses, garages, and outdoor patios, as well as industrial spaces, outdoor venues, food trucks, stables, and barns. The market's wide variety of models allows you to make the best decision and choose a fan that is appropriate for the environment in which it will be used. We at Moglix bring to you high speed wall fans from top brands such as Jetsons, Bajaj, Orient, Havells, Sameer, Almonard and more.
Types of Durable Wall Mount Fans for Your Needs
Wall Mounted Oscillating Fan: An oscillating wall fan oscillates back and forth, increasing air circulation. An oscillating fan distributes air more evenly than a stationary fan, which blows air in one direction. This is especially helpful when there are many of people in the room or if it is large.
Remote Controlled Wall Fan: A hand-held remote control is used to operate a remote-controlled wall fan. This fan is perfect for those who like greater control over their fan's functioning. For example, you can easily adjust the fan's speed or turn it off right before going to bed.
Outdoor Wall Fan: An outdoor wall fan is a type of wall fan that is intended to be used outside. To withstand the elements, outdoor wall fans are typically made of more durable materials such as water-resistant plastic or rubber. They may also have a higher number of blades to move more air. An outdoor wall fan is an excellent choice if you want to keep your deck or patio cool.
Factors to Consider Before Buying Best High Speed Wall Fans
Location: As previously stated, in some situations, such as restaurants, kitchens, garages, outdoor patios, and so on, a wall-mounted fan may be a better option than a ceiling fan. Do understand that each of the previously mentioned outdoor locations is unique. Before purchasing a fan, you should consider factors such as size, available space, speed, oscillation, adjustable angles, and so on.
Size: Like ceiling fans, wall-mounted fans are available in a range of sizes. You can choose the appropriate size of fans or the number of fans to install based on the size of the area. A fan with a sweep of 400 mm would be ideal for a standard room.
Speed: After the size of the fan, this is one of the most necessary factors to consider. A fan with variable speeds is always useful. Because different people have different fan speed preferences. Some people prefer to run it at full speed all year, while others prefer to run it at low speed during the winter. It is always more
Sturdiness: Lightweight fans are an excellent choice for domestic use, provided the material is not brittle. Such fans are typically made of plastic. However, make certain you purchase a fan of high-quality materials.
Budget: A premium option will always be available within your budget, but you must do your research and select one built by a reputable company with dependable components and a long warranty.
Brand: The brand is an important factor to consider because it can affect the quality of the items you buy. When you buy from a popular and established company, you can expect prompt and high-quality customer service whenever the need arises.
Durable: You should buy a wall fan with a long lasting remote that has a good reputation. Purchasing such devices is a one-time expense, so consider and research whether it is worthwhile.
Brands to Buy High Quality Wall Fans Online
Jetsons Wall Fans: Jetsons, a well-known brand, obtains materials from reputable and authorised vendors who provide high-quality and efficient high speed wall fans. Their wall mount fans can be used for various places. Following a thorough market investigation, the materials required for the wall fans with remote are obtained from the most reliable and authorised suppliers.
Almonard Wall Fans: Almonard strongly emphasizes upholding strict quality standards to ensure that clients always receive products at the top of their game. They have mastered the art of manufacturing high speed wall fans to meet changing customer demands.
Bajaj Wall Fans: Bajaj manufactures products that improve quality of life and is well-known for its high speed wall fans. Bajaj, a reputable brand, provides versatile and powerful wall fans. Their high-end wall mount fans provide a simple and fast solution for a variety of domestic and commercial places. Their products are inexpensive and ideal for applications. Their products are simple to use, secure, and safe.
Orient Wall Fans: Orient wall mount fans are well-known for their adaptability to meet the needs of customers. Orient's products in this category have been selected with customers' needs in mind. The high speed fan's price has been set based on consumer purchasing power.
Aside from the brands mentioned above, we also have a large selection of high speed wall fans from well-known manufacturers such as Black Cat, Candes, Surya, Ozen, V-Guard, Usha, Zigma, Luminous and others.
Get High Quality and Affordable High Speed Wall Fans from Moglix
We at Moglix strive to make your shopping experience as easy as possible. Our built-in filtering systems make it easier for you to choose and filter based on your requirements. We ship out the best high speed wall fans after extensive quality checks. You will be able to select from a wide range of the best wall mount fan brands in India. We have great discounts all year and specials on bulk purchases. Go to our website for affordable wall fans with remotes in India, and enjoy the products at wholesale prices.
Frequently Asked Questions about Wall Fans
---
What is the best spot for installing wall fans?
It's best to put your fan in the center of the room so that it can cover more ground. This means that on a hot day, you may be standing anywhere inside a room and still get air to cool you down. Another suggestion is to place your wall fan opposite your window to create a more airy atmosphere.
What is the difference between a ceiling fan and a wall fan?
A ceiling fan circulates air, while wall-mounted fans push air around the area in which they are installed. You may conserve floor space, circulate air, and add instant cooling air movement by adding a wall-mounted fan.
Is it okay to leave a wall fan on all the time, 24/7?
You can leave a fan running for up to eight hours without fear of wall damage or fires in your home. However, using your fan all day won't help you cool down any faster; instead, make sure you have adequate ventilation for a pleasant cooling experience.