Related Pedestal Fans Article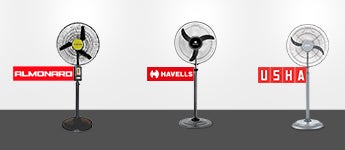 The Supreme Brands of Pedestal Fans To Cool You Off
Purchase Top Quality Pedestal Fans at an Affordable Price
Pedestal fans are portable electric fans. They are oscillating fans supported by adjustable, detachable stands. A pedestal fan can also be considered as a portable fan. They are motorised devices used to create a cool breeze in your home. In a tropical country like India, it can get very hot and muggy. The biggest advantage these fans offer is their portability. Since it can be operated with a single outlet, it can be easily used in any room of the home according to the change of purpose.
The pedestal fans are quite affordable than other electronic air cooling devices. In this modern era of protecting our environment and promoting sustainable development, pedestal fans can be a better choice of eco-friendly appliances that produce less air polluting substances than air conditioners, which are the main cause of global warming.
Different types of Pedestal Fans
As technology advances and people's needs change over the years, some innovations occur. There are two types of Pedestal stand Fans :
Single Speed ​​Blade - Uses a single phase AC induction motor with the spindle remaining attached while the blade reaches the motor. A motor consists of two internal parts: a stator and a rotor. The rotor is confined to a magnetized piece of iron that spins freely. The rotor is split by a CV joint and extends from the motor to yet another spindle (secondary) and finally into the base gear. On either side are his two halves called the stator. two parts of the stator consist of electricity flowing from within, shifting the magnetic field from near the other. The magnetic field changes between negative and positive with the flow of current.
Multi Speed Blade - Blades in the multi-speed category are more voluminous due to the more complex work and construction. Multi-speed motors are evacuated to machines connected to single-phase AC synchronous motors. A CV joint connects the worm gear spindle to the blade head spindle. Current range is checked by a voltage regulator. Instead of splitting the available power, a thin wire with slightly less power storage is sent to the rotor.
Factors to Consider while Selecting the Perfect Pedestal Fans
We suggest you consider some factors before making a perfect selection for your pedestal fans as it helps you make no compromise and select the best. The following are some important points to consider.
Swinging aspect: The swing option is a very useful feature of pedestal fans. If you select this option, the fan will oscillate back and forth. In this way, the cool breeze is distributed evenly throughout the room. The locking feature is very important when there are multiple people in the same room. This is to ensure that everyone is equally comfortable. You can also control the direction of the wind without moving the fan.
Cost effectiveness: If you're looking for something to keep you cool and comfortable in the summer, look no further as a pedestal fan makes an ideal purchase. Look for a pedestal fan that stays on budget and doesn't compromise on quality. Plastic pedestal fans are a great option as they are durable, affordable, and of high quality. Unlike stainless steel pedestal fans, plastic fans will not rust or corrode. This means that you will also spend less on maintenance in the long run.
Shape and size: Pedestal fans come on the market in different sizes. With so many options, choosing the right size can be difficult. To make the best choice, consider where in the room you want to place the standing fan. If you have a large room, choose a fan with a large surface area so that the air can reach the entire room relatively easily. Alternatively, you can purchase a few small pedestal fans for breezes from all directions. On the other hand, for small rooms, a small pedestal fan will suffice since the area to be ventilated is not very large.
Noise: A noisy pedestal fan is a surefire way to disrupt the tranquility of your home.Some fans, especially older models, produce a lot of white noise when in use. This interrupts conversations and prevents you from getting a good night's sleep. When looking for a pedestal fan, pay attention to how loud it is when turned on.
Popular brands for Pedestal fans that you can trust
V-Gaurd Stand Fans: V-Guard's pedestal fans provide unmatched comfort to you and your family. The synchronous motor-driven jerk-free oscillation system adds amenity, making it the perfect addition to your home. Its in-built overheat and overload protection further safeguards against any burnouts.
Crompton Standing Fans: Crompton provides the best quality pedestal fans. Their motors are highly efficient, and they consume only 50W at peak speed. It helps save electricity without compromising on performance. The aerodynamic blades of these fans give a special air delivery of 85 CMM. The powerful motor provides a peak speed of 1350 RPM. The Thermal Overload Protection feature of these fans prevents the fan from overheating and protects the motor in case of any voltage fluctuation. If there's an overload, the circuit will be temporarily broken to keep the fan safe.
Lifelong Stand Fans: Lifelong pedestal fans have been designed to be moved from room to room, so customers can thoroughly enjoy the comfort it provides wherever they need it, be it in their kitchen, living room, bedroom or dining room.
Prime Cube Satanding Fans: Prime Cube pedestal fans are the perfect fit for up-beat living rooms, bedrooms, dens and common areas. They feature a high-quality motor that delivers powerful air movement and quiet performance; the pedestal fan offers easy operation with three blades. With its Speed Motor in Aluminium Winding, this stand-up fan gives you total control over airflow, volume, and circulation. The most important feature is that they are cost-effective too.
Purchase the Best Qualify Pedestal Fans from Moglix
At Moglix , it has always been a main focus of keeping customers and their requirements as a priority. The users can find various types of Pedestal Fans with selected brands that promise quality, cost effectiveness and safety. Before purchasing any electronic items , one should always have proper knowledge of the product and whether it fulfills the requirements or not. Always be aware of precautions and safety measures to be taken while using electronic gadgets. Refer to Moglix for a wide variety of pedestal fans.
Frequently Asked Questions about Pedestal Fans
---
Does a pedestal fan consume more electricity than a ceiling fan?
Large ceiling fans use an average of 23.4 watts, while pedestal fans use 44.3 watts. Because of the variation in consumption, there will be a variance in operating costs.
Is the pedestal fan or ceiling fan better?
For tiny rooms, standing fans are the best option. A standing fan, unlike ceiling fans, is portable, allowing you to move it around effortlessly. Stand-up fans use very little electricity due to their small size.
What are the benefits of a pedestal fan?
One of the most outstanding characteristics of a pedestal fan is how light and portable it is. They are lightweight and portable, making them ideal for utilization in different rooms of your home or even outside. You may easily transfer one to your balcony or a room that needs more ventilation.