Related Ceiling Fans Article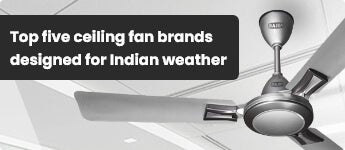 Top five ceiling fan brands designed for Indian weather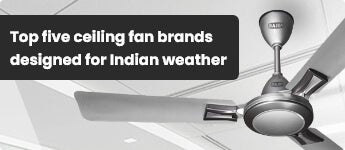 Ultimate guide for buying the best ceiling fan based on types & specification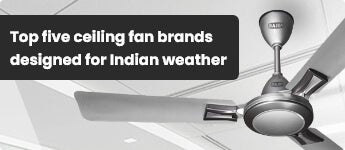 Top 7 Ceiling Fan brands in 2021 - Key Features, price and ratings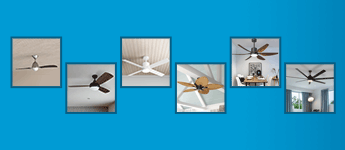 Types of ceiling fans in India and tips to choose the perfect one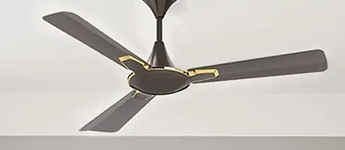 Top Havells Fan types for effective and efficient cooling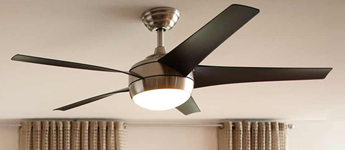 Crompton Fans India for unmatched cooling experience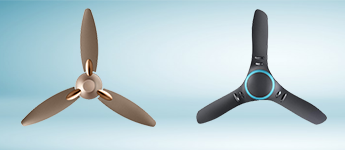 Types of Usha ceiling fans available in the market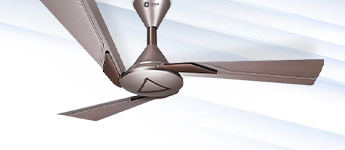 Orient ceiling fans for better air circulation across every corner of the space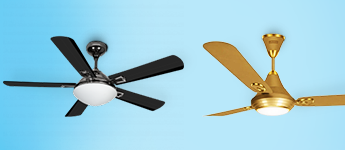 Everything about Luminous Fans: Types and top rated models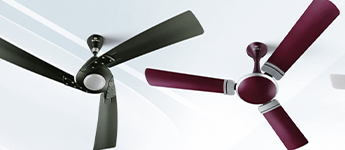 Reliable and high performance Bajaj Fans available in India
A Complete Guide to Purchasing the Best Ceiling Fans
No matter where in India a house is located, it will have at least one ceiling fan. It is one of the few pieces of home equipment that gets used all through the year. Because the summers are so oppressive, the nation is in critical need of a high-quality ceiling fan. On the other hand, given that it is one of the most widely used appliances, a diverse selection of items may be purchased.
As a result, choosing ceiling fans that are considered to be India's best might be quite challenging. Let's take a closer look at what makes a good ceiling fan before we go on.
Variety Of Ceiling Fans Available in the Market
Standard Ceiling Fans - Standard ceiling fans are the most common variety. Most traditional homes feature these fans. This mechanical fan has three or four wood, MDF, plastic, or metal blades. These fan blades are positioned under, on, or above the motor. Traditional ceiling fans also have "blade irons" and a downrod, which connects the mounting brackets to the motor housing. These fans may be mounted on flat and inclined ceilings.
Low Profile Ceiling Fan - Low-profile ceiling fans, also called hugger fans or flush-installed fans, are mounted to a bracket, not a downrod. These fans are appropriate for rooms under 8 feet. Since they are much closer to the ceiling, these fans may not generate as much airflow. Their cooling capacities may be lower than other high-profile fans. Low-profile ceilings may not be desirable in hot weather conditions.
Dual Motor Ceiling Fan - These fans have two motors, as their name implies. Since they have two motors, each fan can be tuned to its speed for maximum airflow. They are stylish and high-quality with two horizontal rods that control the fan's two interchangeable fan heads. Dual motor ceiling fans have a unique design that makes them the center of attention.
Smart Ceiling Fans: Most of your house's appliances may now be bought as intelligent devices and integrated into your home automation system. The same is true of ceiling fans, many of which are jam-packed with helpful features. Smart ceiling fans provide remote control from your smartphone or tablet and come with or without light kits.

Factors to Consider While Selecting Ceiling Fans
When you turn on the ceiling fan, it just moves around the room's air, which is usually warm. When this warm air touches your skin, it dries out the moisture, which is your sweat. You feel cool when this happens. Let's talk about the most important things you need to think about when choosing a ceiling fan.
Airflow of the Fan - Always watch the airflow to figure out how well your ceiling fan works. How well they work depends on how much airflow they make for how much energy they use. CFM, or cubic feet per minute, is a way to measure how well something works. It is also called watts per airflow. A good ceiling fan should move more than 100 cubic feet per minute per watt. On the other hand, if your ceiling fan has less than 30 CFM, it's time to get a new one.
Size of the Fan - The length of the blade is another very important thing to remember. The bigger the blades, the better your ceiling fan will work. So, if you want a fast fan, choose one with longer blades.
Design and Shade - There is a wide range of fan designs available, you can select the best for your taste. Ensure that the color of the fan matches your room as it can enhance the beauty of the room.

Popular Brands of Ceiling Fans
Select ceiling fans from the best brands to offer yourself a great cooling experience.
Luminous - As one of the top companies in the field of power technology, it is known for electrical appliances and batteries. The Luminous Dhoom is a high-speed ceiling fan that is made to be aerodynamic and has a simple look to match the style of your room. It has blades that are wider so that more air can flow through. The fan is made to make your room feel fresher and cooler, with a 220 CMM air delivery.
Orient - Since 1954, Orient has been making electrical appliances for the Indian people. It is one of the most trusted brands. With the Apex ceiling fan, the brand tries to give a simple yet stylish way to beat the heat. It is very reliable and fulfills its job well. Orient's electric fan has wider, ribbed blades that move more air and can be used all year round. The fan also has a double-ball bearing that makes it run smoothly and quietly so that you can sleep peacefully through the night.
Crompton - Crompton offers high-quality and modern ceiling fans. Its newer models come with a remote control that uses only 42W, and a 5-year warranty. Crompton Silent Pro Enso delivers 240 CMM so that it's easier to cool a huge space adequately. Its smart and sleek design can make your place look futuristic.
Polycab: Polycab is in the business of producing and marketing wires, cables, and fast-moving electrical goods. Polycab ceiling fans are the greatest for your house. Polycab fans are shielded from microbiological organisms, corrosion, and dust by sophisticated nano-coating.
Urja: One of India's pinnacle builders and operators of renewable power is Urja Global Limited. Well-designed aerodynamic blades of their fan offer it higher air thrust. Their ceiling enthusiasts consist of a defensive layer coating that facilitates repelling moisture and dirt debris from the fan's surface. An effective motor is installed, and the fan spins at 350 rpm.
Havells: Based in Noida, India, Havells India Limited is an international electrical equipment firm. Their ceiling fans add a touch of elegance while also being strong, practical, comfortable, safe, and long-lasting. These energy-efficient ceiling fans are a necessary component of every house.

Significant Advantages of Ceiling Fans With Lights
The major advantages of using ceiling fans with lights are as follows:
Everybody enjoys having the ceiling fan in the center of the room. This is also how the light source will be in the middle of the room, allowing the light to be distributed evenly and at 360 degrees.
Ceiling fans with built-in lighting, particularly LED lights, are currently popular and are the best method to save money on electricity. They are energy-efficient, which means they will help you save money.
Many people like ceiling fans with built-in lights since they appear to be more modern, appealing, and astonishing at times. It's not only about the light source; the modern ceiling fans' exclusive design, look, and feel are fantastic.
The LED lights that come with ceiling fans have a long life expectancy of 50,000 to 100,000 hours. This has a far longer lifespan than standard CFL bulbs, which only last 20,000 hours. As a result, they are long-lasting.
Designer ceiling fan manufacturers are now selling fans with light sources, and the greatest thing is that you can simply alter the brightness of the lights and the colors in some pricier versions.
Invest in a ceiling fan with a built-in light. This is how you achieve a complete 360-degree light dispersal. And, because you won't be placing additional lighting in the corner of your room, you'll be able to give your room a much more simplistic appearance.

BLDC Ceiling Fans and their Functions
Due to the substantial reduction in power consumption obtained by LEDs, there was a major switch from incandescent lights to LEDs a few years ago. It wasn't simply another technology; it was a revolution in the industry since the same amount of lumens could be produced with far less power.

The current revolution in the fan industry is BLDC. The ceiling fan business is on the verge of undergoing a similar transformation. It'll only be a matter of time before all of the old inefficient induction motor fans are replaced with smart, extremely efficient BLDC fans.
BLDC technology has been around for a long time and is frequently employed in industries that requirehigh-torquee motors. We can see the change in the development of fans in the present day, and the BLDC Ceiling Fan is the best among them. A BLDC fan takes in AC voltage and converts it to DC internally using an SMPS.
The commutation method distinguishes BLDC fans from typical DC fans. Commutation is the process of shifting the current direction in a motor to allow for circular movement. Because there are no brushes in a BLDC motor, the commutation is handled by the electronics' driving algorithm. The key advantage is that the commutators might wear out over time due to mechanical contact; this is not the case in a BLDC motor, making it more durable for long-term use.
To put it another way, BLDC technology combines a combination of Permanent Magnets and Electronics to accomplish the efficiency and performance it delivers in real.

Buy the Best Ceiling Fans from Moglix!
It will be easier for you to make the right decision about the kind of ceiling fan you want to install now if you have a better understanding of the types of ceiling fans. Choose the most dependable and stylish fan inside your budget range for your space. You can choose the type of fan that best suits your needs and preferences from among the many options that are currently available. Moglix provides the widest selection of ceiling fans available in a variety of styles and designs. You can place your transaction at any moment of your productive day, and from anywhere in the world, it is very feasible to place orders without any delays. The merchandise will be available at your doorstep in a safe and timely manner without delays.
To Choose the best ceiling fan for your home, refer to our Ceiling Fans Buying Guide.
Frequently Asked Questions about Ceiling Fans
---
How does solar powered ceiling fans work?
Solar powered fans operate through power generated by solar panels. If required, solar fans can operate both through AC and DC current.
What is a good airflow of the ceiling fan?
An airflow of a ceiling fan is considered good if it lies between 200-250 CMM.
How to choose the right ceiling fan for a home?
Choosing the right fan totally depends on your requirement and the room size. E.g. - for a room with size of 10*12 Ft., 1200 MM sweep fan with 200-250 CMM air delivery works great
What are energy efficient fans?
Energy efficient fans reduces your electricity consumption. These fans can save up to Rs.1000- 1200 over the year in electricity bill
Which is the best ceiling fan in India?
Some of the best ceiling fans in India include - Havells Pacer and Orient Electric Wendy
Can ceiling fans be used for a long time?
The new range of modern ceiling fans are equipped with sturdy motors which offer seamless oscillation over a long period of time. They have high speed due to their quick start high torque motor. Therefore, they can be used over a long span of time.