Related Deep Freezers Article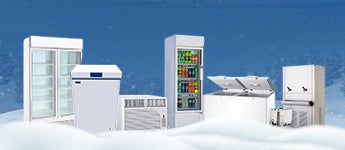 Deep Freezers- A Comprehensive Guide for Buyers Who Need Perfect Frozen Storage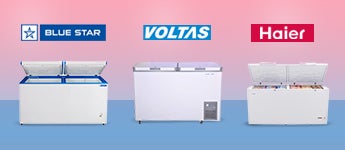 Notable Brands In India to Choose Deep Freezers From
Check Out the Best Deep Freezers at Affordable Prices
---
Purchasing a deep freezer is an excellent choice if you wish to store frozen food products in larger quantities and for an extended length of time. These freezers have a larger capacity than the typical refrigerators people use daily. However, the price for each is the same. Although they are steadily gaining favour for domestic use, deep freezers are often seen in ice cream shops, grocery stores, pharmacies, frozen meat outlets, and other facilities because they protect expensive food and delicate commodities from degradation.
However, it might be hard to envision a modern house without at least one freezer. Deep freezers come in various sizes and forms, with some having compact designs and others having standard designs. The features and functionalities of the deep freezer differ depending on the application. Choosing the proper deep freezer for your requirements is critical if you want to increase your freezer storage space. Examine all prominent brands, then select the best option for your needs and budget.
Types of Deep Freezers
---
Chest Deep Freezers: Chest deep freezer stores large things in it. Chest deep freezers, sometimes known as reach-in freezers, are frequently seen in public places like hotels, restaurants, and supermarkets. They are perfect for keeping ice cream tubs, frozen and microwaveable dinners, and high amounts of meat. They have top lids that open upward and are shaped like boxes. They have a vast storage capacity ranging from 2.1 to 40 cubic feet.
Drawer Deep Freezers: Drawer dep freezers give advantages for the chef who wants to store specific products close to hand while making dishes and are often seen in bigger kitchens or deluxe kitchens. They provide versatility in item availability and arrangement due to the numerous stacks and drawers. Food kept in drawer freezers is accessible to children and those with disabilities.
Upright Deep Freezers: The upright deep freezer offers more than justifies the small premium price over a chest deep freezer. It provides height and takes up less floor space than other varieties. These freezers may be used at home because of their vertical design, which allows for simple access at eye level and is especially useful in small kitchens. Typically auto defrosting, upright deep freezers are considerably more straightforward to keep than chest freezers. They are also much simpler to clean.
Portable Deep Freezers: It is now possible to carry materials thanks to the invention of compact, portable deep freezers. Portable freezers can run on AC, DC, or both. Finding the freezer that best meets your needs is simple, thanks to the broad choice of sizes and types now offered.
Factors to be considered While Purchasing Deep Freezers Online
---
Size: When purchasing a deep freezer, consider how much space you have available and how much storage space you require. If you want to get one for you and your family, perhaps a mini deep freezer will do. Choose a chest or drawer deep freezer if you own a cafe and anticipate large deliveries.
Cost: When purchasing a freezer, take your budget into account. Consider both the immediate deep freezer prices and the overall cost. Moreover, you must consider the energy consumption rating before buying deep freezers.
Select the finish: The style of the deep freezer is crucial to avoid destroying your kitchen decor. The freezer's colour should blend nicely with the overall kitchen cabinet tone.
Temperature Consistency: Checking the deep freezer's temperature constancy is crucial. If the deep freezer temperature varies frequently, it will strongly impact your power bill. Therefore, carefully read the product's consistency guarantee for a particular model.
Brand: Several brands offer different quality levels and technology. Only purchase items from a brand you can trust.
Top Brands Selling Deep Freezers Online
---
Haier: Haier is a well-known brand that provides various models to meet consumer needs. The company creates deep freezers with outstanding build quality, flawless designs, and, most importantly, excellent functioning. The Brand Trust survey ranked Haier among the top 20 most trusted. The Haier freezers are efficient in addition to being attractive. The Haier freezers keep the product fresh and consume less energy, so you won't have to worry about filling your fridge with hefty or space-hogging containers.
Godrej: Godrej is the most significant producer of household appliances in India. The business offers consumers high-quality, technically advanced appliances and equipment. Although this firm sells various goods, the deep freezer is its most well-known item. Due to the brand's reputation and widespread availability on the market, many people favour their freezer.
Voltas: Voltas is the next company on the list. The stunning soft appearance design and the solid quality with Voltas' trust are fantastic. The UV-grade material used to construct the deep freezer is the secret to its long-lasting durability. The freezers are simple to use with built-in spring hinges.
Blue Star: Another well-known firm for its products is Blue Star. This glossy laminated Bluestar deep freezer's remarkable features and luxury style are stunning. The sturdy structure and lock & key mechanism ensure the product's long-lasting durability. When there are power outages or adverse weather conditions, the polyurethane foam insulation maintains the cooling for a considerable time.
Shop The Best Deep Freezers From Moglix!
---
Explore the extensive options of deep freezer offers and benefits at Moglix. Additionally, you wouldn't want to pass on any of Moglix's fantastic offers, incredible savings, and cashback choices. Choosing a deep freezer online is simple, thanks to affordable EMI payment choices, timely deliveries, and simple installation.
Frequently Asked Questions about Deep Freezers
---
What is a good size for a deep freezer?
The size of a deep freezer totally depends on the usability and number of members in the family. The best way to find that out is by multiplying the number of family members to 2.5 cubic feet. However, if you are planning a deep freezer for commercial use then consider the amount of inventory you plan to store.
What is the purpose of an accumulator in a deep freezer?
In the situation of a power cut, an accumulation makes sure that the temperature doesn't fall immediately, this increases the storage capacity and time in the event of power failure. Apart from that it also prevents compressor damage.
Deep Freezers - Price Range
This data was last updated on 10/4/22.